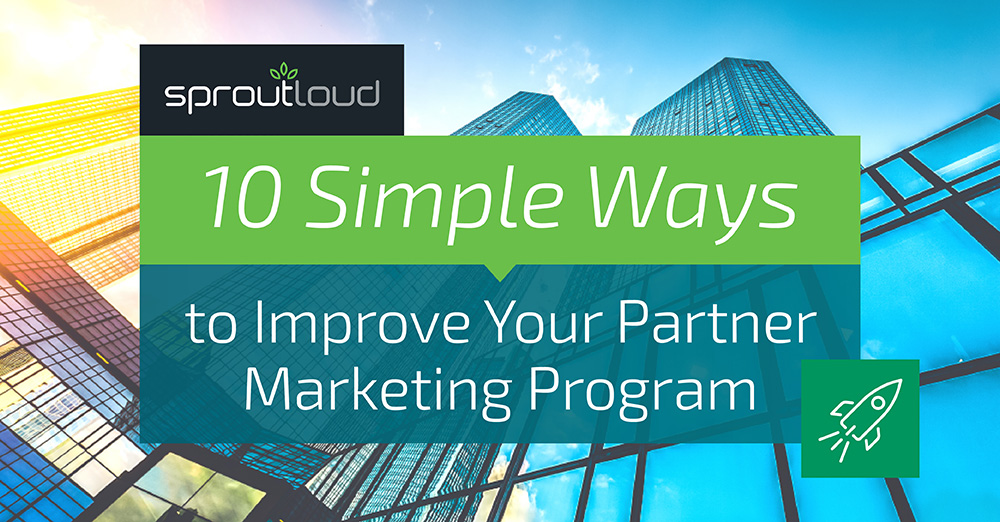 10 Simple Ways to Improve Your Partner Marketing Program
After speaking with hundreds of Brands and thousands of Partners, we find the same core challenges again and again.  Whether it is the development of advertising for the local market, the claims and reimbursement process or managing local vendors, the truth is that most Partner Marketing Programs have several clear opportunities to improve performance.  We thought we would give you a simple Top 10, so you can start transforming your Partner program now.
1. Move Co-Op Claims to the Cloud
Traditional Claims and Reimbursement processes are complicated and slow.  By integrating the claim process in the same SaaS platform that launches the ad, Partners can get advertising in market quicker and with less administrative work.
2. Move to Instant Funding
If all local advertising is launched using a Through-Channel Marketing Automation (TCMA) Platform with an integrated network of world-class marketing vendors, then there is no need for proof of performance.  Which means your Brand can give Partners their Co-Op Advertising funds instantly with no opportunity for fraud or miss use.
3. Automate Localization of Advertising
Transforming your ads into dynamic templates allows Partners to change aspect ratio and customize the ad with local address with a simple point and a click.  No graphic artist or agencies needed.
4. Move Local Execution into a Secure, Measurable Environment
Regardless of all your controls, Local Vendors often waste Co-Op dollars through ineffective campaigns.  But with a secure ecosystem of world-class Marketing Service Providers handling the last mile, your Partners and your Brand get perfect execution every time.
5. Drive Down Agency Fees with Data-Driven Customization
Imagine if multiple fields within an advertisement could auto-populate based on who was launching the ad?  Data-Driven Customization can automate the artwork, offer and even the legal disclaimer, based on which Partner in which region is launching the campaign.
6. Make Participating in Co-Op as Simple as Online Shopping
Giving your network a simple SaaS Partner Portal, as intuitive as online shopping, allows them to search for campaigns by message, offer or type and then build and fund the campaign in minutes in the same Portal.
7. Get Real Insight into Local Campaign Performance
Most Brands measure success in Co-Op Advertising by the adoption of the campaign, not its actual impact.  When all campaigns are launched through a secure network of Marketing Service Providers, you can start getting performance metrics on every campaign.
8. Ignite Your Partner Network
As awesome as TCMA software is, it isn't going to help Partners that don't understand how to participate in your Co-Op Campaigns.  You need a turn-key Partner Success Management program where Local Marketing Concierges speak directly with your Partners and get them enrolled in the right campaigns.
9. Drive to Digital
E-Commerce giants and Big Box Retailers are using sophisticated digital tactics to take customers from your Retail Partners.  Providing Partners with digital scorecards — which evaluate their online presence compared to their top local competitors — shows Partners how participating in digital marketing increases traffic, leads and sales.
10. Reduce OpEx Across the Board
By centralizing Co-Op Partner Marketing campaigns in a TCMA platform, you will cut administrative work, improve speed to market, reduce agency fees and cut Co-Op claims processing costs.