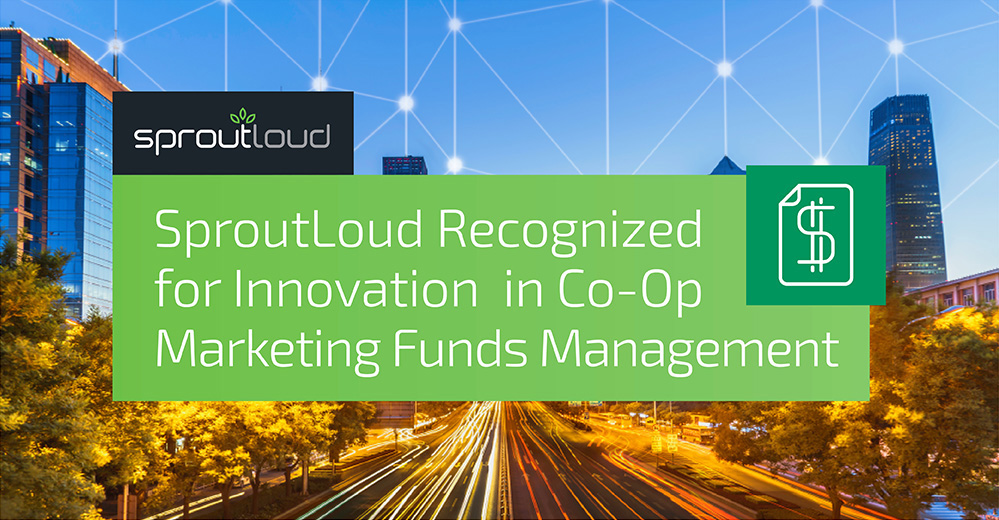 SproutLoud Recognized for Innovation in Co-Op Marketing Funds Management
SproutLoud, named by Forrester Research as a leader in Through-Channel Marketing Automation (TCMA), was recognized for innovation in Co-Op Marketing Funds Management.
"SproutLoud excels in local marketing and presence," according to The Forrester Wave™: Through-Channel Marketing Automation, Q2 2018 report, which noted that SproutLoud has innovative Co-Op Marketing Funds Management functionality.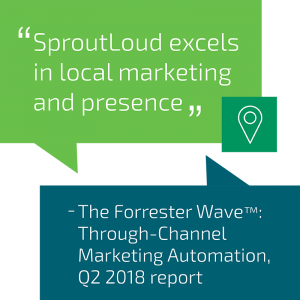 SproutLoud helps Brands improve Co-Op investment by integrating the claims and reimbursement process into its TCMA platform and providing SproutPay Instant Funding, which is changing the way Partners perceive the Co-Op Advertising process. SproutPay allows funds from both Brands and Partners to be applied instantly, because all local advertising execution happens in the controlled and measurable environment of the SproutLoud Platform.  This improves speed to market while eliminating the opportunity for fraud or misuse of funds.
Among all TCMA vendors evaluated in The Forrester Wave™, SproutLoud received among the top 2 scores in strategy, technology and supporting products and services.
"SproutLoud is fundamentally changing the Co-Op Advertising model with Intelligent Funds Management, which allows Brands to put traditional claims and reimbursement side by side with SproutPay Instant Funding to encourage increased adoption and investment," said Gary Ritkes, President of SproutLoud.
SproutClaims is a SaaS-based claims processing module native to SproutLoud's TCMA Platform, which allows Partners to process claims in the same system where they create local ads. SproutClaims helps Brands lower Co-Op processing costs by up to 50% and get more ads in market faster.
Whether Brands opt for SproutPay Instant Funding or SproutClaims, the SproutLoud Platform gives Brands access to a world-class ecosystem of Marketing Service Providers, which ensures flawless and Brand-compliant campaign execution every time.
"We're pleased Forrester has recognized our innovation in Co-Op Marketing Funds Management," said Jared Shusterman, CEO of SproutLoud. "In Cooperative Advertising, funding is the most powerful tool to get Brands aligned with their Partners.  By eliminating all the red tape associated with Co-Op funding, we are increasing Partner participation and investment in Brand campaigns by up to 60%."
ABOUT SPROUTLOUD
SproutLoud, the leading SaaS-based Through-Channel Marketing Automation platform, offers distributed marketing software, services and support to help Brands and their Channel Partners compete and win. SproutLoud uses intelligent automation to improve speed-to-market, reduce costs, drive more Partner participation, and deliver real-time insight to increase leads and sales.
Media inquiries: Contact Elizabeth Vempala at [email protected]
Sales inquiries: Contact [email protected] or call 954-476-6211 x3