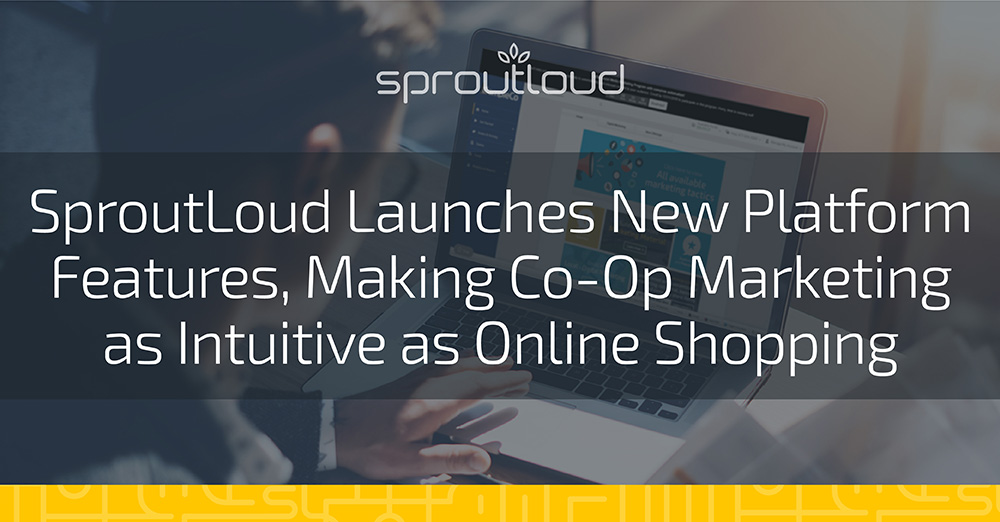 SproutLoud Launches New Platform Features, Making Co-Op Marketing As Intuitive As Online Shopping
Motivating independent Local Channel Partners to participate in Co-Op Marketing is challenging when 50 percent turn down Co-Op because it's too difficult.
SproutLoud, the leader in Channel Marketing Automation, announced today it's making Co-Op Marketing as easy as online shopping, by launching new navigation, tagging and search innovations in its SaaS Platform.
"Local Channel Partners struggle to compete against Big Box retailers and massive e-Commerce competitors," said Jared Shusterman, CEO of SproutLoud. "Giving Partners access to sophisticated marketing tactics in a simple, intuitive Platform makes launching campaigns easier and ultimately more successful."
SmartGuides Drive Participation
SproutLoud launched SmartGuides technology to lead Partners efficiently through the Platform. SmartGuides allows Brands to build custom banners and pop-up tips that actively market featured campaigns and provide step-by-step instructions about how to launch them. 
When SproutLoud launched SmartGuides with four major Brands, those Brands saw a 10 percent increase in engagement with the featured campaigns. For one Brand, about 33 percent of click-throughs resulted in Partners launching campaigns.
New Funds Summary Feature
Millions of dollars in Co-Op expire every month because Local Partners didn't realize funds were available. To make it easier for Partners to track and manage Co-Op funds, the global top navigation in SproutLoud's Platform prominently features the Funds Summary — which is updated in real time as funds are applied.
"In the indirect world, Co-Op funds are the straw that stirs the drink," said SproutLoud President Gary Ritkes. "Simplifying the use of funds drives greater investment from Partners and ultimately more sales."
Search Specialized for Partners
Searching through dozens of multi-tactic campaigns can be complex and time consuming for Partners. With improved tagging and search functions, SproutLoud makes it easy to find, fund and launch campaigns.
"Sproutloud is taking Partner Marketing Automation to the future, by making it simpler, more intuitive and easier to use," Shusterman said. "We're helping Partners compete and win more customers in their local market."
ABOUT SPROUTLOUD
SproutLoud, the leader in Channel Marketing Automation, gives Brands the intelligence to simplify campaign execution, amplify the power of their spend and accelerate local Channel Sales. A major disruptive force in the Channel Marketing Automation landscape, SproutLoud offers distributed marketing software, services, and support to help Brands and their Partners compete and win.
Media inquiries: Contact Elizabeth Vempala at [email protected]
Sales inquiries: Contact [email protected] or 954-476-6211 x3