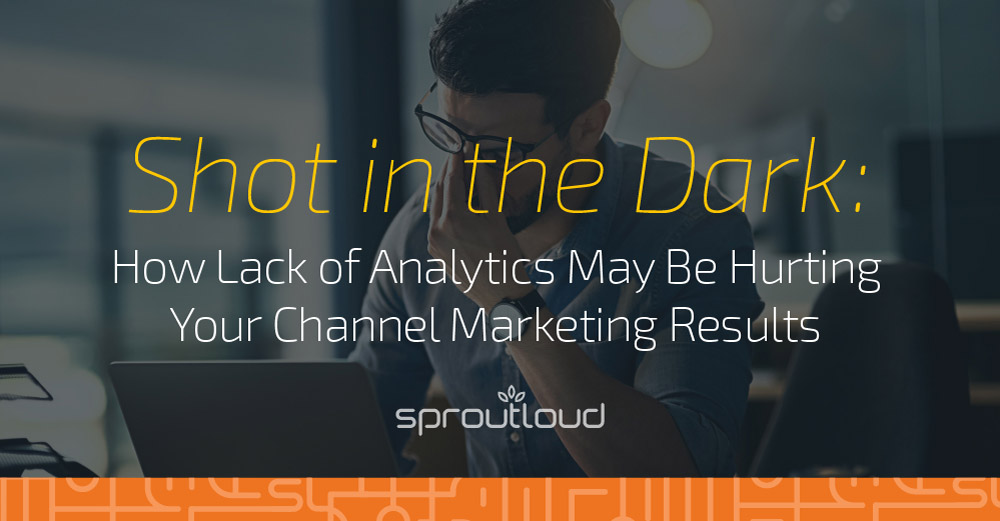 Shot in the Dark: How Lack of Analytics May Be Hurting Your Channel Marketing Results
Investing billions in Channel Marketing each year based on how things have always been done is not an effective strategy. It's like taking a shot in the dark – guessing when you think you don't have any other choice. Yet, that's exactly the position 67 percent of Brands say they find themselves in: Using historical adoption to guide Co-Op marketing investments.
That's because things can get complicated very quickly when Brands go to market through a large distributed network of independent Partners. If you have hundreds or thousands of Partners executing multi-tactic local marketing campaigns every week — with each Partner managing its own local vendors — getting access to any meaningful ROI data and performance metrics can seem next to impossible. It's the fatal flaw of decentralized marketing resource management: There's no clear path to pulling aggregated intelligence out of the network.
Let's take a closer look at why decentralization doesn't work and how SproutLoud's SaaS-based Channel Marketing Automation solution offers a better way.
Get Greater Visibility on What Drives Success
Without meaningful data, Brands don't have access to what is driving success for their most profitable Channel Sales Partners. That's why analytics is such an integral part of SproutLoud's Channel Marketing Automation Platform. By centralizing marketing resource management and simplifying campaign execution into a single SaaS Platform, SproutLoud delivers previously unreachable insight on the performance of marketing tactics, campaigns and Partner engagement.
Our goal is simple: Take cost and complexity out of Channel Marketing to help Brands drive greater success through their Partner networks of retailers, dealers, agents and local businesses. And it all begins with defining what good looks like. SproutLoud offers Brands and their Partners strategic consulting services called SproutLoud 20/20. It's a turnkey research service where we examine the performance and behavior of a Brand's Top 20 Partners to determine how to drive success across the entire Partner network.
Set Your Partners Up for Success
Brands often tell us that, from their vantagepoint, their Partners are in the driver's seat – choosing to opt into or forgo participating in Brand-approved local marketing campaigns. But a recurrent concern is that Partners may not have the training or the time they need for marketing.  With SproutLoud Analytics, Brands can track the performance of every offer, every tactic and every Partner, and they can even compare the success of digital tactics vs. traditional tactics. With real-time access to centralized analytics, better insight and a better understanding of what's driving leads and what isn't, Brands can share integrated performance metrics with their Partners to help guide them toward smarter decisions and more effective tactics.
Don't Throw Good Money After Bad
With local marketing, if execution isn't perfect, Brands and their Partners can end up wasting time and money. SproutLoud's Platform simplifies the process with Automated Campaign Execution, which integrates virtually every marketing tactic and routes them to best-in-class Marketing Service Providers. This eliminates the need for Brands or their Partners to handle the cumbersome work of day-to-day vendor management. And it allows Brands to have greater control over high-quality, Brand-compliant multi-tactic campaigns, while preserving the flexibility Partners need to select and customize assets for their local customers. Real-time, relevant data on how tactics, campaigns, marketing programs and Partners perform also gives Brands and their Partners the opportunity to make timely course corrections when needed to stay on track toward measurable results.
Identify What Works and Repeat
When Brands don't have access to analytics beyond the performance of their own Partner network, this can lead to investing in programs or tactics without a clear understanding of the probable outcomes. With SproutLoud's Partner Ignite program, we take a strategic, systematic approach to help Brands identify their top-performing Partners and move them to the next level. And analytics plays a critical role every step of the way:
SproutLoud helps Brands and their Partners define what good looks like by quantifying the budget, behaviors and tactics that drive the highest sales for the Brand.
We share analytics insight with Partners and show them how to implement effective digital marketing tactics.
We do a Digital Health Check of each Partner, which reveals how the Partner's online presence stacks up against their competitors and where there's room for improvement.
We provide Partners with digital marketing insight, strategy and easy-to-implement tactics to help them drive more sales.
With data and insight, we develop a customized Digital Marketing Strategy for Partners and recommend the most effective local marketing programs to drive sales.
SproutLoud serves as the Partners' dedicated Local Marketing Concierge, available to handle execution, opt into programs and manage Brand campaigns.
With indepth analytics and unparalleled customer service, SproutLoud eliminates guesswork and delivers the insight and tools Brands and their Partner need to succeed.