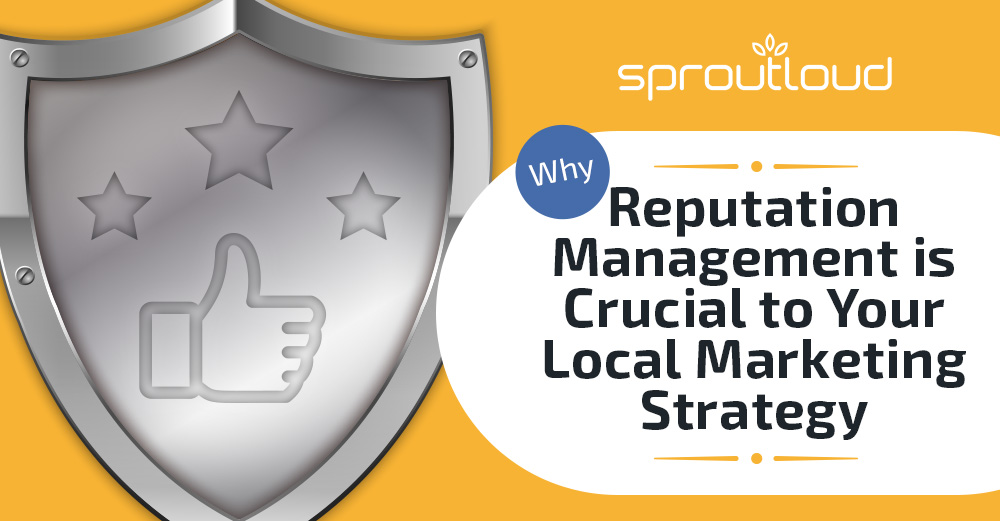 Why Reputation Management is Crucial to Your Local Marketing Strategy
Your customers and potential customers have access to more information than ever before — about your business, your products and services, and what your top competitors are offering. They also have a powerful voice — magnified by social media,  online review sites and search engines — that can shape the kind of opinion others form about your business.
From major Brands to Small Businesses, no one can afford to ignore the crucial role of online Reputation Management in Local Marketing strategy.  Just consider the impact a positive or negative review has on consumer behavior, according to BrightLocal's Local Consumer Review Survey 2016:
84% of people trust online reviews as much as a personal recommendation
91% of consumers regularly or occasionally read online reviews
90% of consumers read less than 10 reviews before forming an opinion about a business
74% of consumers say that positive reviews make them trust a local business more
54% of people will visit the website after reading positive reviews
Even in the days when newspaper ads dominated and TV ads were considered new technology, word of mouth was a powerful tool for advertisers. And it still is. But today, that direct consumer-to-consumer feedback comes in the form of online reviews. Brands savvy enough to leverage the power of consumer opinions recognize its value as a competitive edge and a bridge for communication with potential customers.
For your Channel Partners, as Small Business owners and entrepreneurs, the idea of staying on top of minute-by-minute, real-time social media posts and online reviews seems daunting.  But with the right tools in place, it doesn't have to be. With SproutLoud's best-in-class Marketing Service Provider network, we are able to bring you the most innovative online Reputation Management tools in the market.
Engaging your Partners in managing their own reputations online is a proactive approach to optimizing your Brand's online presence in the local market. In today's competitive business landscape, monitoring your Partners' online reviews has become an essential part of measuring Partner performance.
Here's how it works:
With a Business Name, Address and Phone Number, we can instantly track reviews and mentions of your Partners online.
Email alerts are sent every time a new review is detected.
Your Partners respond to email alerts only when action is required.
Positive reviews can be set to share on your Partners' social media channels and website to maximize their impact and reach.
It's clear that word of mouth has always been a powerful marketing tool. Today, it comes in the form of online reviews, tweets and Facebook posts. But that doesn't mean it has to be complicated or time-consuming. Taking control of your online reputation can be simple and effective — when you have right innovative Channel Marketing Automation solutions in place. It's also essential. In the crowded digital spaces we all inhabit today, Brands and their Channel Partners need to leverage what people say online about their business, products and services. To help drive consumer engagement, leads, traffic and sales today, that means one thing: Reputation Management.