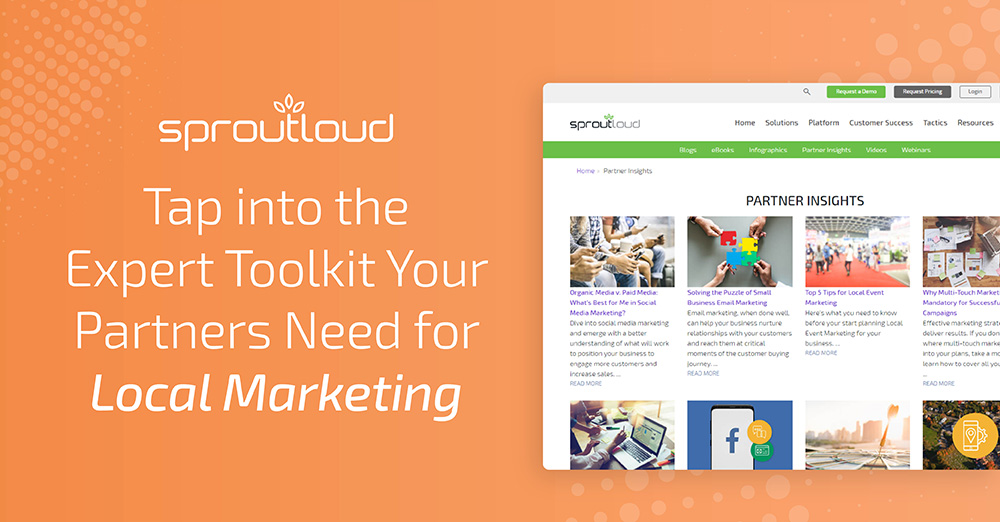 Tap into the Expert Toolkit Your Partners Need for Local Marketing
Distributed Marketing for brands that sell products through local partners can be layered with complexity. The latest Brand-preferred marketing tactics are often unfamiliar to the local retailers, dealers, distributors, and agents that make up brand networks. This makes it difficult at best to align national-to-local marketing strategy and increase partner engagement in Co-Op Advertising.
To help brands equip their networks with expert guidance on local marketing tactics and strategy, SproutLoud has launched a new resource within its Content Hub called Partner Insights.
"Partner Insights is like an expert local marketing toolkit for your brand's partner network," said Lauren Bermudez, Senior Manager of Client Services at SproutLoud. "Partners often don't want to be told what to do by the brand, because they're looking for objective third-party information from local marketing experts. And that's what SproutLoud provides in our Partner Insights articles."
The articles are authored by subject matter experts on a wide range of local marketing topics, including digital marketing tactics, social media, email marketing, customer acquisition and maintaining a competitive online presence.
At SproutLoud, we understand that helping Brands increase sales in local markets is directly tied to the performance and participation of their local partner networks. While SproutLoud's dedicated teams of Client Relationship Managers (CRMs) work directly with brands, our certified Local Marketing Experts (LMEs) take the pressure off the brands' partners by providing white-glove concierge service from start to finish.
"The latest addition of our Partner Insights blogs serve as another resource for local partners, giving them the expert guidance they need to make strategic local marketing decisions," Bermudez said.