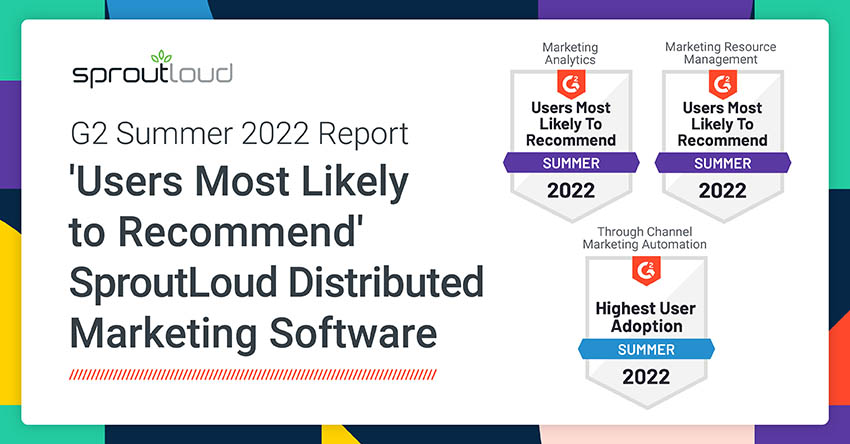 'Users Most Likely to Recommend' SproutLoud Distributed Marketing Software
Software review company G2 recognizes SproutLoud as the distributed marketing software solution that users are most likely to recommend for Marketing Analytics and Marketing Resource Management, based on verified user reviews. In the G2 Summer 2022 Report,  SproutLoud earned 33 recognition badges across five categories, including "Highest User Adoption" in Through Channel Marketing. But don't take our word for it. Take a look at what clients are saying about SproutLoud:
[See verified SproutLoud user reviews on G2]
Client-First Approach
"SproutLoud takes a Client-first approach to everything they do. They listen to Client feedback and incorporate Client feedback directly into their product planning and product development. Specifically, I worked closely as part of their Client Advisory Council, to provide direct feedback that shaped their Data Triggered Marketing product, and our brand was the first adopter of this product. This product allowed our brand to seamlessly integrate our CRM system to automate direct mail and email campaigns to end-consumers on behalf of the Franchisee. All the Franchisee needed to do was log in to opt-in to the program and SproutLoud automation took care of the rest. We were able to automate time-sensitive messages to consumers based on the data points that changed in our CRM on a daily basis. It was a game-changer for both us at the Brand level, and Franchisees who do not have time to manage their data and communication strategies. The automation did this all for us, hands-free, keeping the strategy centralized at corporate, allowing us to scale the execution locally."
– Mark,Vice President of Digital Innovation for an Enterprise company
SproutLoud Makes Local Marketing
Easy for Our Team to Execute
"We've been a SproutLoud client since 2007. Our partnership with SproutLoud, from the platform to the people, has only strengthened over the years. Their commitment to us is evident from the years of doing business together and the value they continue to provide our organization. SproutLoud has a simple, easy to use tool that makes local marketing easy for our team to execute. They are continuously improving and releasing new features, more integrations, and more value as new digital marketing trends continue to emerge. Their support team is fantastic, and they have grown with us!"
– Patrick, Director of Indirect Sourcing for a large Enterprise company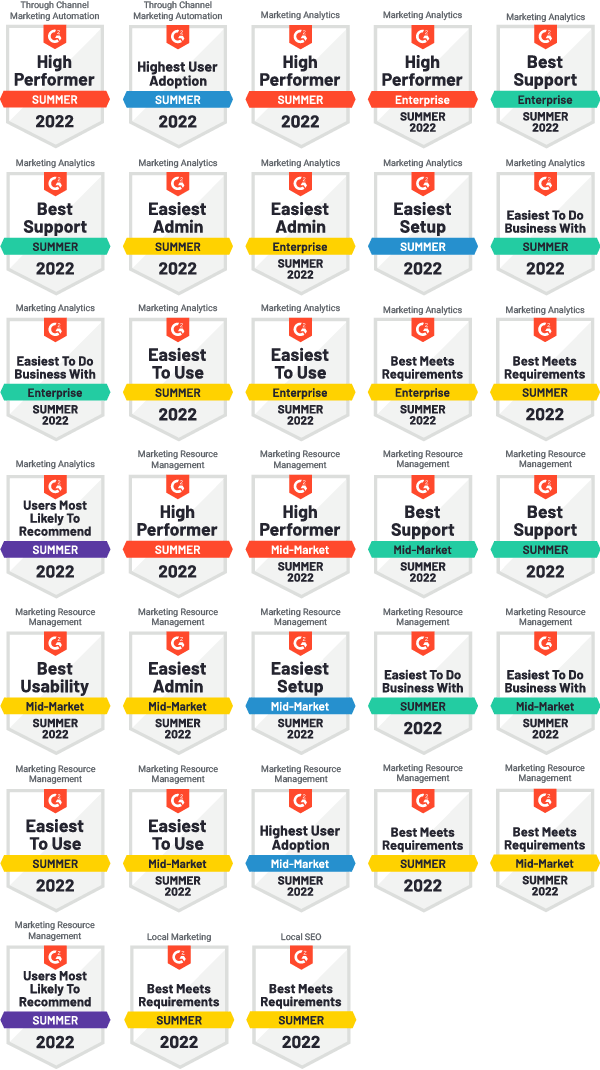 ABOUT SPROUTLOUD
SproutLoud is a leading SaaS-based Through Channel Marketing Automation platform, designed to increase brand sales through partners in local markets. SproutLoud's advanced marketing automation technology simplifies every aspect of Distributed Marketing and delivers comprehensive analytics on tens of millions of touchpoints for major, category-leading brands. SproutLoud gives brands unparalleled visibility on ROI for individual tactics, campaigns, partner engagement and platform usage. With SproutLoud, brands have the advantage of responding rapidly to changing market conditions in real time with data-driven decisions.
Media inquiries:
Contact SproutLoud Senior Content Marketing Manager Elizabeth Vempala:
[email protected]
Sales inquiries:
Contact [email protected] or call 954-476-6211 x3