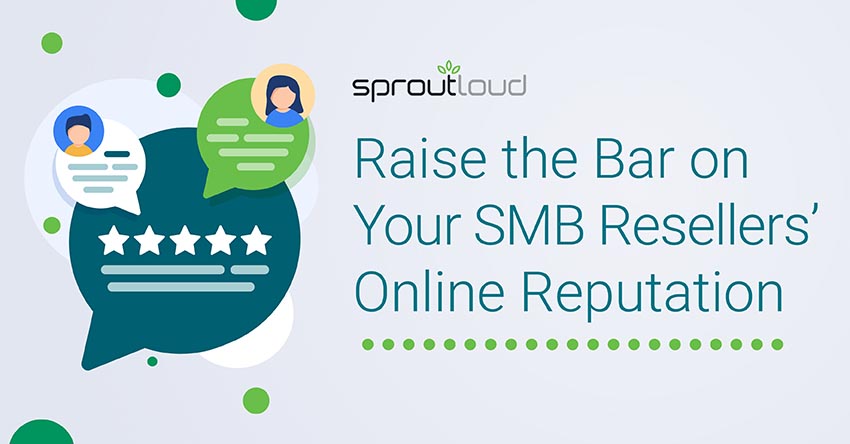 Raise the Bar on Your SMB Resellers Online Reputation Management
Most consumers don't distinguish their local experience of purchasing a brand product or service from the brand itself. So when your SMB resellers struggle to manage their online reputation, that has an impact on what consumers think of your brand. Brands can make it easier for their channel partners — including local retailers, dealers, distributors, agents, corporate branches and employee end users —  by offering Reputation Management programs integrated within a comprehensive distributed marketing platform.
Monitoring Online Reviews
Keeping tabs on what consumers are saying about your brand, across a vast network of local markets, can be challenging. Manually monitoring multiple online review sites — including Yelp, Google, Consumer Reports, Facebook and Yellowpages.com — would be overwhelming for most SMB resellers. With Channel Marketing Automation software solutions, advanced Reputation Management programs automate and simplify the process of monitoring, managing, and responding to reviews in real time.
Make Reputation Management Easy
When your brand makes Reputation Management available, your channel partners simply need to opt-in. Local resellers can choose to receive alerts every time reviews are posted, so they can respond quickly to both positive and negative feedback.
When your resellers take the time to respond to online reviews, they are showing customers and prospective customers how responsive they are to customer concerns. Publicly demonstrating high-quality customer service can help build brand awareness and brand loyalty. Reputation Management programs can also make it easier for channel partners to automatically showcase positive reviews on social media and company websites.
Customers Trust Online Reviews
Today's word-of-mouth advertising is digital. When consumers post and share their opinions, experiences, and interactions with local businesses, prospective customers are listening. And that can have a significant impact on buying decisions.
Take a look at what the 2022 Local Consumer Review Survey by BrightLocal revealed:
77% of consumers "always" or "regularly" read reviews for local businesses
89% of consumers are "highly likely" or "fairly likely" to use a business that responds to all of its online reviews
57% said they would be "not very likely" or "not at all likely" to use a business that does not respond to reviews
67% consider leaving a review for a positive experience
40% consider leaving a review for a negative experience
Automating reputation management for your SMB resellers is essential, so they can quickly and consistently engage customers and prospective customers, expand brand awareness, and strengthen brand loyalty.