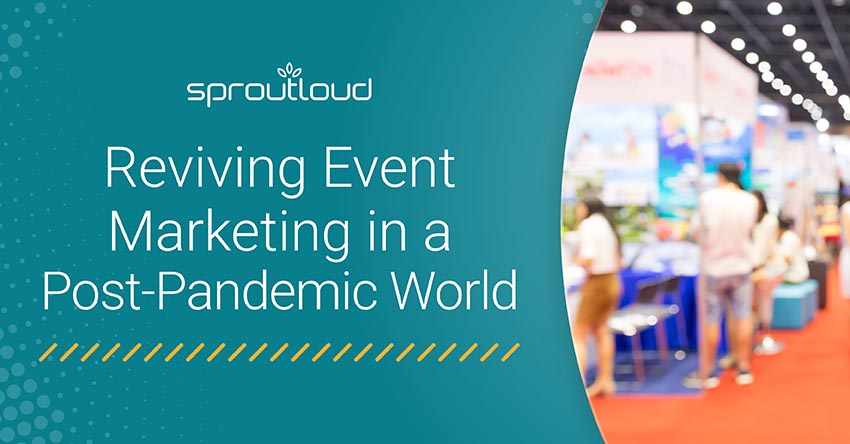 Reviving Event Marketing in a Post-Pandemic World
Is Event Marketing back? Is the pandemic over?
The beginning of a mindset shift in classifying Covid-19 in the United States from a "pandemic" to an "endemic" phase is quickly bringing about sweeping changes. As of April 2022, the US no longer requires masks on airplanes, since the federal mask mandate was struck down. The CDC revised its guidelines, again. And Dr. Anthony Fauci publicly announced that the United States is finally "out of the full-blown explosive pandemic phase" and quickly clarified in the same news announcement: "The world is still in a pandemic. There's no doubt about that. Don't anybody get any misinterpretation of that. We are still experiencing a pandemic."
Unpacking what that means for major brands and their channel partners, in terms of hosting public marketing events, can be complex. What about brands and their SMB resellers that operate across various local, national and global markets? What happens when different states and local communities — where your brand employees, B2B partners, local resellers and target consumers reside and do business — revise, eliminate or adapt rules in different or contrary ways, as Covid variants come and go?
Today, as more and more people return to traveling for business and pleasure, we're seeing more in-person events opening up. Depending on where you live and how you travel, you may see fewer people wearing masks. You may have noticed significant inconsistencies in Covid protocols from place to place. This is a major shift from the height of the pandemic, when business and marketing events either went virtual or were canceled.
Decisions about when and how to revive Event Marketing will typically be driven by brands working closely with their local resellers, customizing plans to align with local regulations and protocols of event locations. When you're ready for in-person Event Marketing, there are a few things to keep in mind:
 The Value of Event Marketing
 Event Marketing remains an effective way for your local channel partners — branded retailers, dealers, distributors, agents, brokers, independent businesses, local employee users, multi-location stores, and corporate branches — to connect directly with consumers in local communities. Event Marketing offers opportunities to:
Build brand awareness
Build relationships with current and potential customers
Schedule appointments
Gather leads
Close sales
Know Your Audience and the Local Regulations
It's essential to ensure that any co-branded event is in compliance with local regulations and protocols, where the event is being held. In places where regulations and protocols have been completely eliminated, consider offering health and safety options for those who want or need them in order to participate in the event. Simple gestures, such as making hand sanitizing stations and free masks available, go a long way to meeting local consumers at varying comfort levels, as we navigate what living in an endemic means.
Make Event Marketing Easy
for Your SMB Resellers and Local Employees
Even prior to Covid, Event Marketing wasn't easy if it meant managing with manual processes, such as:
Registering for an event
Booking a booth
Coordinating with vendors
Ordering marketing collateral and promotional items
Filling out forms
Meeting deadlines
Making payments
Automating the management of Event Marketing with a Channel Marketing Automation platform makes the entire process fast and simple. For example, here's what automating Event Marketing can look like:
Step 1: Submit an online order form, within a Channel Marketing Automation platform, to request Event Management.
Step 2: In advance, brands set the amount of Co-Op Marketing Funds that can be used for the local event.
Step 3: Resellers or local employee users specify what they want for the local event.
Step 4: Depending on what brands allow and what local end users request, automating the Event Marketing process may cover:
Event registration for participants
Booking booths
Reserving booth materials on behalf of participants (tablecloths, access electricity in the booth, etc.)
Receiving orders for co-branded marketing collateral and promotional items
Offering brand-approved recommendations for kits, swag, t-shirts, promo items and marketing materials for events
Coordinating marketing vendors
Drafting vendor payment schedules
Fulfilling and delivering marketing materials and promo items
Applying Co-Op Marketing Funds to cover costs
Whether it's happening now or coming up soon, Event Marketing appears to be making a comeback. Are you ready?