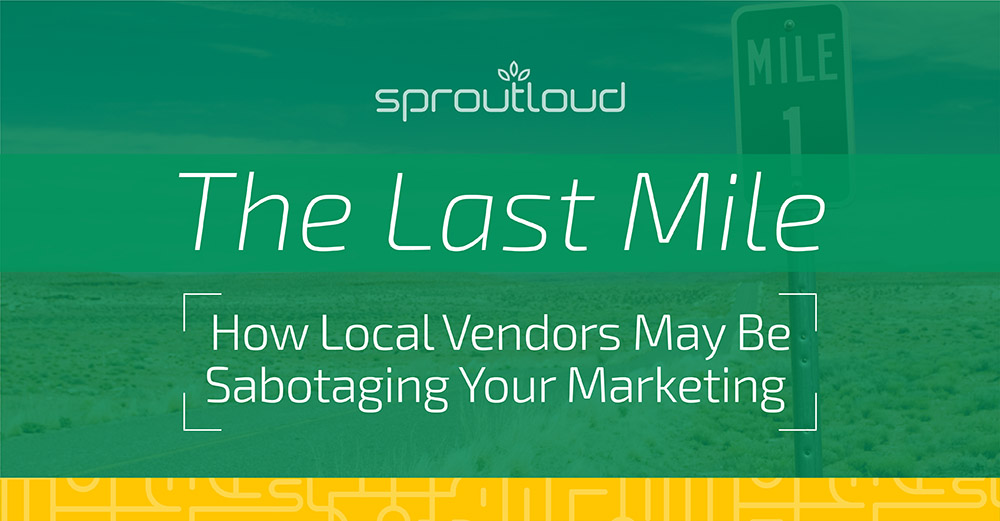 The Last Mile: How Local Vendors May Be Sabotaging Your Marketing
National brands that invest in local marketing are outspending small businesses by more than $9 billion, according to a recent study by BIA/Kelsey and MediaMax Network.  And a portion of that spend reflects increases in OpEx and vendor management:
About 50 percent of brands say their partner marketing operating expenses increased in the past year.
68 percent of brands say their increased OpEx is driven by vendor management expenses.
79 percent of brands saw an increase in the number of marketing vendors dedicated to partners, according to SproutLoud's recent Channel Marketing Retrospective.
Brands and their local partners — retailers, dealers, agents and distributors — are turning to more local marketing vendors in order to create multi-tactic campaigns to drive more traffic and sales. But subpar results from vendors can sabotage the last mile of local marketing campaign execution.  Let's take a look at three main last-mile failure points and how SproutLoud helps brands and partners resolve them.
1. Between Brands and their Partner Networks
Brands struggle to get more partners to participate in local marketing campaigns with Co-Op Advertising. Typically, brands say less than half of their partner network participates.
Partners say they opt out when they're not convinced that brand-preferred tactics, like digital marketing, will actually push the needle on local sales.
SOLUTION:  With SproutLoud, brands can have greater influence over their partners' marketing decisions and align tactics to close gaps in their partners' strategy. SproutLoud works with your brand's partner network to deliver in-depth marketing insight. Our Digital Diagnostics service gives brands and partners quick access to relevant local marketing data, and it reveals how local partners stack up against their local competition. SproutLoud also offers direct, white-glove Marketing Concierge™ assistance from our local marketing experts.
2. Between Partners and Local Vendors
Many partners say they're inundated with sales calls from marketing vendors, which adds to the time they have to spend on marketing instead of sales.
Partners say they don't have the time to evaluate and monitor vendors, to weed out vendors who deliver less than stellar results from the truly quality vendors.
SOLUTION: With SproutLoud, brands can take vendor selection out of the hands of their partners. Our platform offers 100+ world-class Marketing Service Providers – who are already vetted, monitored and evaluated quarterly – integrated directly into the SproutLoud single SaaS Platform.
3. Day-to-Day Vendor Management
Partners say daily vendor management issues eat up time and money that they don't have to spare.
When campaign execution is not brand-compliant or the quality is subpar, it can result in costly delays in getting the message in market.
SOLUTION: SproutLoud stacks the deck for flawless campaign execution. SproutLoud's Ad Builder and Digital Asset Management capabilities offer ad customizations, ad flexing and dynamic templates that are pre-configured to produce brand-compliant results. Once campaigns are ready, they are automatically routed for execution by our integrated network of expert Marketing Service Providers.
SproutLoud simplifies the entire Channel Marketing experience by giving brands more control over tactical partner marketing choices and by taking vendor selection and vendor management off their partners' shoulders.
Learn more about SproutLoud's Channel Marketing solutions.