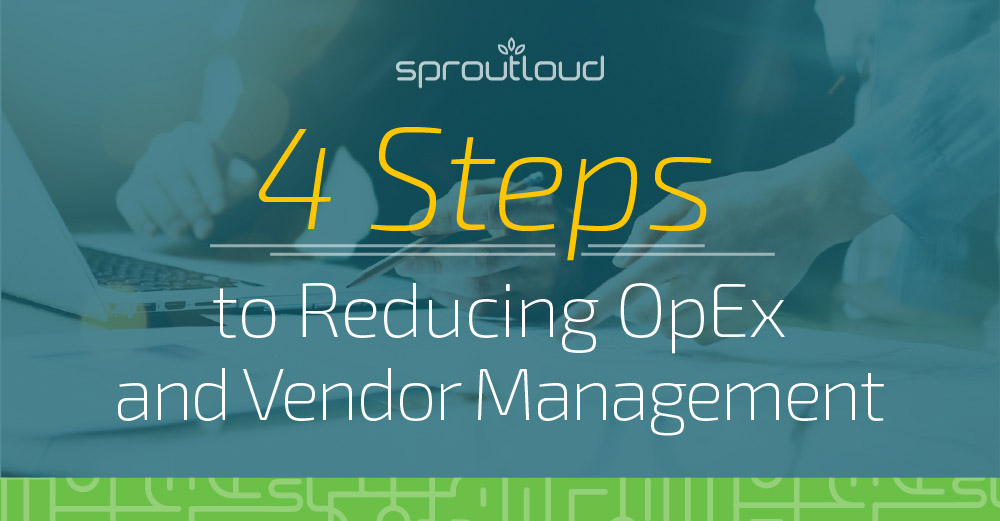 4 Steps to Reducing OpEx and Vendor Management
Sometimes it's about casting a wide net. And sometimes you need to drill down to a personalized message that resonates. But your Brand marketing goal remains the same: attract more customers to drive more traffic, leads and sales.  It's getting there that's become more complicated than ever for Brands today.
Take multi-tactic campaigns, for example. It's an effective way to reach your customers where they are, in the digital and traditional spaces they frequent every day. In fact, marketing research tells us that multi-tactic campaigns have a 24 percent higher conversion rate. Yet, for Brand marketing teams, that translates to more vendors and higher OpEx. Last year, 94 percent of Brands surveyed by SproutLoud said they increased the number of vendors they use.
Spending more money on more tactics produced by more vendors who can't give you the data you need on ROI is not a sustainable solution. It's a clear sign that you need to reduce OpEx and vendor management.  Here are four essential steps that will get you there:
1. Make It Simple
All it takes is finding the right Marketing Technology solution that not only does the heavy lifting for you, but also has a proven track record for delivering high-quality results and above-and-beyond customer service.
With a top Channel Marketing Automation solution, everything your Brand and your Partners need to run successful, multi-tactic local marketing campaigns is accessible in a single SaaS Platform. Whether your Partner network consists of hundreds or thousands of dealers, retailers, agents or local store owners, your Brand marketing team simply selects the tactics you want, chooses which Partners may participate and attaches Co-Op or MDF funds where applicable. Then, you sit back and watch your Partners opt in and execute Brand-compliant local campaigns. Each step, for your Brand and your Partners, is completed with point-and-click ease.
When the Platform is easy to navigate, it means you can get more campaigns to market faster.
2. Get More Channel Partners to Participate
The No. 1 reason Partners say they don't participate in Brand campaigns: It's just too difficult. Looking at it from your Partners' perspective — following Brand guidelines, requesting approvals, providing proof of performance and navigating an often cumbersome claims process — can you blame them?  With the right Channel Marketing Automation solution, Brands not only make it easier for their Partners, they can also influence Partner decisions by using incentives to increase participation. All it takes is a mouse-click for Brands to attach Co-Op or MDF funds directly to Brand-preferred tactics. That makes those tactics instantly more attractive to Partners. Your Partners can select tactics in an easy-to-use portal, customize them within Brand-approved templates and see multi-tactic campaigns automatically routed for execution.
Now, that's how you take complicated out of the equation.
3. Spend Less and Get More
Yet, many Brands still rely on a decentralized approach, where Partners must navigate customization and local marketing fulfillment on their own. That places the burden of vendor management on your Partners. It also makes it next to impossible for Brands to access the analytics they need to determine if a campaign is successful.
Leading Channel Marketing Automation solutions offer centralized marketing resource management. This means that the platform has an integrated network of Marketing Service Providers to handle fulfillment on behalf of Brands and their Partners. Neither your Brand team nor your Local Partners need to spend time or money vetting, selecting and managing vendors, because it's all rolled into your Channel Marketing Automation Platform.
4. Get ROI Data to Guide Your Decisions
Of course, there's an added benefit of centralized marketing resource management. With a top Channel Marketing Automation Platform, all your tactics, Partners and vendors occupy the same virtual space for everything, from campaign planning to final execution. That gives your Brand immediate access to a wealth of data to determine your return on investment, for every tactic, every campaign and every Partner.
Data-driven decision making in real-time makes your Brand more nimble and ready to respond to changing market conditions. Imagine your competition just hit the market with a deeper discount and better offer than your Brand is in the midst of rolling out. Making changes mid-stream across all tactics and all Partners would be a logistical nightmare in a decentralized system. And you'd inevitably encounter costly delays. With a single SaaS Channel Marketing Automation Platform, changes can be made across the board and still hit the market in record time.  And you'll be able to measure your return on investment every step of the way.