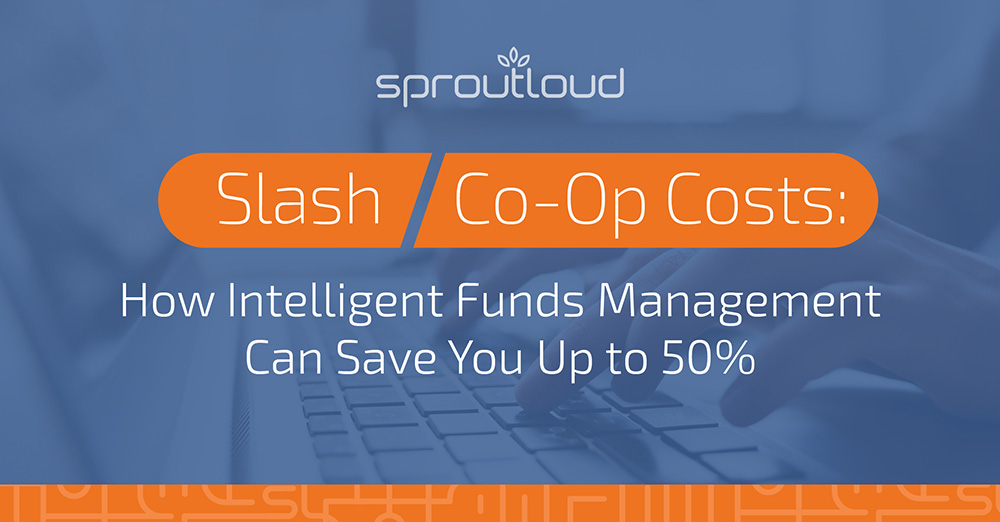 Slash Co-Op Costs: How Funds Management Can Save You Up to 50 Percent
It's time to stop defending traditional Co-Op Marketing: It's too complicated for Partners to use and too expensive for Brands to maintain.
There is simply no way to justify pouring money into an antiquated, overpriced, complicated system that less than half your Brand's independent Partners will ever use. Yet every year, Brands invest about $70 billion in Co-Op Marketing programs, hoping that offering Co-Op Marketing funds will encourage their dealers, agents and independent Partners to invest in brand-compliant advertising in their local markets.
Too Difficult
Let's face it:  It's not working. About half of all Local Partners opt not to participate in Brand Co-Op offers. And of those who don't participate, 75 percent say they aren't sure Co-Op Advertising is a good investment.  In fact, Local Partners are leaving about $33 billion of free Brand advertising money on the table every year because with Co-Op, it's just too difficult for Partners to:
Evaluate which marketing programs to use
Localize ads and customize assets
Obtain Brand approvals
Manage vendors
File claims
Get relevant data analytics to determine ROI
"We spend more of our own revenue [on marketing] than we do Co-Op, and that's because of the limited time I have. I don't have staff to monitor all the timelines and all the bells and whistles to get approval for the cost of this ad or that ad. Unless it's real easy, I generally avoid it," one independent retailer of a major Brand recently told SproutLoud Marketing researchers.
Too Expensive
It's too expensive for Brands to maintain a clunky, outdated Co-Op system that most of their Partners don't want to use. Inefficiency, complexity and manual work are driving up Partner Marketing costs for Brands:
79 percent of Brands increased the number of marketing vendors they use
68 percent of Brands say OpEx increased due to the increase in the number of marketing vendors
72 percent of Brands have dedicated teams managing approvals for Co-Op claims and reimbursement
If you consider that major Brands process hundreds of thousands of Co-Op claims each year, at about $16 a claim, from their Partner networks, while simultaneously footing the expense of dedicated Brand marketing teams to field Co-Op requests and enforce Brand guidelines, the cost of Co-Op adds up quickly.
The Co-Op Solution: Cut Costs and Simplify the Process
SproutLoud has dedicated time and research to systematically identifying the pain points of Co-Op Advertising for Brands and their Partners. And we've developed a solution to revolutionize the entire Co-Op process from start to finish. SproutLoud's Funds Management software cuts claims processing costs for Brands by up to 50 percent, which allows Brands to reallocate those funds and dedicate them to more effective tactics, including leading-edge local digital marketing. For Partners, SproutLoud simplified the entire Co-Op process.
Here's how it works:
Centralized System: SproutLoud's Channel Marketing Automation Platform offers a centralized marketing experience that makes Co-Op simple, efficient and more effective for both Brands and Partners.
Cost-Savings: By moving traditional Co-Op Claims and Reimbursement to the cloud, Brands can save up to 50% on claims processing with SproutLoud.
Select and Customize Ads: With our simple-to-navigate, SaaS-based Platform, Partners can select and customize Co-Op ads that are pre-set to adhere to Brand guidelines.  This process, which runs parallel with the traditional claims and reimbursement process, deliver two major benefits: 1) It simplies customization and 2) It means there is no need for a Brand-approval process, because the dynamic templates used for customization within the SproutLoud Platform are pre-configured with Brand-compliant options.
Automatic Ad Execution: Once Partners select Co-Op ads, they are automatically routed for execution by best-in-class vendors in SproutLoud's integrated Marketing Service Provider network.
Automatic Claims Processing: When Co-Op ads are executed through the SproutLoud Platform, the respective Co-Op claims are automatically routed for processing thanks to cloud technology. This reduces the number of traditional claims involving Partner-developed creative in favor of Brand pre-approved customizable templates. And this also means Partners receive Brand Co-Op funds faster.
Disrupt Your Entire Claims Process
It is clear that SproutLoud has improved every function in the broken process of traditional Co-Op Claims and Reimbursement. So, if your Brand prefers to continue offering the Claims and Reimbursement process to your Partner network, SproutLoud is able to replicate that process while improving efficiency and cutting costs by up to 50 percent.
But we haven't stopped there.
For Brands who prefer leading-edge solutions, SproutLoud has revolutionized the approach to Co-Op Funding with SproutPay Instant Funding, which completely eliminates the need for claims and reimbursement and eliminates the possibility of fraud.
Here's how SproutPay Instant Funding Works:
Brands attach Co-Op funds to specific tactics, to steer Partners toward the most effective marketing decisions.
When a Partner selects a Co-Op offer, it gets automatically routed for execution with our integrated MSP network, then funds from both the Partner and the Brand are applied instantly. This means there are no claims, no reimbursements, no need for proof of performance and no room for fraud.
SproutPay Instant Funding eliminates the need for Brands to maintain an expensive third-party claims processor.
Like icing on the cake, there's an added benefit to having everything — from selecting tactics, to customizing and executing tactics, to processing and funding campaigns — take place on SproutLoud's single SaaS Platform. It opens the door to data-driven decision-making:  Brands can finally have real-time access to relevant performance metrics and ROI across their entire Partner network, for every tactic, every time.
Learn more about SproutLoud's Funds Management solution.