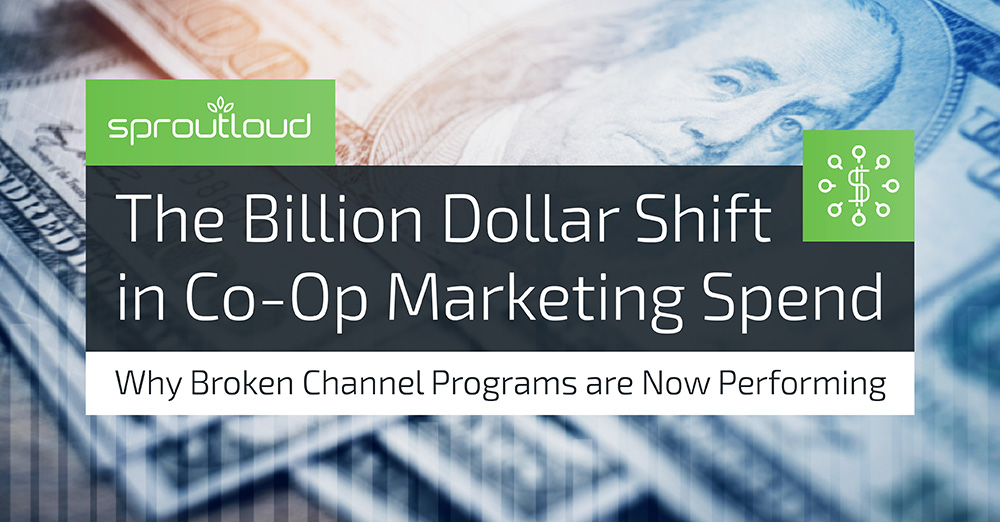 The Billion Dollar Shift in Co-Op Marketing Spend: Why Broken Channel Programs are Now Performing
Marketing through Small Business Partners is broken. The fuel behind these programs, Co-Op Advertising Funds or MDF funds, has lost its octane rating — years ago.
According to a study conducted by Borrell Associates in 2012, Co-Op Marketing spend through local small business partners is a $22.4 billion dollar (broken) market in the United States alone. $6 billion of that goes unused every year.
The Problem:
Co-Op Programs are not Working for SMB Channel Partners
SMB partners at the local level, selling products and services of major brands, are tired. They are tired of trying to understand the complex co-op advertising rules of the brands they sell. They are tired of being out of pocket thousands of dollars for months on end to advertise according to someone else's rules. They are tired of their own brand being suppressed. They are tired of having limited resources to run Brand advertising programs effectively.
The result? Mediocrity. Partners are not engaged. They aren't using the tools Brands give them. Brands don't understand how the money they spent is performing. And the tell-tale sign? Billions of dollars of Co-Op Advertising going unused per year. Free money, going unused. Where else does that occur?
The unfortunate part about all of this is that mediocrity has become a standard in an industry plagued with widespread  problems. In an age where marketers are held to showing data behind spend, co-op budgets had been excused. "Its hard enough getting SMBs to advertise – how the heck can I track it?"
Brands selling through indirect sales-channels see Co-Op Advertising as a compulsory obligation to run a channel. And because traditional claims-based reimbursement programs ask for documentation without an obligation to marketing performance, billions of dollars are spent, without recalibration every year and without accountability to a marketer's No. 1 promise — spending money on campaigns that work.
This is how a typical conversations starts:
Brand: "Hey, SMB. You should really sell my products/services through your business. You'll make a lot of money."
SMB: "That's great – but I already represent your competitor. How are you different?"
Brand: "Well, your customers are going to like our products / services much better. We've got great training programs. Plus, we'll help you advertise locally – we'll give you co-op money and all you have to do is [insert 10 pages of brand / co-op documentation here]. Submit a claim, and [insert documentation rules here], we'll spend a few months processing your information, and we'll get you back a check in six months. How does that sound?!!
SMB: "Urgh…..I'm in?"
Here's how it works 6-months later to 80% of the channel:
Brand: "Hey SMB, so glad you are in our program, but let's look at getting your numbers up to be closer to John on the other side of town."
SMB: "Sure – I'm willing. What's John doing that I'm not?"
Brand: "Well, for starters, John spent ten times the amount you did on advertising our products/services to your community. How come you didn't participate in the Q4 product launch program?"
SMB: "I don't have the same team that John has – it would have taken me too much time, and I don't understand what it is. I need to be focused on selling!"
Its a Difficult Problem: Running the Channel is Hard
The painful reality is that as channel marketing professionals, we are dealt a crappy set of cards at the onset. We still are! We have to:
Influence independent business owners, which is already like herding cats, who have the authority to make their own decisions on how they advertise their business, and where they spend their time and money
Work with an audience strapped on monetary, time and know-how resources
Work with archaic tools and systems that only track co-op balances
Then, on top of all of that, we have to use the same methodologies for SMB Partners as the bigger Partners — a strategy destined to fail from misalignment of tools to Partner needs. The culprit? Reimbursement systems.
As transformative shifts in technology and marketing ecosystems have occurred over the past 10 years, particularly in digital marketing, the same legacy claims-based Co-Op Advertising reimbursement program has lived on — like a cockroach in a nuclear winter.
The Impetus Toward the Solution
As the traditional Co-Op Marketing model has failed, there is greater accountability and new MBOs placed on Chief Marketing Officers and the team responsible for overseeing the channel. They are being charged with:
Supporting increasing sales through the channel
Understanding how co-op budgets to support sales growth are being spent – does this money perform better than direct marketing spend
Increasing marketing engagement through partners
Unifying direct sales national strategy with local marketing strategy through partners
These priorities are now driving the shift for the C-Suite to find a better way to run the channel.
The Solution, and the Billion Dollar Shift to Co-Pay Programs
Co-Op Advertising reimbursement programs struggle with the quintessential connection to performance because of the logistical hurdles in bridging down to local-level data. "The process is backwards," says the savvy Channel Manager. "In the past, I used to tell my Partners the money they had available. Then they'd submit proof, and I'd pay them out. Performance requirements was an after-thought."
Co-pay programs intrinsically link Co-Op Advertising funds and MDF to pre-approved, brand-run marketing programs and network-wide product launches. Because these programs are interconnected, Partners are never out of pocket with their money, are immediately informed on what's available, and more importantly, don't have to second guess what works.
And with the Brand now back in control of how their spend is happening, they can use their network's buying power to drive marketing efficiencies. This lowers costs for all partners, even smallest, while simultaneously connecting their spend to deep, local-level understanding on performance.
Co-Op guidelines are now directly incorporated into performance measurement and tracking standards because they are married to the spend itself, rather than being an after thought. Channel Marketing programs using Co-Op Advertising budgets are now being designed to measure what the brand needs to measure before program launch.
Broken channel programs are now performing. Engagement is up. And its all because there is a better way, a better process. A process that informs the Brand on performance. Performance that provides insights back to redefine and incentivize Channel behavior around the interests of the Brand, and not the interest of the SMB Partners.
A once compulsory business-requirement is now becoming a weapon for the best brands to compete in local markets.