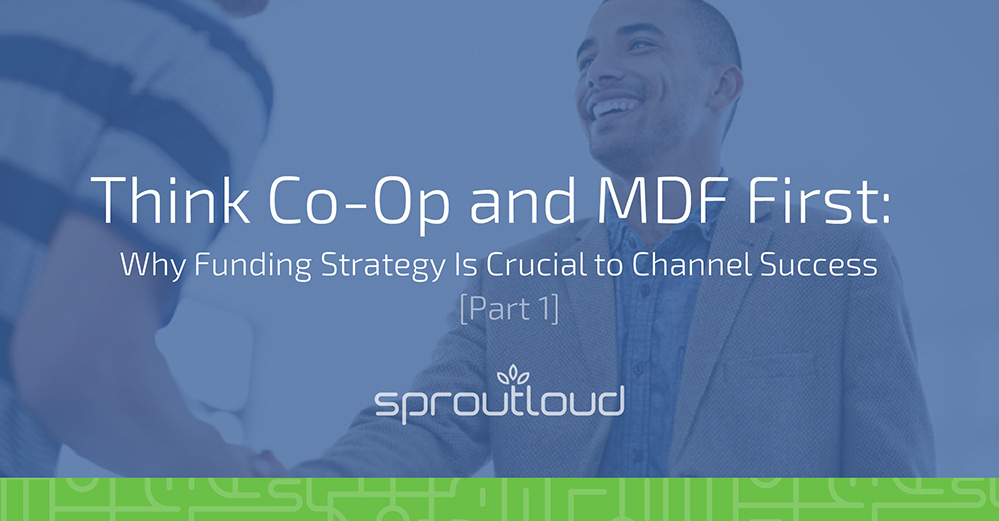 Think Co-Op and MDF First: Why Funding Strategy Is Crucial to Channel Success – Part 1
EXECUTIVE SUMMARY:
The most important factors in executing your marketing through your Channel Partners are funding and understanding the need to see Channel Partners beyond their primary role of distribution. If you are looking to build or improve upon aligning your advertising with your Channel Sales goals, reading this article will help you:
Discover why Channel Partners, beyond distribution, are strategic Partners for your marketing goals.
Understand why Co-Op Advertising with Channel Partners is essential to the customer journey.
Learn how to identify the symptoms of an underperforming Channel program.
This article is the first of a two-part series: Why Funding Strategy is Crucial to Channel Success.
* * *
If you go to market through Channel Partners, not all funding options are created equal. More than any other factor, it's funding that shapes your Channel Marketing landscape.
We all know the recipe for success in Channel:
Build great products.
Select the right type of Local Partners to be ambassadors of your products.
Develop an investment strategy that will drive the results you require.
In this article, I want to focus on that third, crucial step.
We live in the most competitive era in business history. Globalization, new entrants and disruptive technologies mean that every company is fighting a battle for mindshare with potential customers.
After 10 years of experience providing strategic advice to Channel Marketing professionals, I believe it is clear that a company's investment strategy in today's Channel is the primary predictor of success or failure.
Nature vs. Nurture: How Do You View Your Partners?
There are as many different perspectives of Independent Partners as there are industries selling products through them. And while each company will have its unique Channel strategy, how you view your Partners says a lot about how you want to guide your Brand in your Partners' markets.
Some companies view their Partners, by nature, as independent. They create the tools the Partner needs to sell products but believe that marketing those products, and the subsequent funding of placing content into market, as principally the Partner's responsibility. In this view of the Channel, Brands really are thinking of their Partners primarily as distribution points.
We tend to see this a lot in Franchisor/Franchisee Channels. The Franchisor launches the systems but doesn't go the last mile in financially assisting the placement of local media into market — rather, they focus more on national efforts.
While this used to work in a supply side economy, the worldwide proliferation of Information Technologies has put the consumer in complete command. The internet, the cloud and mobility have given people instant access to more information than ever before as shoppers.
This puts more pressure on companies to make their products relevant at the end-points of the customer journey, when customers come to buy the product. So regardless of how well your national advertising performs, bridging the local marketing gap is crucial to closing people when they want to buy.
This leaves a critical part of the sales-and-marketing process in the hands of a Channel Partner, who may not have a vested interest in the Brand's success, particularly if they also sell competing Brands in their product portfolio.
Conversely, organizations that view their Partners as more than just distribution points take a much more engaged approach. These Brands believe that it is their responsibility to nurture their Channel Partners by not only providing tools but by cooperatively investing in local marketing activities as well.
In the "On-Demand Age," when almost perfect information is available at customers' fingertips, this mindset builds a tighter bond between the Brand and the Partner and delivers better results every time.
Funding the Customer Journey
If Channel Partners are high-impact points of distribution for your customers, and advertising impacts the customer journey, then funding Channel Partners advertising efforts is critical.
Why?
Because Co-Op funding is the No. 1 incentive that will influence Channel Partners to affect the customer journey in a way that aligns with a Brand's interests. Not slotting, stocking or display allowances, not volume rebates — Co-Op advertising provides the largest impact to the customer journey and increase sales.
Co-Op advertising, or market development funds for planning purposes, comes in many different flavors.
If you're familiar with SproutLoud and the marketing technology solutions we offer, then you know we have a strong view on the difference between Claims-based Reimbursement funding strategies and Co-Pay. We've coined the term "SproutPay" as our Co-Pay Solution. You can read more about that in my article, The Billion Dollar Shift in Co-Op Marketing Spend, and in our recent ebook, SproutPay is the New Black.
So rather than focus on the differences between Co-Pay and Reimbursement, both of which provide funding to Channel Partners for local execution, let's continue the focus on exploring how lack of Co-Op funding impacts Partner sales.
Do you offer one of the following to your Partners?
A Brand-controlled marketing fund which Partners augment with a percentage of their sales
revenue.
Budgets that fund tools for Partners without supporting advertising programs .
Brand-approved marketing vendors that Partners can use with their own funds.
The preceding examples are all designed to drive sales through the Channel, but ultimately they fall short due to lack of funding tied to the actual execution of the advertisements.
Let's look at the most common symptoms of the above strategies and why they occur.
Symptoms of the Wrong Investment Strategy
When reviewing your investment strategy, the following clues could indicate that it's time for a change:
Poor Partner participation.
Too many change requests to the creative or program rules.
Difficulty in scaling programs without adding costs.
Lack of understanding of marketing tactic performance.
All of these symptoms occur when funding is not present in programs. This is primarily because most Channel Partners are Non-Captive.
At SproutLoud, we tell Brands that the less control they have over how their Partners advertise, the more Non-Captive they are. This means that unless you influence how they should advertise, Partners are doing to do what (they think) is best for them.
Your Next Read:
Part 2 of the Think Co-Op and MDF First series