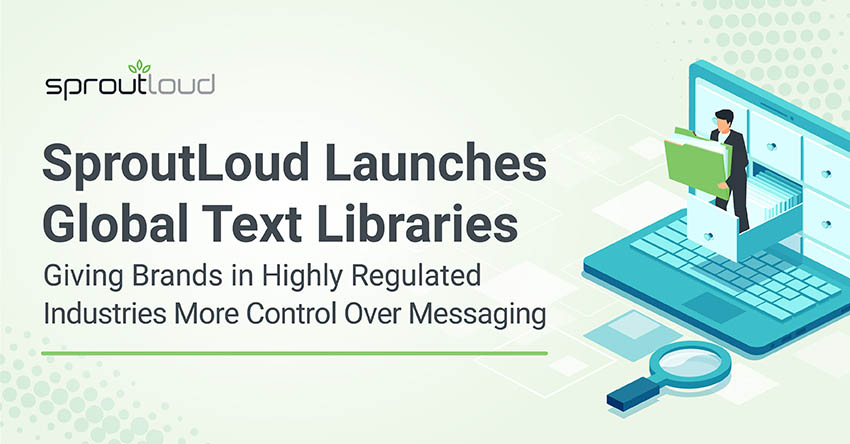 SproutLoud Launches Global Text Libraries
SproutLoud's Global Text Libraries make it faster and easier than ever for brands to update, replicate, and distribute brand-compliant text copy instantly and simultaneously across entire networks of resellers — all with a few clicks. By using Global Text Libraries, brands can increase speed-to-market and reduce costs of template maintenance. The brand user can make copy updates in one place and apply it everywhere that text is used in their customizable online templates by their local dealers, agents, brokers, underwriters, distributors, franchisees, corporate locations, independent retailers, and multi-location resellers. This gives brands greater control and consistency in updating legal disclaimers, product descriptions, promotions, headlines, body copy and ad messaging.
With a new, easy-to-navigate interface, brand teams can create, manage and search text values being shared across the available templates. The Global Text Libraries work much like SproutLoud's multimedia libraries that clients know and love. It is fast and simple to find text values and apply changes with rich-text editing options. For example, boldface or italics formatting on a brand-approved legal disclaimer will remain as the brand sets it, no matter where it's used. "For highly regulated industries, such as telecom, healthcare, insurance or financial services, this allows brands to quickly and easily update legal disclaimers and ensure that those changes are applied consistently and in real time across their networks of end users," said Gary Ritkes, President of SproutLoud.  "And those updates would not require any action from the local end users in order to be applied. The brand-controlled text updates are applied automatically and seamlessly wherever the given text is used within a brand's catalog of available templates."
Global text updates are also useful for promotions or product descriptions. If text for a holiday promotion, for example, is set with a start date and an end date, then that promo text would only be available to the brand's resellers for that specified timespan. For new iterations of brand products, brand marketers can update product descriptions to highlight the latest features and upgrades, while instantly deploying those updates to local ad copy or local websites, wherever the product descriptions are used by resellers across the brand's network.
The SproutLoud Global Text Libraries also improve the brand experience for reporting. Reporting tags can be tied to text updates to make it easy for the brand to find, update and pull reports on specific types of text that are most relevant to the brand. For example, tagging offers as "primary offers," "military discounts," "first-responder discounts," "senior discounts," or "2-for-1 deals," allows brands to quickly make changes and see how frequently the updated text is being used across the brand's local reseller network.
The added benefits of consistency and accuracy with Global Text Libraries eliminates the possibility of errors being introduced at the local end-user level. This gives brands the control they need over national-to-local messaging. It also reduces time on task, freeing up hours that brand marketing teams can reallocate for more strategic work.