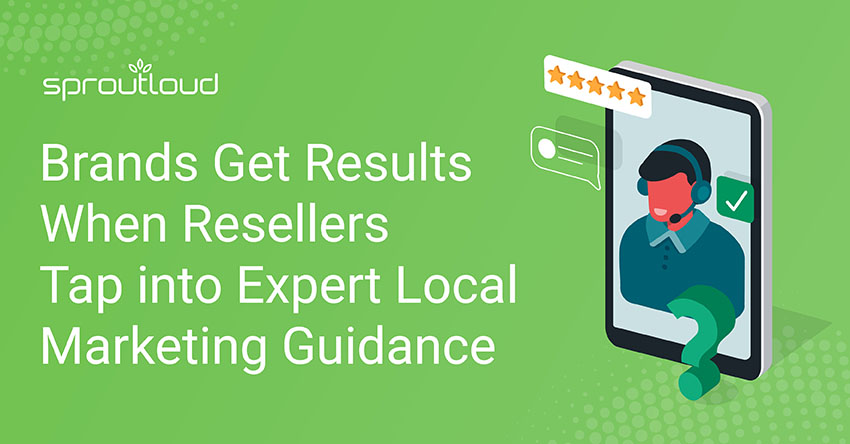 Brands Get Results When Resellers Tap into Expert Local Marketing Guidance
Brands that sell products and services through distributed networks of local resellers rely on them to increase traffic, leads and sales. But today's resellers — agents, brokers, underwriters, retailers, dealers, distributors, franchisees, branches, independent multi-locations and corporate stores — need more than just access to local marketing software and tools. They need help understanding:
how to use distributed marketing software to increase sales
how to make better decisions about campaigns, budgets, digital ads, social media marketing
and how to connect the dots between their marketing efforts and measurable results
This is why more and more category-leading brands are shopping for Distributed Marketing software solutions that also provide expert local marketing guidance to their reseller networks.
What Brands Need to Know About Their Resellers
It's always helpful to local resellers when brands provide a variety of ready-to-go, brand-approved creative options for digital marketing campaigns and social media marketing, according to Katherine Noreña, Partner Success Manager at SproutLoud.
"However, when creative categories provided by the brand don't specifically fit a reseller's end-consumer audience, those resellers need guidance. And we're here to provide the one-on-one support they need," Noreña said.
Another common request for assistance comes from local resellers who don't know how to determine if their campaigns are successful or not.
"Many resellers need help to understand performance metrics for local marketing campaigns," Noreña said. "Our team walks local resellers through the process, and we set their campaigns to automatically optimize. Additionally, we follow up with guidance on updating campaigns for the appropriate season and for any changes to their business."
Most Frequently Asked Questions from Local Resellers
Resellers seek out SproutLoud's local marketing experts on a regular basis. Here are just a few of the most frequently asked questions our Partner Success team receives:
What are other resellers in our network doing with their MDF or Co-Op Marketing Funds?
How often should we change the creative in our ad campaigns?
What can we do to make our local marketing campaigns perform better?
"We provide resellers with benchmarks for their industry and for their network, based on participating resellers," Noreña said. "We also offer guidance on how they can make better use of their budgets and what they can do to more accurately target their audiences."
Social Media Marketing
For those brands and reseller networks that opt-in to social media programs, automated social posting on Facebook and Twitter is a great option. Some brands also provide one-off posts, and/or a set number of suggested social posts for their local resellers.
"Even when the brand provides social posts, we recommend that resellers post their own social media content, too," Noreña said. "For example, if a brand provides 10 social posts a month, resellers should be posting more frequently. By adding more of their own customized social media content, resellers can connect directly with their customers and keep them engaged.
Brands Choose the Level of Support Their Resellers Receive
When resellers need help, there are a variety of ways they can tap into SproutLoud local marketing expertise:
One-on-one consultation
Offered with every report SproutLoud sends, a reseller can schedule a one-on-one consultation with a local marketing expert, via phone call or video conferencing.
Webinars
Some brands request quarterly webinars for their resellers, to help them better understand the marketing programs and campaigns that are available to them and to review overall network performance.
Calls and email queries
SproutLoud local marketing experts provide troubleshooting guidance to our clients' reseller networks, offering white-glove Local Marketing Concierge™ service. Our teams are trained to come to a conversation prepared and to follow up with detailed guidance and/or a quick email response, whichever best suits the kind of help that's needed.
Dedicated support
Many of our category-leading brand clients choose to offer their reseller networks dedicated support. In these cases, the network is assigned a SproutLoud local marketing expert, who offers direct support.
Ready to See What SproutLoud Can Do for You?
Schedule a Demo with a Distributed Marketing Expert