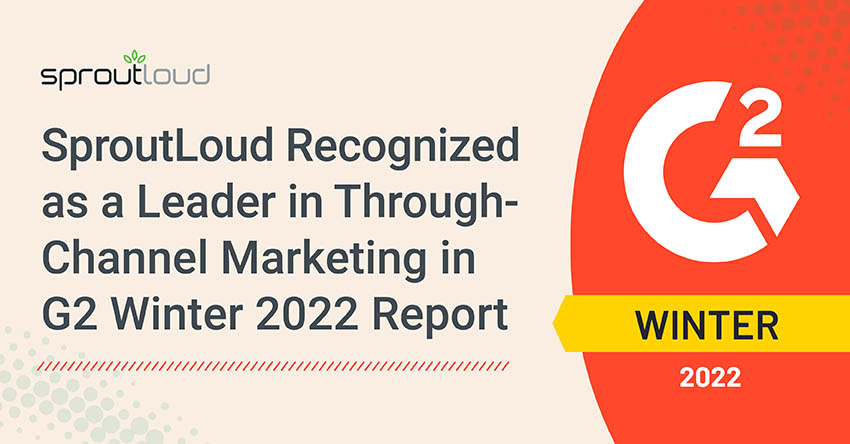 SproutLoud Recognized as a Leader in Through Channel Marketing
Leader in Through Channel Marketing is 1 of 24 badges across five categories that SproutLoud earned in the Winter 2022 Report from software review platform G2. The badges are awarded as recognition of verified client reviews of SproutLoud's Distributed Marketing platform, which makes local marketing easier and delivers measurable results for Enterprise clients and their national and global networks of SMB resellers. Here's a look at what Enterprise clients are saying about SproutLoud:
"SproutLoud has a critical understanding of the nuanced-nature of the local marketing services spaces," wrote Carlos, an Associate Director of Strategic Planning for a major enterprise company. "They understand how to support a client's need to extend their brand at the local level regardless of channel model (i.e., corporate, franchise, independent brick and mortar and distributors alike). They have a clear understanding of the role of technology, through the development of a user-friendly content creation workflow, and SproutLoud has a clear understanding on the role and value of performance analytics in ensuring their solutions deliver on diverse client business needs."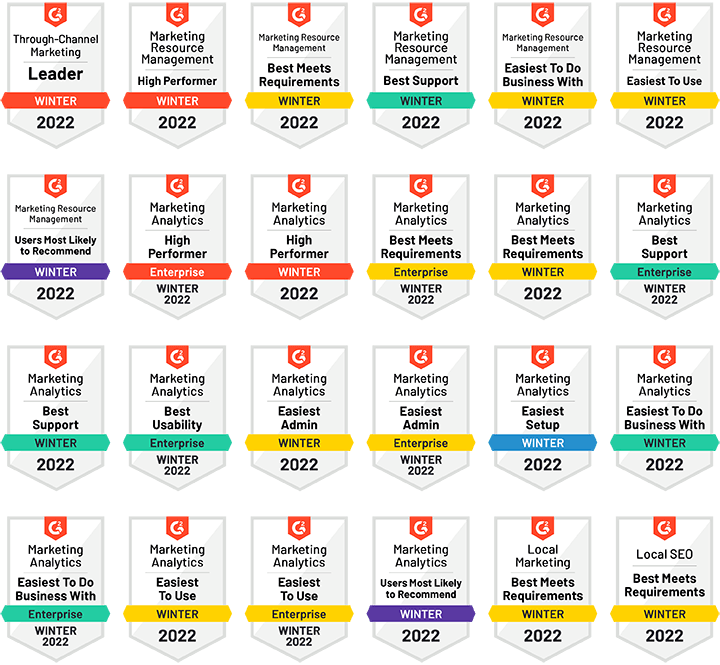 Ramon, a Director of Sales, wrote: "SproutLoud's team is wonderful to work with all the time. They are intelligent, diligent, and turn around requests quickly. They've continually onboarded new customers and continue to look for ways to deliver the best results for their clients. If you are looking for an excellent one-stop shop partner that can handle all of your digital and media needs down to the local level, then look no more. SproutLoud is the best in the business."
In another recent review, Celeste, a Senior Project Manager in Local Marketing Operations, wrote:  "SproutLoud allows me to take control of the tools needed in my day-to-day operations and get marketing assets to my teams quickly. I love the database of knowledge that they learn to acquire about our brand and processes, and how they catalog these so they know or can answer questions on my behalf. It saves me valuable time to focus on other functions that need my attention."
Including the "Leader in Through Channel Marketing" badge, SproutLoud earned a total of 24 badges in the following categories:
Through-Channel Marketing
Marketing Resource Management
Marketing Analytics Software
Local Marketing Software
Local SEO
ABOUT SPROUTLOUD
SproutLoud is a leading SaaS-based Through Channel Marketing Automation platform, designed to increase brand sales through partners in local markets. SproutLoud's advanced marketing automation technology simplifies every aspect of Distributed Marketing and delivers comprehensive analytics on tens of millions of touchpoints for major, category-leading brands. SproutLoud gives brands unparalleled visibility on ROI for individual tactics, campaigns, partner engagement and platform usage. With SproutLoud, brands have the advantage of responding rapidly to changing market conditions in real-time with data-driven decisions.
Media inquiries
Contact SproutLoud Senior Content Marketing Manager Elizabeth Vempala:
Sales inquiries
Contact [email protected] or call 954-476-6211 x3