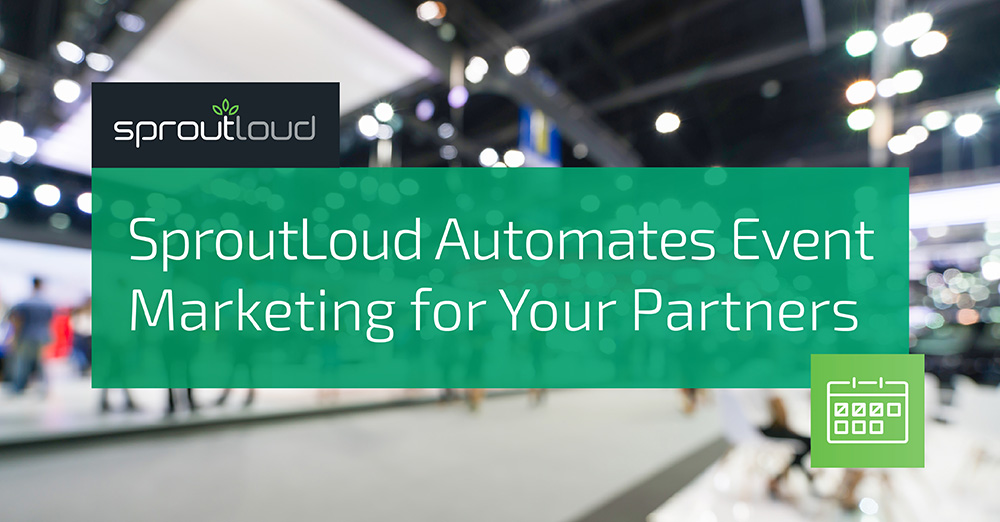 SproutLoud Automates Event Marketing for Your Partners
Fighting for leads and store traffic is tough for the local retailers, dealers, distributors and agents that compose Channel Partner networks for Brands using an Indirect Distribution strategy. Today, Local Partners — who are competing against e-Commerce giants and Big Box retailers for the same customers — can't afford to sit back and wait for customers. Generating the quality of leads and traffic that develop into sales takes strategic planning and a proactive approach.
A healthy demand-generation strategy includes a good mix of both digital marketing campaigns and traditional advertising. But nothing can replace your Partners' connection to the local communities where they themselves live, work and shop. That's why Event Marketing plays such a vital role in Partner Marketing strategy.
Whether it's a strategic event prioritized by the Brand or a state fair, local festival or high school sporting event, active participation in community events offers advantages for Brands and their Partners. These events are opportunities for your Partners to:
Build Brand awareness
Build relationships with current and potential customers
Schedule appointments
Gather leads
Close sales
But for Partners who are short on staff and strapped for time, Event Marketing may pose significant challenges in terms of:
Registering for an event
Booking a booth
Coordinating with vendors
Ordering marketing collateral and promotional items
Filling out forms
Meeting deadlines
Making payments
All this can seem too time-consuming for Small Business Owners who would much rather focus on sales than marketing. But it doesn't have to be — for Brands that use a comprehensive Channel Marketing Automation platform that automates the management of Event Marketing.
SproutLoud's Channel Marketing Automation Platform offers an Event Management module that takes the pressure off your Partners. Here's how it works:
Step 1: Brands or their Partners may submit an Order Form requesting Event Management on the SproutLoud Platform.
Step 2: Brands indicate in advance whether Co-Op Advertising Funds are applicable.
Step 3: Partners indicate what they want and sign the order form.
Step 4: Based on what Brands permit and what Partners request, SproutLoud handles:
Registering Partners for participation in events
Booking booths and reserving booth materials on behalf of participants (tablecloths, access electricity in the booth, etc.)
Receiving Partner orders for Brand marketing collateral and promotional items
Making recommendations to Partners, based on Brand recommendations for kits, swag, t-shirts, promo items and marketing materials for events
Coordinating with marketing vendors and drafting a vendor payment schedule for Partners
Fulfilling and delivering marketing materials and promo items, with Ship-to-Your-Door convenience
Applying Co-Op Funding or SproutPay Instant Funding to cover costs, based on what the Brand permits and what the Partner requests
After signing the order form and specifying what they want, the only thing your Partners need to do is show up for the event. SproutLoud handles all the heavy-lifting for Event Marketing, so your Partners can maintain their focus on traffic, leads and sales.
The most important thing Partners need to do actually happens after an event is over: Following up on all the leads they gathered. Depending on the audience and the offer, Partners may want to follow up with a Direct Mail campaign or an automated email that recaps the offer discussed.  Partners can also include leads in data-triggered campaigns to maintain consistent engagement with customers over time. All of which can be done within SproutLoud's comprehensive Channel Marketing Automation Platform, with support from Local Marketing experts ready to assist your Partners every step of the way.