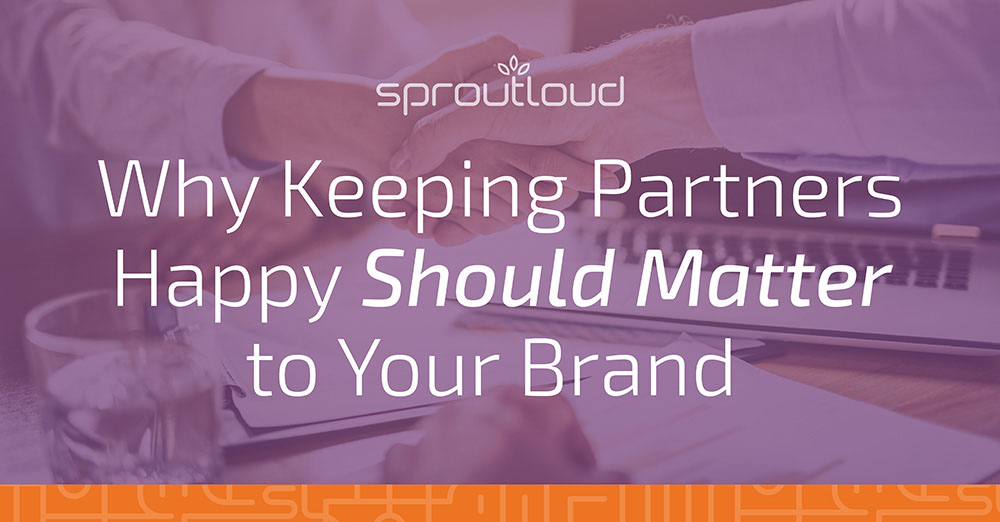 Why Keeping Partners Happy Should Matter to Your Brand
"The customer is always right"  —  that was a new idea when Harry Gordon Selfridge, an American retail tycoon and London department store founder, coined the phrase 109 years ago. Today, this concept is so firmly ingrained in American corporate culture that outliers tend to get called out publicly.
For Brands that reach customers indirectly — through a network of independent Partners, retailers, agents, dealers and local business owners — this means keeping Partners happy is as valuable and critical to sales as keeping customers happy.
And the No. 1 thing that Partners say they find aggravating is — Marketing.
Submitting Co-Op claims, meeting Brand guidelines, managing social media, learning about new Digital Marketing offers, trying to figure out if they have enough Co-Op and MDF funds to cover the next campaign — it's enough to make your head spin, especially if marketing is not your cup of tea. Partners tell us that all they really want to do is run their businesses and increase sales.
At SproutLoud, we've solved for these issues by making marketing simple and easy for Brands and their Partners with innovations in our Channel Marketing Automation Platform. But we also understand that nothing replaces exceptional customer service to our Brands and their Partners.
We have a team of expert Local Marketing Coordinators (LMCs) dedicated to offering support and service to our Brands' Partner networks. Our customer service to Partners is so important to us that, month over month, we track Partners' happiness with our products and services through CSAT (Customer Satisfaction score) and NPS (Net Promoter Score).  We consistently receive feedback from Partners that both the level of service they receive and their experience with the SproutLoud Platform exceed expectations.
For example, our LMCs recently helped Partners from various Brand networks opt into Automated Social Programs, which populate Partners' social media accounts with Brand-approved posts. Here's how Partners responded:
"I enjoy not having to post on Facebook and Twitter daily. It is wonderful that it is taken care of for me."
– a Local Travel Agent
"I like the feeds to my Facebook page. I know it will increase business."
– a Partner in the Travel Industry
Our LMCs also field questions from Partners and help them navigate the SproutLoud Platform. Here's more of the feedback they received:
"I always get quick help, and everyone is always really nice, even when I am a mess and can't form two thoughts. Patient, helpful and quick. Thanks guys!"
– a Partner in the Agricultural Manufacturing Industry
"Helpful and takes care of important marketing tasks so I can run my business."
– a Partner in the Retail Pharmacy Industry
"Love the product. Customer service staff are always friendly and very helpful. They take their time with all your questions."
– a Partner in the Cruise Industry
No matter how vast your Brand's Partner network is, getting dealers, agents and retailers to engage and participate in Brand-compliant campaigns can be a challenge. So, when they do, it's absolutely crucial to ensure that your Partners have a positive experience and receive high-quality service and support from your Channel Marketing Automation Platform provider.
Leading Brands know the true value of giving their Channel Partners optimal customer service: When Partners are happy with how fast and effortless it is to participate in Brand-approved local marketing, Brands tend to gain even greater influence over Partner Marketing decisions.