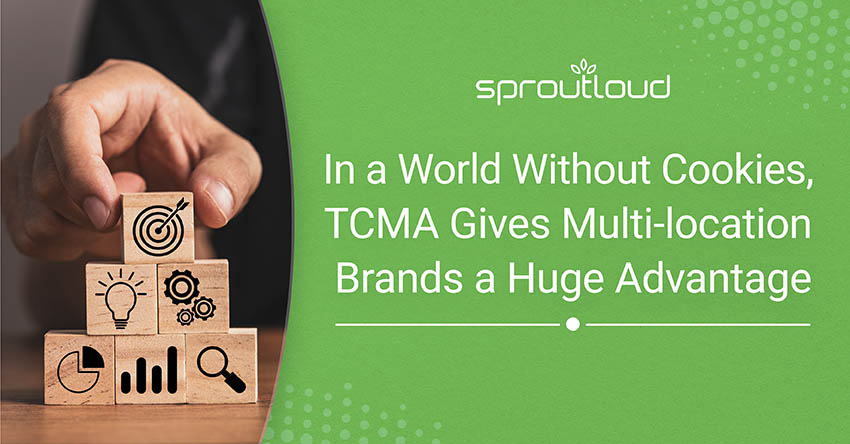 In a World Without Cookies, TCMA Gives Multi-location Brands a Huge Advantage
With the worldwide digital marketing spend projected to exceed $645 billion in 2024, brand marketers are becoming increasingly worried about how to deliver personalized consumer experiences to targeted audiences. That's because collecting accurate, meaningful consumer data needed to shape those experiences is getting more and more difficult. Apple's latest iOS update has already made mail privacy protection the default for Apple users, making it impossible for companies to connect email recipients on Apple devices to their online activity, location and open rates, unless they opt in. And Google plans to eliminate third-party advertising cookies on Chrome by 2023.
Why are Cookies Going Away?
The elimination of cookies is tied to the growing demand for consumer privacy and a global wave of changes to privacy protection laws across the United States (California, Virginia, Colorado), the United Kingdom, and Europe. In fact, Safari, Firefox and others have been restricting cookies for years. Industry watchers say that, while Google lags behind its competitors in the elimination of cookies, its move will have the biggest impact, since Chrome corners more than 64 percent of the browser market worldwide.
The TCMA Advantage for Multi-location Brands
In Through Channel Marketing Automation (TCMA) — without cookies collecting third-party data through social, search and programmatic ad campaigns — the ability to leverage first-party data that companies collect directly and voluntarily from consumers becomes all the more important, said Kevin Hill, Vice President of Digital Strategy at SproutLoud.
"TCMA offers a huge advantage to Enterprise companies and their channel partner networks," Hill said. "By leveraging first-party data from brands and their partners, channel marketing automation can offset the deficit when access to third-party data is no longer available."
Personalized Consumer Experiences Still Matter
Personalized consumer experiences with Through Channel Marketing Automation solutions make it easier for Enterprise brands and their channel partners to reach audiences in local markets. And optimizing local resellers' online presence and digital marketing campaigns will continue to influence a brand's ability to maintain a competitive advantage in local markets.
"Going out with paid search, paid social, and different digital marketing tactics is still going to be extremely important," Hill said. "The more that you can layer that with your own audiences, your own first-party data, because you can't leverage third-party data anymore, that's going to give you a better ROI."
Channel marketing automation solutions are well positioned to automate opportunities and processes aimed at gathering first-party data that consumers voluntarily provide to brands and their local resellers. When resellers, retailers, dealers, distributors, agents, brokers and other types of channel partners can securely access relevant brand data sets, they can more effectively customize messaging and target digital experiences and ad campaigns to consumers in local markets.