How to Scale Awesome Localized Ads that Convert
Scaling and maintaining consistent brand messaging across an entire independent network of multi-location resellers poses a significant challenge to your local marketing messages.
With so many moving parts, how do category-leading brands scale and produce awesome localized ads that convert traffic, leads and sales?
Tools of the Trade
Producing and fulfilling localized ads at scale requires three things:
Ad Builder and Digital Asset Management technology system
Distributed Marketing platform
Pre-integrated network of Marketing Service Providers for fulfillment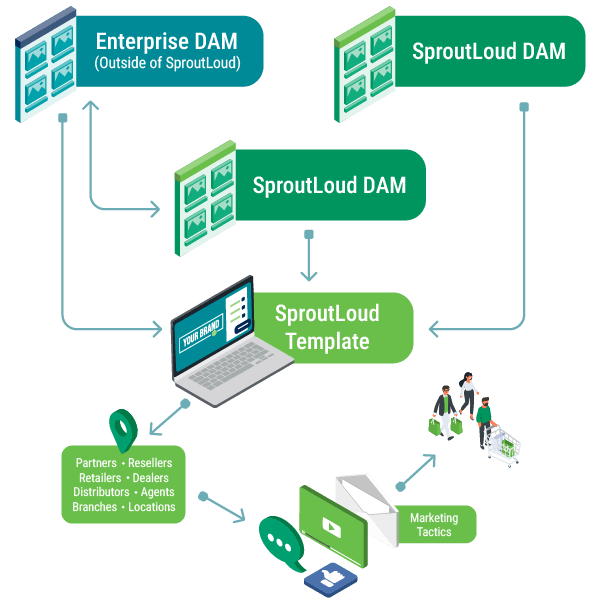 Digital Asset Management
Digital Asset Management (DAM) systems act as repositories for all digital assets produced by a brand. These assets can include, but are not limited to, raw images, videos, text files, ad templates, and more.
Once the assets have been developed, they need to be made accessible to their channel partners at the local level — to be customized for each location's local marketing campaigns within brand-approved guidelines.
How do brands solve this? With the help of a leading distributed marketing platform, like SproutLoud.
Distributed Marketing Platforms
One way brands can guarantee their channel partners are getting brand-compliant messages to local markets involves controlling the Co-Op Marketing funds that brands make available to their partners through a distributed marketing platform.
By providing access to Co-Op Marketing funds through a distributed marketing platform that offers instant co-pay — which guarantees a portion of the marketing and advertising expenses are immediately paid by the brand — channel partners are incentivized to use marketing assets provided by the brand. That means channel partners no longer have the burden of covering 100 percent of the costs up front, and waiting for reimbursement later.
Distributed marketing platforms can also connect to a brand's external DAM system and either copy or mirror the digital assets residing in the DAM system. This allows channel partners to access brand-approved assets, create ads with brand-compliant templates, and customize those ads with pre-approved, brand-compliant imagery.
Ad Building Software Integration
SproutLoud's Distributed Marketing platform comes with built-in Ad Building software that provides channel partners the ability to take raw marketing assets and customize them to fit their local marketing campaigns. This capability gives both brands and their multi-location partners an added layer of credibility and relevance to the end-consumer they are targeting in local markets.
Putting It All Together
Now that we have gathered all the tools and understand their functions, it's time to put all the pieces together and scale awesome localized ads that convert.
Imagine, for example, that a manufacturer develops a new and improved product — such as a self-driving lawn mower guided by GPS. Let's say that the manufacturer decides that they want to launch the new lawn mower and have all the digital assets and SKUs (Stock Keeping Units) available at scale on their DAM system for their local partners to use for the upcoming quarter.
At any time, that manufacturer may prepare dozens — or hundreds — of brand-compliant digital assets and SKUs with pre-approved ad copy for their channel partners to use and customize in local ads.
The next step involves connecting the distributed marketing platform to the brand's DAM system — making the digital assets and SKUs available for channel partners to use. Additionally, brands would need to make Co-Op Marketing funds available to encourage their partners to enroll and participate in marketing programs and assure consistency and brand-compliant messaging.
Then, channel partners — in a matter of minutes — can develop and create brand-compliant localized ads that convert to traffic, leads, and sales by using digital assets and SKUs with pre-approved ad copy provided by the brand.
"SproutLoud has taken ad building processes that would normally take days or weeks to finalize and converted them into processes that could take literally minutes with a few simple clicks," said Gary Ritkes, President of SproutLoud. "That is how you build ads efficiently to scale and deploy them into the marketplace using a distributed marketing platform to fulfill all the different ad tactics a brand wants to execute at the local level through their reseller partners."