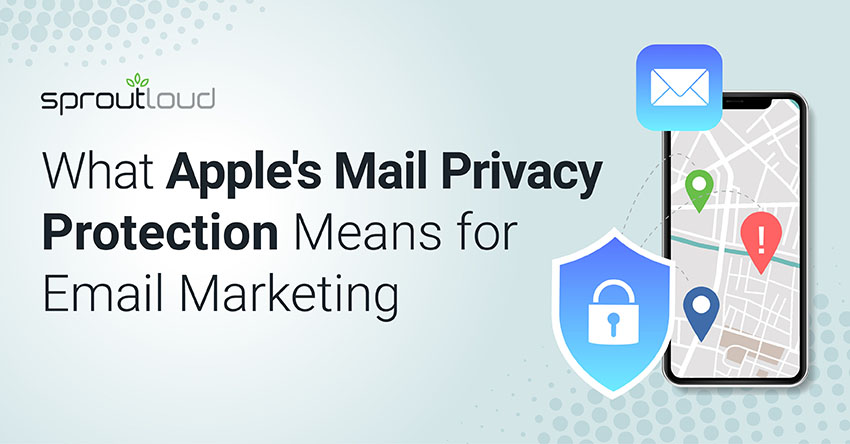 What Apple's Mail Privacy Protection Means for Email Marketing
Apple launched its new Mail Privacy Protection feature as part of the recent iOS 15 update, and it's having an impact on email marketing for businesses across all industries, from major category-leading brands to SMB resellers in local markets. So, let's take a look at what you need to know about Mail Privacy Protection, how it affects the email marketing data your business tracks and collects, and what you need to do now to adapt the way you manage and evaluate email marketing.
What is Mail Privacy Protection?
Mail Privacy Protection is part of Apple's initiative to help users take control of their own data. It's an email feature available to those who use the Apple Mail app to access their email on Apple devices, including iPhones, iPads, Apple watches and Mac computers. Mail Privacy Protection prevents email senders from seeing the IP addresses of Apple Mail app users. This means companies can't connect those email recipients to their other online activity, nor determine their location, nor accurately determine open rates.
How does Mail Privacy Protection affect email recipients?
Email recipients who use the Apple Mail app must opt in to enable the Mail Privacy Protection feature, which became available to iOS 15 and iPadOS 15 devices as of September 20, 2021. Email marketing experts predict that within 6 months of launch – in this case by March 20, 2022 – about 90 percent of Apple Mail app users will likely have opted into Mail Privacy Protection, based on adoption rates of the previous iOS 14 update. Once enabled, this feature protects users' data on all emails opened through the Apple Mail app, regardless of the email service. For example, if you use the Apple Mail app on your iPhone to open your Gmail or work email, then the Mail Privacy Protection feature will hide your IP address and your location, and email senders won't even know whether you really opened their email or not.
What does this mean for email marketers?
First things first: Don't panic. While Apple Mail is one of today's most popular email apps, because it's the default email application on all Apple devices, there are ways to mitigate how Apple's latest privacy feature affects your email campaigns and the data you use to evaluate email marketing success.  So, how many of the contacts on your company's email marketing lists are going to be affected by Mail Privacy Protection? To know for certain, you'd need to know how many of your email contacts use the Apple Mail app on their Apple devices, regardless of whether you use their business email address or a free email service provider (such as Gmail, Yahoo, Outlook, etc.) to reach them. Since some businesses may find that information to be difficult or impossible to know, consider this: Email marketing experts estimate that Mail Privacy Protection will likely impact up to 50 percent of emails sent, given that Apple devices accounted for about half of all email opens so far this year.
How does Mail Privacy Protection impact the decisions you make based on email marketing data?
Open rates will become over-inflated, because emails sent to users with Mail Privacy Protection will automatically indicate that the email was opened, regardless of whether the recipient actually opened it or not. The more Apple device users are on your email lists, the more meaningless overall email open rate data becomes. The Mail Privacy Protection feature aims to ensure that email marketers will not know whether email open rates and open times are outdated, or inaccurate, or not. This will have an impact on businesses that use email open rates to:
Segment or target audiences
Purge unengaged contacts
Trigger automated flows for nurture campaigns or retargeting campaigns
Determine the winner of A/B testing for subject lines
Optimize email send times
Deploy countdown times for promos or events
Power additional content that is dependent on a user's location, such as the nearest store location
Apple's Mail Privacy Protection can also affect some interactive emails. For example, HTML emails that use CSS (Cascading Style Sheets that determine style and format, such as link colors and headline fonts) won't necessarily work as intended.
What can email marketers do now?
Email marketers need to stay informed and be ready to adapt how they manage and measure email campaigns. Privacy is a major concern for consumers, tech companies and businesses across all industries. While Apple's Mail Privacy Protection feature may be the most recent privacy change that impacts email marketing, it won't be the last. To mitigate the effects of Mail Privacy Protection and maximize your email marketing efforts, here's what experts recommend:
Create a list of non-Apple Mail app contacts that you can use to reliably measure email opens
Evaluate how much you rely on open rates and expand the metrics you use to trigger actions and automated flows
Enhance and improve the CTAs (Calls To Action) in your email marketing campaigns
Use clicks instead of open rates to measure email marketing engagement
Use clicks to measure the performance of A/B testing on email subject lines
Build benchmarks for your click rates, with the understanding that click rates are always lower than open rates
Replace open rates with click rates in any reports or dashboards that you regularly review or present
Focus on deliverability by cleaning up your email lists
Update and promote your company's email preference options, so your email contacts can easily opt out of what they don't want and opt into relevant and timely content they want to receive