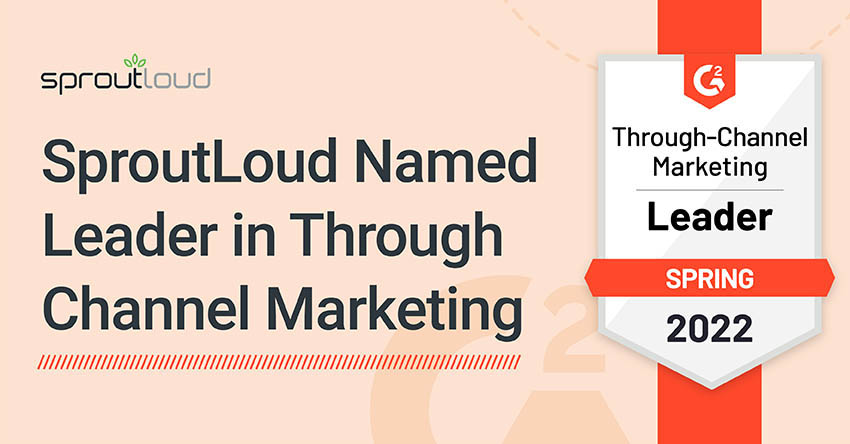 SproutLoud Named Leader in Through Channel Marketing
SproutLoud earned more than 40 badges across five categories — including the distinction as a Leader in Through Channel Marketing – in the Spring 2022 Report from software review company G2. The badges are awarded as recognition of verified client reviews of SproutLoud's Distributed Marketing platform, which drives brand-to-local marketing results for Enterprise clients and their SMB resellers. Take a look at what Enterprise clients are saying about SproutLoud.
[See Client Reviews of SproutLoud on G2]
'A True Partner'
"If you want a true partner that will be there every step of the way and will help you build the ideal channel marketing solution, then go with SproutLoud. When we realized our Independent Dealers didn't understand marketing, didn't have the time to focus on marketing and were ultimately losing the digital battle, we knew we needed to rethink our marketing programs. We reached out to SproutLoud, and through our partnership, we launched a channel marketing program that frankly revolutionized our industry. We went from nothing to a comprehensive, automated marketing program, powering marketing for hundreds of dealers in a matter of months."
– Coleson C., Director of Marketing for a Fortune 500 company
'Highly Responsive and Smart People to Work With'
"SproutLoud is a great partner to work with. Over and over again they continue to deliver great programs for industry leading brands. Highly responsive and smart people to work with, great integration frameworks."
– Brad P., Senior Vice President of Global Development for an Enterprise company
'My Job is Much Easier Now'
"My job is much easier now. SproutLoud's co-op management tool has finally helped my organization transform our OEM co-op programs (read "problems") into an online solution that is cost-effective, easy to use, and a delight for our dealer customers. For years, we have been managing our co-op program off spreadsheets, emails, phone calls, and undocumented exceptions, which made the program very manual and very challenging to execute. Dealer complaints were plentiful, whereas now it's the compliments that are plentiful. Also, the Onboarding Team was amazing. This is the first time in my entire career (20 years) where I've gone through an implementation project where the project plan was so smooth, communication was constant, there were no hiccups, and it was clear where we stood every week. We have weekly follow-ups calls now that we were launched, and we never need to use them — it's been that easy."
– Lyssa N, Director of Marketing, Brand Development and Supplier Relations at a mid-market Enterprise company
At a glance, here are the top 20 of 41 badges in five categories that SproutLoud earned in the G2 Spring 2022 Report: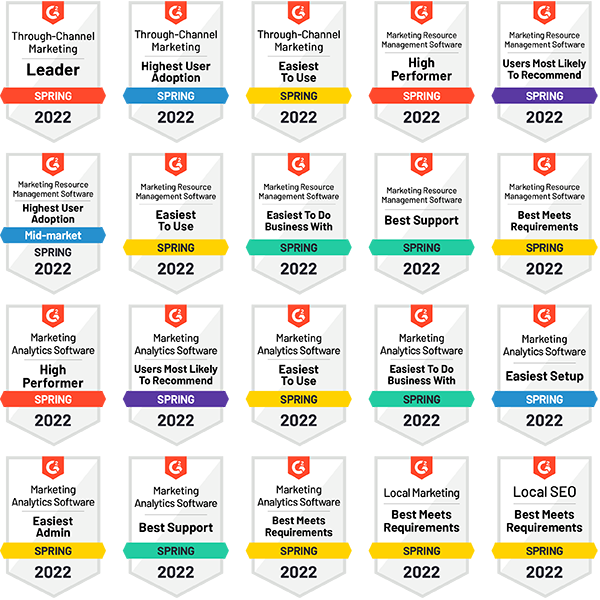 ABOUT SPROUTLOUD
SproutLoud is a leading SaaS-based Through Channel Marketing Automation platform, designed to increase brand sales through partners in local markets. SproutLoud's advanced marketing automation technology simplifies every aspect of Distributed Marketing and delivers comprehensive analytics on tens of millions of touchpoints for major, category-leading brands. SproutLoud gives brands unparalleled visibility on ROI for individual tactics, campaigns, partner engagement and platform usage. With SproutLoud, brands have the advantage of responding rapidly to changing market conditions in real time with data-driven decisions.
Media inquiries
Contact SproutLoud Senior Content Marketing Manager Elizabeth Vempala:
[email protected]
Sales inquiries
Contact [email protected] or call 954-476-6211 x3