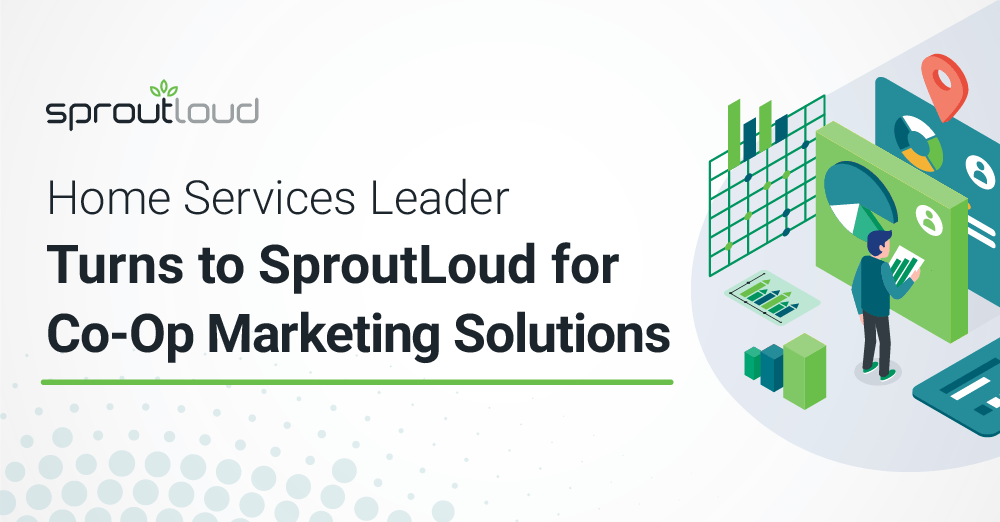 Home Services Leader Turns to SproutLoud for Co-Op Marketing Solutions
Companies with complex channel partner networks of thousands of retailers need support and solutions that fit their retailers' unique characteristics. When an industry leader in home services needed customized Distributed Marketing solutions to address their Co-Op Marketing and Funds Management challenges, they turned to SproutLoud.
Solving Co-Op Marketing funding issues was a high priority that the home services company and SproutLoud identified during the Discovery process. The company was finding it difficult to understand how local marketing through their retailer network was performing.
The company relied on SproutLoud, as a trusted partner, to deliver one platform to meet the needs of nearly 3,000 retailers in their channel network. They needed a Distributed Marketing solution with the ability to streamline Co-Op Marketing and implement instant co-pay, so retailers would no longer have to pay for local marketing out of pocket and up front. SproutLoud's instant co-pay system, called SproutPay, offers the company's retailers an immediate improvement in cash flow, because retailers only pay for their portion of Co-Op and the brand's Co-Op funds are applied immediately. Instant co-pay with SproutPay also eliminates the need for claims, approvals and reimbursements.
With SproutLoud, the company now has one Distributed Marketing system that supports every channel marketing need for their retailers: digital marketing, traditional marketing and local media buys, Co-Op Marketing funds management, SproutPay, and robust marketing analytics.
Without the right Distributed Marketing platform, understanding how marketing performs through an indirect sales channel, like the home services company's network of retailers, can be difficult.
Marketing analytics dashboards and reports on the SproutLoud platform provide the company and its partners with valuable data about local marketing performance. Because Co-Op Marketing and MDF originate out of our same platform, the company is now able to connect money, response, and in-market dates together to calculate ROI on their marketing dollars.
The SproutLoud platform also brought cost efficiencies for the company. SproutLoud has many different ways for brands to load one item on the site but scale the versioning of the item, including fulfillment, through thousands of locations.
SproutLoud's investment in research and development and its ability to customize distributed marketing solutions to fit each brand's needs set the platform apart from other Through Channel Marketing Automation service providers. SproutLoud has the power to improve, pivot and continually enhance platform capabilities to meet the changing needs of brands and their channel partner networks.