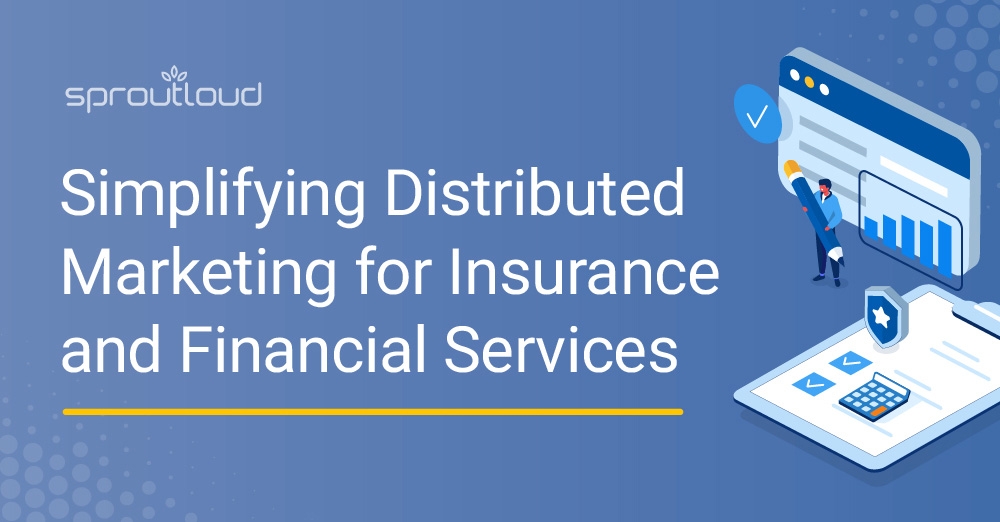 Simplifying Distributed Marketing for Insurance and Financial Services
Recently, a leading insurance and financial services company was in the market for a significant upgrade in distributed marketing solutions. Their previous local marketing platform lacked highly complex template customization, offered very limited reporting and provided a less than stellar end-user navigation experience. Here is how SproutLoud was able to turn their distributed marketing experience around.
It is in a brand's best interest to provide compliant creative for their different end user groups to access, customize and order. These user groups may be composed of internal employees at both customer support and field level, agents, brokers, advisors, sales reps and more. However, providing compliant creative to end users should not create extra work for the brand team. And it shouldn't be difficult for end users to utilize the creative to encourage adoption and usage. A good variety of creative assets need to be available to users without being overwhelming or too complicated.
With SproutLoud's distributed marketing software solution, the company was able to simplify the creative process for all of their users. The company previously had excessive amounts of templates, corresponding to different variations and versions that their network of users demanded. After conducting an audit on the templates in use, SproutLoud was able to reduce the number of creative templates by more than 70 percent — from more than 700 to about 200 — while offering users even more customization options than were previously available.
SproutLoud was able to do this through our customization flexibility, including offering the ability to flex a template to multiple sizes and having multiple themes within templates. We were also able to program more dynamic components to allow users to customize portions of an otherwise locked text. With countless product offerings, users can find exactly what they are looking for, and since there are more options to choose from than were available previously, requiring less compliance routing for custom requests and increased speed to market. In fact, by using the SproutLoud platform, users cut the turnaround on approvals from 2 to 4 weeks to one day or less.
Previously, the company did not have great visibility into which creatives were actually being used or which product combinations were most popular among users. With SproutLoud's marketing analytics reporting, the company can see which templates are used most frequently and to what extent. This is helpful when updating creative, because they know which styles local users prefer, and they don't need to waste time updating creative that's never used.
Another pain point the company experienced with their previous platform involved their user experience. There was no visibility into which marketing tactics users within the same offices were completing, resulting in duplication of work. With SproutLoud, users can have access to all the accounts they oversee, as well as those overseen by their colleagues. This allows everyone to see the marketing that is being done, and workload can be managed more efficiently.
SproutLoud's innovative local marketing solutions are directly applicable for insurance and financial services companies, and many other industries, that aim to eliminate pain points for brands and simplify the entire experience for various types of user networks.