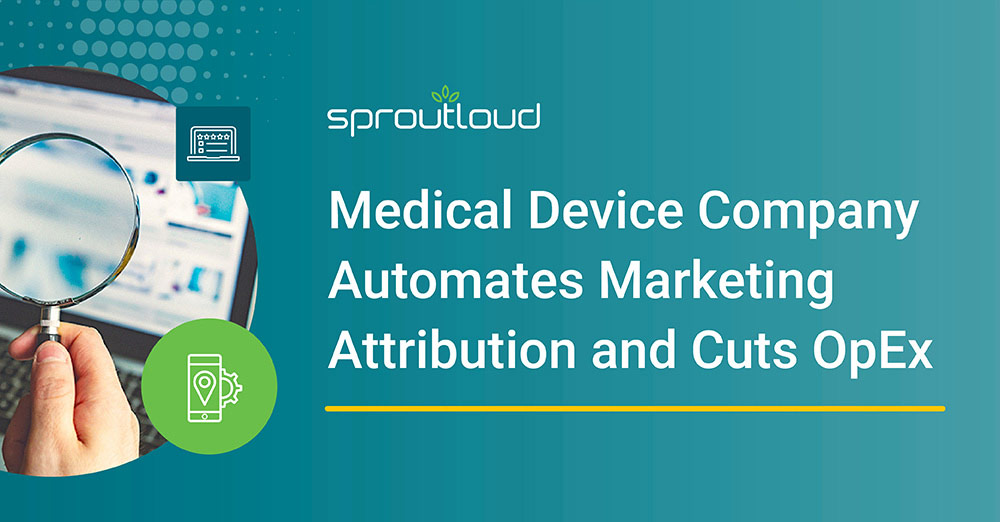 Medical Device Company Automates Marketing Attribution and Cuts OpEx
When an industry leader in medical device manufacturing was facing rising costs due to manually managing marketing operations, they turned to SproutLoud, a leader in Distributed Marketing, whose software their internal marketing reps already use to support retail resellers with local marketing execution.
SproutLoud was tasked with consolidating and transforming day-to-day marketing operations, while simultaneously reducing operational expenses. To accomplish this, SproutLoud furthered its investment in research and development as part of the company's roadmap, including offering end-to-end call tracking attribution with speech recognition, optimized by artificial intelligence, and call scoring.
The Client's Challenges
SproutLoud focused on solving the key challenges the client's marketing reps were facing:
Using multiple, incompatible software programs to manage call tracking campaigns
Manually entering data to properly attribute performance metrics to campaigns
Inability to give dealers access to consistent, comprehensive campaign performance data
Ultimately, the client needed a way to automate marketing attribution, which would connect data on call tracking, creative costs and in-market dates in a meaningful way that their dealers could easily use to measure marketing performance in local markets.
SproutLoud Offers Solutions
SproutLoud enhanced its existing call tracking software to meet these needs for our client. We added new features, such as a rules-engine to manage call tracking provisioning, reporting and marketing attribution. SproutLoud provided marketing attribution data in such granular detail that revealed media spend, in-market dates and the data points most relevant to the client. This included the number of prospects and appointments, cost per prospect and appointment, and conversion rates.
As part of these enhancements, call tracking available through SproutLoud's platform is powered by speech recognition optimized with artificial intelligence. This means calls are automatically scored using a trained model to provide a deeper level of attribution and improve the accuracy of reporting.
Delivering Measurable Results
The client now manages call tracking through SproutLoud's comprehensive Distributed Marketing platform, where all creative lives and current marketing is executed. This immediately eliminated the client's issues with both incompatible software systems and manual data entry.  With SproutLoud, the client also gives their network of retail resellers quick and easy access to relevant local marketing performance data, including call tracking metrics, costs, in-market dates and creative. SproutLoud's marketing analytics dashboards connect and display the data in a meaningful way so the client, their retail resellers, and their marketing reps can manage local marketing in specific local markets — within a given region or tier, and across the entire reseller network.
With SproutLoud, brands and their local reselling partners can easily pinpoint the most relevant customer calls and quickly access the data they need to make informed marketing decisions based on measurable results.