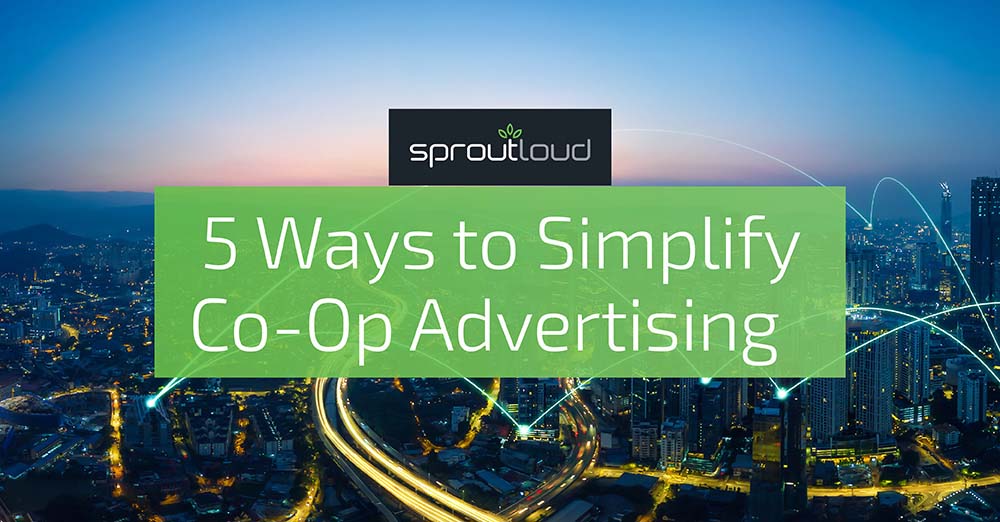 5 Ways to Simplify Co-Op Advertising
Most national Brands share the cost of local marketing with their Channel Partners who sell their products. But the typical way Co-Op Advertising is administered is complicated, and many Partners choose not to take advantage of the funds available to them. There are five ways Brands can simplify the Co-Op Advertising process, so Partners are more likely to participate.
1. Make Co-Op Advertising Less Complex
Does your Brand have multiple vendors that Partners are required to use to get access to Co-Op Marketing dollars for building ads, customizing and ordering marketing collateral, and executing local digital marketing? Even then, Partners typically have to go through a claims process to receive those Co-Op Advertising funds. However, when Brands consolidate their use of marketing technology and marketing service vendors by using a single Through-Channel Marketing Automation platform — which handles both marketing strategy and local marketing execution — Partners tend to be more inclined to participate in Co-Op Marketing programs. It's also crucial to have insight into which marketing tactics are working and which aren't. If everything is accessible on a single platform, with an analytics engine, it enables Brands and their Partners to get the insight they need to make more educated local marketing decisions.
2. Modernize Your Co-Op Guidelines
When was the last time you updated your Co-Op Marketing guidelines? Are they the same guidelines established five or 10 years ago? If that is the case, it's time to bring them into the modern digital age —  as local marketing has significantly changed. For many Brands, local marketing guidelines are grandfathered each year based on the usage of marketing tactics instead of their success. Performance data should be the driving force behind changes to local marketing guidelines, so Brands and Partners use the most effective tactics to generate traffic and increase sales.
3. Move Your Co-Op Advertising Claims to the Cloud
Traditional Claims and Reimbursement processes are complicated and slow — especially if your Partners are still emailing, faxing or mailing in their claim submissions. It's much more efficient for Brands to move the entire process online. Integrating your Co-Op Advertising claims process into a single SaaS local marketing platform gives Partners online access to ad building, ordering marketing collateral, email marketing, direct mail and executing digital marketing. It also gives Partners a better user experience that's more likely to increase their participation in Co-op Advertising, while getting those local ads in market faster. A cloud-based platform empowers Brands and Partners with more relevant insight on the success of marketing tactics, while making it faster and easier for Partners to get reimbursed.
4. Don't Audit Partners — Offer Consultation
Traditional Co-Op Marketing programs are founded in the concept of auditing Partners' marketing. Instead of auditing via claims, it's more effective for Brands to advise Partners and guide their local marketing planning process. Shifting the Brand's focus to more of a consultative and proactive approach has a stronger influence on Partners' local marketing decisions than coaching Partners after the creative is done and the money is already spent.
5. Your Sales Team isn't the Marketing Help Desk
Traditional Channel Marketing is complex, so when your Partners get to see their local sales reps they often monopolize those sales meetings with questions about Brand approvals, when certain marketing materials will be ready, and when they will be reimbursed for Co-Op Advertising. Keep in mind, local marketing is complex for your local sales reps, too. They're not marketing experts. Your Brand's Sales Team shouldn't be an extension of your marketing department. Make marketing simple by making everything accessible on a single Through-Channel Marketing Automation platform that helps Partners make more effective decisions. Give your local sales reps a resource of local marketing experts who Partners can call for help. This lets your sales reps focus on selling, not marketing. That's what they need to help drive more sales for the Brand and its Partners.
Bringing your Co-Op Advertising program into the modern digital age doesn't have to be overwhelming or complex. With the right Through-Channel Marketing Automation technology in place, Brands can simplify local marketing operations, making it easier for Partners to take advantage of the available Co-Op Advertising funds and more effective local marketing tactics.