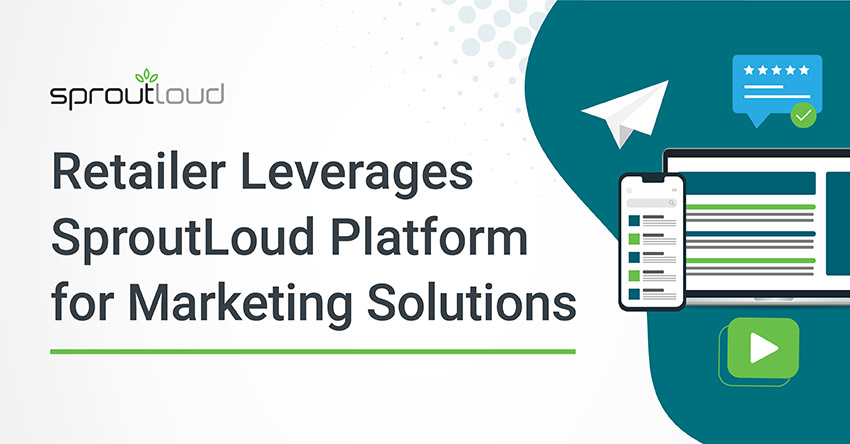 Retailer Leverages SproutLoud Platform for Local Marketing Solutions
Sky View Satellite Inc., a local DISH Network retailer founded in Utah, realized a few years ago that they weren't doing any active local marketing other than the occasional direct mail campaign. They had no website, no directory listings and minimal branded merchandise for their store. They also noticed they were losing Co-Op Marketing dollars, so they turned to SproutLoud — the leading distributed marketing platform that DISH Network chose for its local retailers.
Sky View Satellite wanted to be known for outstanding service and meeting customers' needs. They wanted to launch their brand in a more intentional way online. SproutLoud worked with Sky View Satellite President Dan Welte to establish a solid foundation for their online presence by reviewing options for Co-Op Marketing funds use through the platform, as well as putting a plan in place to ensure marketing remained at the forefront of their business vision.
The goal for Sky View Satellite was not to just enroll in all available tactics on the SproutLoud platform but to select the ones that would best establish a solid local presence, then review local marketing performance reporting in order to understand what was working and how to guide their future local marketing spend.
Welte set up quarterly reporting calls for digital programs, allowing SproutLoud to evaluate key business information, including new products or services they offered and online search trends to ensure Sky View Satellite's website and directory listings content remained up to date and relevant for local consumers.
The quarterly reporting calls also helped SproutLoud local marketing representatives working with Sky View Satellite to understand that RV entertainment services were hot ticket items for the retailer during late summer and early fall of 2020. Given this, Sky View Satellite updated their Facebook ads program to focus on new product offerings, in place of creative about service and value. In the first month after that switch, click-through rates on Sky View Satellite's Facebook ads more than doubled from 0.75% to 1.73%.
In turn, Sky View Satellite found added value in the local marketing support and service from SproutLoud. "I find it easy to use my Co-Op with so many available programs, which I am finding to be highly effective," Welte said.
Using the SproutLoud platform, Welte was able to get valuable insight from marketing analytics dashboards about upcoming payments, call tracking numbers and in-market activities. This level of insight gave the Sky View Satellite team more control over how their Co-Op Marketing funds were being spent. It also helped the retailer understand the return on investment, so data could be leveraged to optimize Sky View Satellite's local marketing efforts.
Through hard work and a team effort, Sky View Satellite successfully earned a reputation for being a local business that's available to help and answer customer questions — whether it takes 10 minutes or 45. This quality of service resulted in a 4.8-star rating on Google. And Sky View Satellite plans to continue cultivating customer relationships and offering amazing customer experiences.
"As a whole, SproutLoud is doing a remarkable job," said Welte, as he reflected on his experience with SproutLoud over the past two years. "I like their marketing platform better than any I've used at any other time. I have learned so much from my marketing rep and her SproutLoud team. They've sparked the fire to use marketing and Co-Op dollars more."
Sky View Satellite now prides itself on being a DISH Network Premier Local Retailer offering 2 store locations in New Mexico, with a third location recently opened in Las Vegas, Nevada.