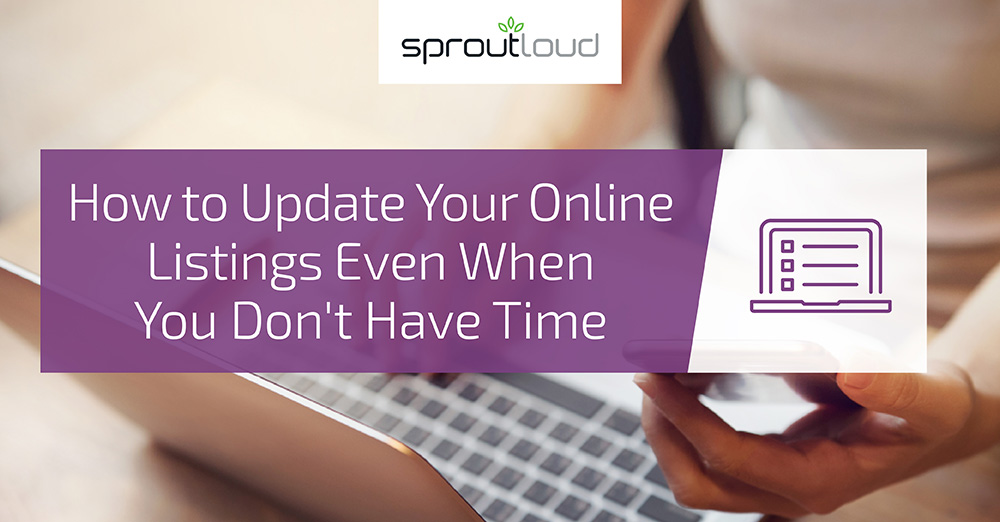 How to Update Your Online Listing, Even When You Don't Have Time
Did you know that 91% of adults use the internet to search for information? Imagine that one of those adults find your business on Google, reads the 5 star reviews, and when they go to call the phone number it goes to a disconnected line. When running a business it's critical that your company information is  accurate to ensure that new and existing clients are able to find what they are looking for.
Information on your listings can become outdated or incorrect without you even noticing. Why and how does this happen so easily? Here are a couple of different reasons:
If you update your business phone number, address, or even name, it will not automatically update on all your listings
Other businesses can update your information without you even knowing – crazy right?
With SproutLoud's Directory Listings Program SproutLoud will manage your listings on your behalf to ensure that your information stays consistent and accurate.
Reasons for enrolling in SproutLoud's Directory Listings Program:
You are running a business – you don't have time to update all your listings! Sproutloud is here to help. As part of the enrollment process, you will fill out a questionnaire with all your business information and SproutLoud will take care of updating/creating  listings on your behalf. If there are any updates to any of your business information, simply let SproutLoud know and we will make sure your information gets updated across all the listings included in the program.
Do you have wrong information displaying on one of your listings?  SproutLoud checks all listings that we manage on a monthly basis. If a competitor changes one of your listings, SproutLoud will get a notice and we will immediately revert it back to the most  accurate information. We're looking out for you to make sure your business information is accurate.
If one of your marketing goals is to improve online presence, look no further! Participation in SproutLoud's Directory Listings program will improve your online. As  your business information becomes more accurate and consistent within the online listings SproutLoud manages on your behalf, your chances to be found by folks searching for your business will go up as search engines will give your business higher rankings.
With Sproutloud's Directory Listings service you will receive monthly reporting of all the listings that we manage. In this detailed report, you will have insight into all of your business' information as  well as clicks and key words that people are using to find you.
Now that you have additional insight into why it is so important to maintain your online listings as a business owner and keep the listings up to date, contact your Brand for more information on how you can enroll.