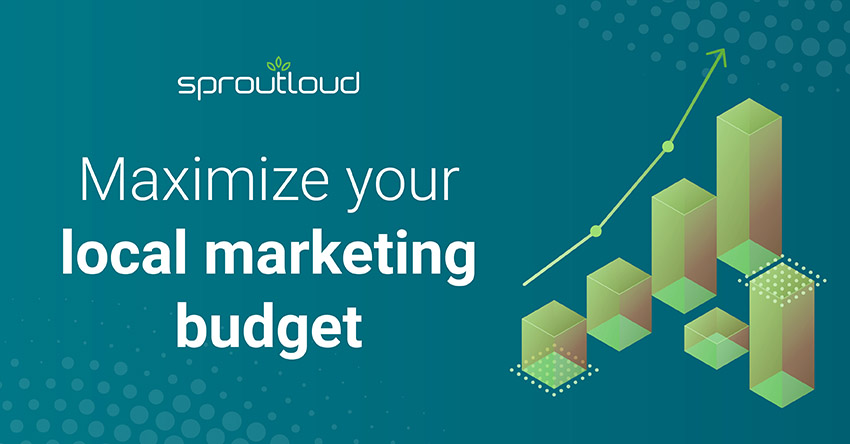 Maximize Your Local Marketing Budget
Having a local marketing game plan for your business is important, and it can help you maximize your local marketing budget for digital ads in your market. But where do you begin? 
Let's take a look at common scenarios for local businesses and proven marketing tactics that are best suited for those situations. 
Building Awareness for a New Local Business
New businesses in a local market need to establish an online presence and build awareness in the local community. Let's break this down. 
Establishing an online presence encompasses:
Your Website:

 Do you have a local website or e-commerce page set up for your business? 
Online Listings:

 How are you going to manage your online listings on Google, Bing, Yahoo, and other search engines and online directories? Are you doing this in-house, or working with a vendor? 
Social Media Content:

  Which social media platforms are best suited to promote the brand products and/or services you offer? And what's your plan to manage social media for your business?

Reputation Management:

How will you manage online reputation management, whether there are negative or positive comments posted about your business on various review sites and/or social media? 
Remember, the goal is to build a solid foundation for your business to grow upon. Think of your local website or e-commerce page as your digital storefront, open 24/7 to all your potential customers. To be effective in building awareness about your local business, make sure your website information is accurate and relevant, especially in terms of product descriptions, services, hours of operation, business address, phone number, email, and any health and safety protocols you have in place.
Online listings management is particularly important for local businesses. If customers don't find accurate and consistent information about your business online, they may turn to one of your competitors. There are so many online directories, search engines, map applications, and more out there. You'll need to decide whether you want online listings management for as many sites as possible, or if you want to focus on just a key few. 
Once you've decided, keep in mind that customers tend to turn away from businesses with:
Missing business information:  Company name, address, phone number, email, operating hours
Incorrect business information: When customers are led to a wrong number or a wrong address, they're more likely to move on to a competitor
Unaddressed customer reviews: Prospective customers watch how local businesses respond to both positive and negative reviews, because it speaks volumes about customer service
Once you have an online foundation set up, let's take a look at which digital marketing tactics can help you build awareness for your business. Local Display ads and Mobile Display ads on websites and mobile devices are a great way to generate awareness about your local business. 

Local Display ads can be created to target customers along the customer journey from awareness to purchasing decision. Even if the customer isn't yet ready to purchase, they may be doing online research to see what their options are.  Targeted Local Display ads are a great way to keep your business top of mind. 
Attracting New Customers to an Established Local Business
For established businesses looking to attract new customers, you may already be ahead of the game with an already established online presence. But it's always good to routinely review and refresh your local website, and check on how you're managing online listings, social media and reputation management. In addition to this, take a look at Paid Search ads (also called PPC ads or Pay Per Click ads). 
Paid Search ads can be created to target customers who are ready to buy. When customers reach a purchasing decision on a product or service, they're typically deciding where to buy it. If your business offers seasonal promotions, make sure your Paid Search ads reflect up-to-date and brand-compliant messaging. When launching Paid Search ads, be consistent in monitoring the performance of ad campaigns to ensure proper optimization.
A few key performance metrics to watch are:
How do you know you have chosen the right local marketing tactics and ad campaigns to reach the right customers at the right time? Begin by reviewing whether you're taking full advantage of any marketing funds (Co-Op Marketing or MDF) that your brand is offering. Then, take a look at the local marketing analytics that measure local ad performance, to get a better understanding whether you're investing your local marketing budget on tactics and campaigns that are actually delivering results.  

If you are a current SproutLoud client, and you need guidance or want to know more about local marketing best practices, click here to schedule time with a SproutLoud Local Marketing Expert.