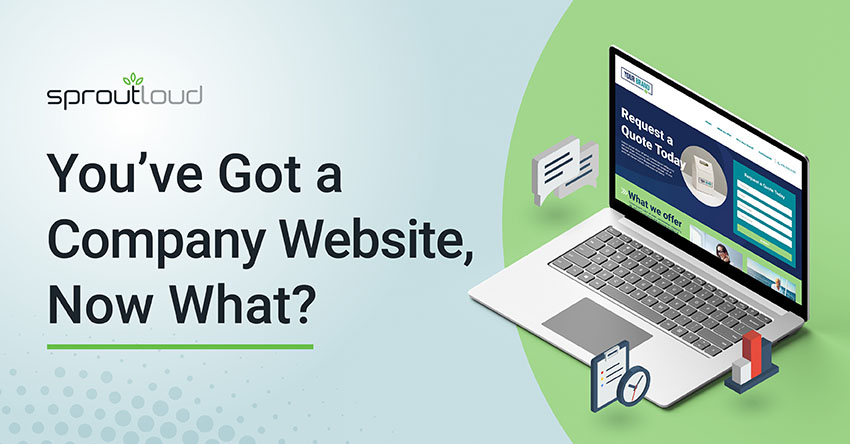 You've Got a Company Website, Now What?
When consumers search online for products and services, they expect to find answers. Your business website should be a place they can rely on to get accurate and essential information and to discover more about what your business offers. Let's take a closer look at what your company website should include, and how the local marketing experts at SproutLoud can help. 
Answer Basic Questions
Business websites need to cover the basics. Potential customers should be able to quickly and easily identify the name, address, hours of operation, and phone number of your business, as well as the products or services your company offers. Your website should also clearly show why customers should choose your business over the competition.
Tell Customers About Your Company
Today's consumers want to know that the companies they do business with are real and reputable. Building consumer trust and loyalty online begins as soon as they land on your website. Make sure that you have an "About Us" page that clearly explains what your business does and authentically represents who you are. Consider including details about your company's values, history and differentiators.  
Include Your Contact Information
Make it easy for customers to directly get in touch with your business. Place key business contact information in a prominent location, such as your website's header and footer. Offer multiple ways for customers to reach you. In addition to company phone numbers and addresses for multi-locations, provide a business email, a contact form and a link to your Google My Business profile.
Display Business Annoucements
Use your website to display important announcements informing customers about COVID-19 safety protocols; options for delivery or pickup in-store or curbside; and any changes to your usual operating hours in case of emergencies, natural disasters or extreme weather conditions. Keeping customers informed online, and sparing them a trip to an unexpectedly closed store location, goes a long way toward building customer relationships.  
Leverage Your Business Social Media Profiles
Add links to your business social media profiles to the company contact information on your website. When customers follow your business on Facebook, Instagram, Twitter, LinkedIn and/or YouTube, it's another touchpoint that keeps your business top of mind. 
Offer Relevant Content for Added Value 
Relevant content created and curated for your target audience can set your business website apart from the competition. But what kind of content should you offer? 
Customer testimonials are an effective way to let new consumers know your business is reputable. This kind of third-party validation on your website can increase your company's credibility and give new consumers confidence in their choice to do business with you.

Engage Customers with Quality Content
Content on your company website should be customer-focused, engaging, relevant, accurate, timely and grammatically correct. Consider whether blogs or videos about your products would help your customers reach a purchasing decision. Apply an effective SEO keyword strategy to help you reach your target audience and convert consumers. And set a cadence to update and refresh content on your website, so it consistently remains relevant and engaging for new and returning customers.  

Should You Add More Pages to Your Website? 
Not sure whether you should add more pages to your company website? You can start by including short descriptions about the value and purpose of your products and services. It may also be helpful to add a Frequently Asked Questions (FAQ) page that offers answers to common customer questions and provides relevant calls to action. 
If you're a current SproutLoud client,
click here to book time with one of our local marketing experts
to review your co-branded website program.