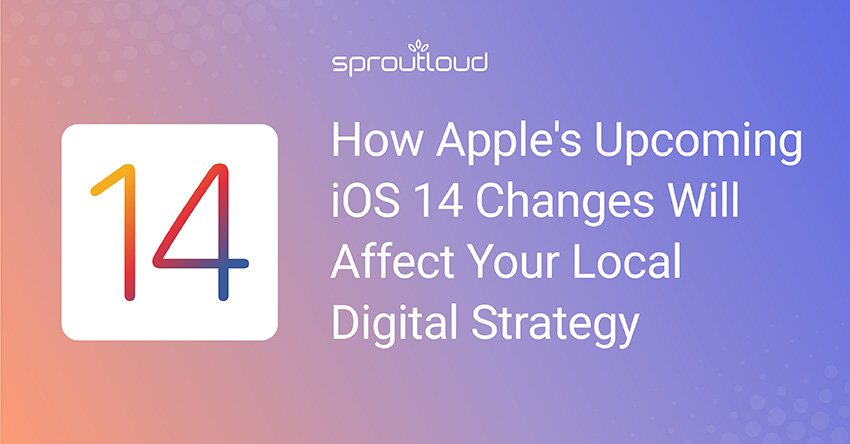 How Apple's Upcoming iOS 14 Changes Will Affect Your Local Digital Strategy
Apple's rollout of its new App Tracking Transparency (ATT) policy will impact how iOS 14 devices will receive data from consumers. Beginning in Spring 2021, Apple will allow users to choose whether to opt in or opt out of tracking Identifiers for Advertisers (IDFA), and all Apple apps in the App Store will be required to display a message to users on iOS 14 devices:  Users will need to select either "Allow Tracking" or "Ask App Not to Track" when they open an app.
Identifier for Advertisers (IDFA) is a random device identifier that Apple assigns to user devices. Advertisers use this information to track consumer data, which allows them to deliver customized ads based on users' online behavior. IDFA identifies and tracks users without revealing personal information. Prior to these new iOS 14 changes, IDFA was enabled by default.With the release of iOS 14, iPhone users will be able to choose which apps can track their data and which apps can't. For example, a user will be able to turn off data for Facebook and Twitter, but permit tracking for Uber and Waze, so those apps can access the user's location.
So, how will this impact your local digital marketing strategy? This means advertisers will have access to less information about users who opt out of IDFA tracking. Those opt-out users will continue to see ads but the ads won't be customized based on their online behavior. Meanwhile, consumers who opt in and allow tracking on apps will continue to receive more relevant, customized ads tailored to their own online activity.
SproutLoud clients can rest assured that our platform is prepared for Apple's iOS 14 changes. SproutLoud is transitioning away from audiences that rely on persistent identifiers and moving toward audiences that are future-proof and do not rely on IDFA or other identifiers. This means Apple's iOS 14 changes will have only a very limited and minor effect on SproutLoud's digital marketing capabilities. SproutLoud's broad range of solutions, along with our audience-targeting capabilities, will be viable options for our customers across all of our paid media solutions. SproutLoud is making updates to avoid any interruption to current digital marketing campaigns.
If you're a current SproutLoud client with questions about your local digital marketing campaigns, click here to book time with one of our local marketing experts.