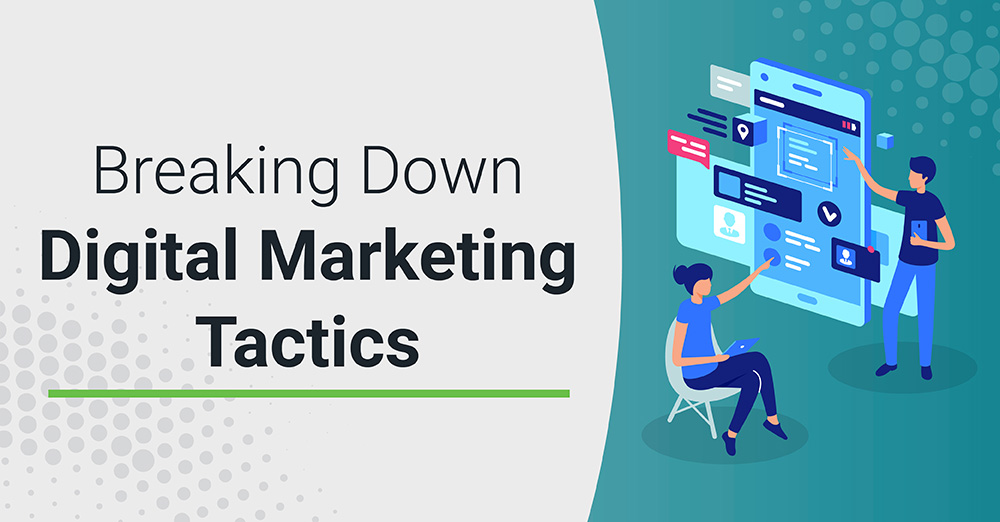 Breaking Down Digital Marketing Tactics
Understanding digital marketing can be quite a daunting task, and executing digital campaigns is another feat of its own. Let us help you determine which digital marketing tactics are right for your business. In this article, we will break down the ins and outs of digital marketing tactics.
Local Paid Search / Pay-Per-Click (PPC) Ads
Local Paid Search increases your online visibility and traffic to your website by displaying ads to potential consumers when they are actively searching for products or services within your local area on Google, Yahoo and Bing.
Paid Search is a cost-effective tactic as it will only display ads in your desired service areas to audiences who are looking for specific products and services online. Paid Search campaigns can target a specific local area, using a given business address and indicating a target radius in miles. This can help ensure your ad budget is not wasted on areas outside your service area. You can also create ads highlighting offers or promotions for desired keywords about your business.
If you use local Paid Search ads, you'll only be charged when your ad is clicked on and a visitor arrives on a landing page on your website. If Pay-per-Click ads are an option available to you through SproutLoud, you can enroll in a program with micro monthly budgets.
Paid Search ads appear on the top and bottom of search engine results pages (SERP), and each one is labeled as an "Ad."  Choose Paid Search if you want to be found when prospective customers are searching on Google, Yahoo and Bing for specific products and services. If you are trying to gain immediate brand exposure, turn to local Paid Search.
Facebook and Instagram Advertising
As people have gravitated to social media, it has created a new direct response ad channel for businesses to capture new audiences and convert them to new leads. Facebook and Instagram advertising can proactively target relevant customers through the social media networks' granular demographic and interest targeting rather than waiting for customers to initiate a search on a search engine.
According to BIA/Kelsey, Facebook ads are an affordable option if you have a lower budget. Facebook ads typically provide higher conversion rates at lower levels of cost per click and cost per lead. You can participate in Facebook and Instagram advertising if you seek to create awareness of your business to customers likely to use social media.
Facebook Ads
More than 2 billion people use Facebook and more than 900 visits the social network every day. Facebook ads let advertisers create targeted ads to reach different audiences across multiple devices and meet business goals. People use Facebook to discover what's new with their friends, family and the things they care about. Ads show up seamlessly along with these stories.
From a Facebook ad, people can get directions to a store, take an action on a website, drive form fill leads, view videos or call businesses directly to drive sales and more. Ads can be targeted to local areas, from zip codes to areas around a partner's business, and they can be displayed based on audience demographics, interest categories, behaviors and connections.
Instagram Ads
Instagram has 1 billion monthly active users and 50% of those users are scrolling through their feed each day. According to Instagram, 80% of accounts follow a business on Instagram, and 200 million Instagrammers actively visit business profiles every day. On average, users spend 53 minutes per day on Instagram.
As you scroll through your Instagram feed, similar to your feed on Facebook, every three or four photos, you'll see one labeled as "Sponsored." You'll also see "Stories" ads, as you watch the Instagram Stories of people you follow.
As a business owner, you may want to participate in Facebook and Instagram advertising, if you are looking to increase brand awareness of your products or services to an audience likely to be on social media.
Video Advertising
Video ads are in-stream ads watched on YouTube, Google Display and social media sites and run on desktop, tablet devices, mobile and web apps. A 15- or 30-second video ad can appear when a user initiates video play either in the beginning (pre-roll), at points in between (mid-roll), or after (post-roll). Partners only pay for an ad view when the ad has been watched completely.
Using IP and GPS information, individual ads will be searched to targeted audiences based on pre-selected brand criteria in the Partner's targeted locations.
According to Pew Research in 2019, YouTube is the most popular online platform in America, and 73% of adults in the US use YouTube (that's more than Facebook's adult users in the US). Given the shift in video-viewing behavior from television to multi-screen and multi-device viewing, video ads — including co-branded video ads — are a great way to reach consumers.
Video advertising is a cost-effective, complementary medium for businesses that have previously run television ads, because video ads target specific audiences rather than purchasing ads for specific television programs. It also provides partners with trackable performance reporting of the number of phone calls via call tracking and online leads from the campaign.
Pandora Ads
Pandora takes the power of audio and pairs it with the accountability and interactivity of digital to reach targeted audiences whenever and wherever they listen. Pandora reaches more listeners than the top-rated radio stations in top markets on various devices from smartphones, tablets, desktops, smart TVs and over 190 car models.
Pandora ads can be targeted by geography, age and gender so no impressions are wasted. With logged listening, ads are served to Partners' target audience with guaranteed delivery. Less than four minutes of ads are served to listeners per hour, so listeners get more music and fewer interruptions so ad messages truly resonate.
Pandora ads complement Partners already purchasing radio media buys as Pandora allows advertisers to reach audiences that no longer tune into broadcast radio. Pandora reaches more people in 47 US markets than top-rated broadcast stations targeting adults 18+ and has comparable audience sizes to broadcast stations in other markets. Pandora delivers personalized messaging to consumers and impressions are guaranteed based on targeted registered Pandora users.
Wondering what to do next?
Get in touch with a SproutLoud Local Marketing Expert:
Schedule time here