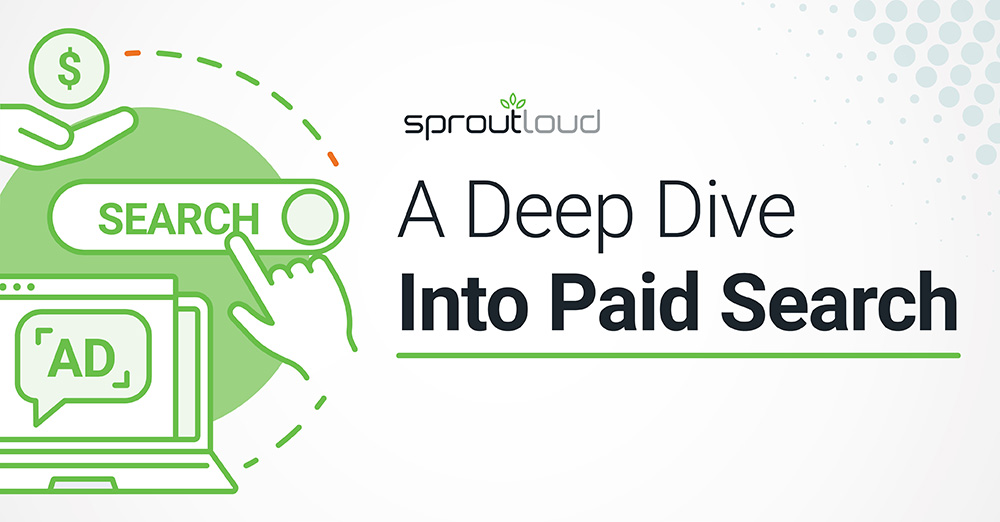 A Deep Dive into Paid Search
Local marketing experts say businesses should be strategically implementing digital marketing if they want to reach target customers and win in local markets. Now more than ever, due to the COVID-19 pandemic, companies have a greater need to boost their online marketing efforts. This means being in the right place at the right time when potential consumers are searching for products and services online and on mobile devices. One of the fastest, most effective ways to reach that goal is with paid search.
What is Paid Search?
Paid search is a form of online advertising, also known as Pay-Per-Click (PPC) ads, PPC campaigns or PPC marketing. This type of digital marketing is designed to connect your ads with people who are actively seeking the products or services you provide through search engines. For example, when you type something into a search engine, like Google, you get a list of relevant webpages on Search Engine Results Pages (SERP). Through paid search, advertisers have the ability to show ads on SERP. The ads tend to appear at the top of SERP (within the first few placements on the page) or at the bottom. Paid search advertising is typically labeled as an "Ad."
Why is Paid Search Beneficial?
Every day millions of searches are made on the web using search engines like Google, Bing and Yahoo. In order to be found in a search, just having a website is not enough. Search engines give premier placement to companies that advertise with them or implement SEO (Search Engine Optimization) strategies.
You can target consumers by bringing your company to the top of search results based on keywords that are important to your business. Paid search campaigns are a way to get online visibility for your business when consumers are actively searching for a product or service.
How Does Paid Search Work?
Paid search works on a pay-per-click model, so you only pay for your ad when someone clicks on it.
Before someone clicks on your paid search ad, a few things have to happen first, in order for the ad to appear on someone's SERP. First, you'll need to compile a list of keywords to bid on, which are keywords you want your ads to display for. Ads then enter into a bidding system (also referred to as an auction), which is an automated process that Google and other search engines use to determine which ads appear on their SERP. To appear within SERP, search engines look at your ad's relevance to ensure what people are looking for is what you are advertising. You'll also want to set a budget for your campaign to ensure there is a cap on how much is spent over time, whether that is per day or per month. The cost of each click will be deducted from that budget.
How to Understand the Success of Your Paid Search Campaign
Prior to launching your paid search campaign, you'll want to identify some Key Performance Indicators (KPIs) or campaign goals. Once the campaign has launched and has had time to run, you'll be able to review the success of your campaign by comparing the performance against the KPIs or goals accomplished. Consider establishing a timeline for measuring the success of your paid search campaign. Given that campaigns may have different goals or be connected to specific promotions, you can measure paid search results while the campaign is still running or when it has ended.
Not sure where to start? Below are some common metrics to help gauge the effectiveness of your paid search campaign.
Click-Through Rate (CTR) – The number of times someone has clicked on your ad, divided by the number of times the ad was shown. A high CTR may indicate that your target audience has found your ad relevant and useful.
Quality Score – This is an estimate of the quality of your ads, keywords and landing pages. The more relevant your ads and landing pages are to the user, the more likely it is that you'll see higher Quality Scores.
Cost Per Click (CPC) – The average cost of each click, calculated by dividing your campaign spend by the number of clicks your ads received.
Conversion Rate – The average number of conversions per ad interaction, shown as a percentage. This percentage is calculated by taking the number of conversions and dividing by the number of ad interactions, such as clicks.
When consumers are searching online for products or services, paid search campaigns are a great way to get in front of them at just the right moment.
If you are a current SproutLoud client, click here to book time with a local marketing expert.