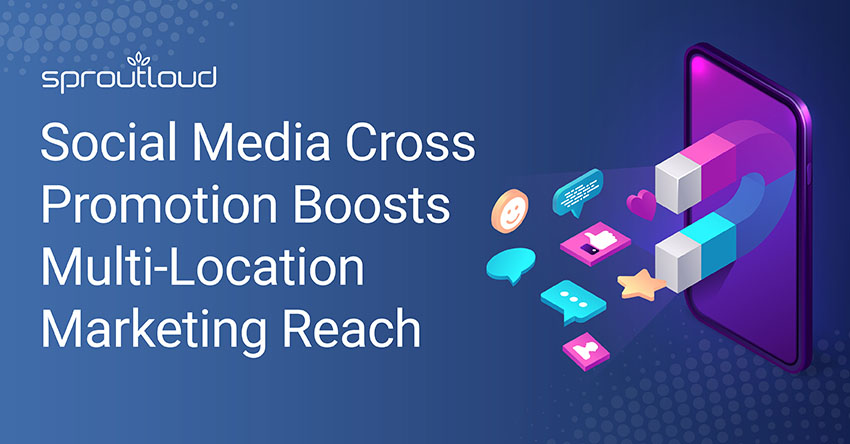 Social Media Cross Promotion Boosts Multi-Location Marketing Reach
The ways to market multi-location businesses have grown more numerous and diverse over the years, and social media marketing plays a primary role. But does that mean that we should throw out other marketing tactics, like direct mail, email marketing, and websites? Not at all. Instead, let's look at how to use social media to boost the reach of digital and traditional tactics in local markets.
The Power of Social Media
Use a variety of different marketing tactics to make it easy for customers and potential customers to find your business online. Promote your business website and social channels across both digital marketing tactics — like targeted local display ads, paid search, video marketing, and email marketing — and traditional marketing tactics, like direct mail, TV, radio, newspaper ads and billboards. Today, asking customers and prospective customers to follow multi-location businesses on Facebook, Twitter, LinkedIn, Instagram and YouTube is just as important as including an accurate location and contact information. For some customers, it may even be the deciding factor between you and a local competitor. Consider the impact of a business that has more reviews, photos, videos, likes or followers than a local competitor. Many consumers gravitate to businesses that have a higher level of engagement, which they may see as validation of a company's success.
Once you connect with potential customers on one social media site, leverage that connection to promote continued engagement on your other business social channels, with quick links and relevant details. Make it easy for customers to find your business photos, reviews and events, along with consistent and accurate contact information for your multi-locations.
One-Click Away from a Purchase Decision
The online presence of multi-location businesses across social media, business websites and online directory listings is like a digital storefront that's open 24/7. It's a huge factor in consumer purchasing decisions in online searches for products and services. Today, more and more consumers want to research products before they buy. And whether or not they have easy access to photos and reviews can either steer them toward a purchase or away. Many consumers enjoy doing online product research from the comfort of their own homes. That's why it's so important for multi-location businesses to leverage social channels and business websites to visually sell at just the right moment, when customers are actively interested. And those online visits can be reinforced with targeted display ads, email blasts and direct mail pieces. This keeps your business top-of-mind and makes it easy for customers to dive deeper with a click and connect with your business on Facebook, Instagram, Twitter or YouTube.
Promote Events with Shareable Content
When it comes to promotional offers, special sales, or events, advertise it across your business social channels, email marketing, website, targeted local display ads and paid search. When publishing an ad or promoting an event online, consistency and accuracy of the announcement, messaging and brand compliance is key. Encourage your customers to connect with you on social, use specific hashtags, and tag photos from the event online. Shareable social media content generates buzz and gets potential customers excited about upcoming events. Posting event photos and videos attracts attention on social and can be used to guide customers to your website.
The most important thing to remember when it comes to social media cross-promotion is to be consistent and accurate across all platforms. Let your customers know where they can find you. The more engaged potential customers are with your business, the better. Give them every reason to choose your business over your competitor.