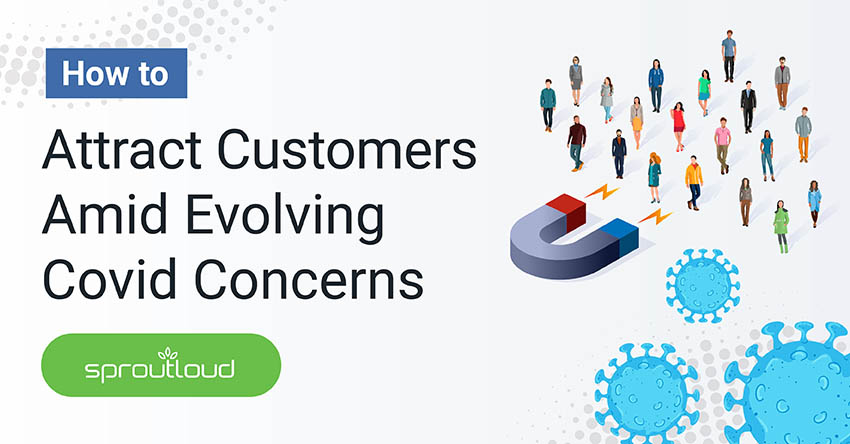 How to Attract Customers Amid Evolving Covid Concerns
As businesses in local markets begin to re-open, extend hours of operation and re-examine health and safety protocols, how they navigate differently evolving situations regarding Covid variants in different locations is especially crucial. Covid-19 has changed consumer shopping habits from the way in which we buy things to the items that we buy. Here are a few ways to understand how you can compete and attract customers amid evolving concerns about Covid.
Understand your customer's shopping experience
Consumers may still prefer the traditional shopping experience of visiting a local store, finding a tangible product they need, and leaving the store with that purchase. However, the safety precautions you have in place will be noticed by the consumer from the moment they walk through your doors.
Do you have signs for social distancing?
Do you have hand sanitizer stations available?
Are you providing masks at your entrance for customers to use, if your location recommends or requires masks?
On the other hand, there are consumers who prefer to do their shopping online. For this reason, it's important to have an online presence to ensure your customers are able to find your products and services at the tip of their fingers. Beyond having a website, be sure to specify if you offer delivery services, curbside pick-up, or in-store pick-up options on social media, in email blasts, on your website and in online directory listings. This provides even more convenience for your customers. If you do offer these services, it's important to make sure that your online inventory is up to date for customers placing an online order.
Scope out the competition
Understanding your competitors is key for businesses of any size. Reviewing competitors' websites and social media pages is simple, and it provides a lot of valuable information about how they interact with customers and their current promotions. You'll want to review a few key pieces of information. What are their hours of operation? Do they have additional safety measures in place? Are they active on their business Facebook page, Instagram, and Twitter accounts? How often are they responding to comments and reviews? Are they running promotions that are bigger than yours? Staying on top of these actions for your business is one way to stand out from the competition.
Advertise based on customer experience and competitive tactics
Direct mail marketing is an effective way to connect with consumers who prefer the in-store shopping experience. Providing them with an exclusive offer to claim at your location is a great way to drive in-store traffic. However, it's important to also target the consumers who prefer to shop online. Once you've confirmed your business information is up to date online, use digital marketing to connect with those consumers. This includes Paid Search ads, which is a great way to generate immediate online visibility, or Facebook and Instagram ads to generate business awareness to individuals that are more likely to do business with you based on their online behavior.
With the evolving impact of Covid variants in local markets, it's important to use the many options available to connect with consumers based on their shopping habits. How do you know if you have chosen the right mix of marketing tactics? First, take a look at the marketing options available to you. For current SproutLoud clients, we offer in-depth analytics on your marketing activity to help you understand the value of these programs and your return on investment.
If you are a current SproutLoud client, click here to book an
appointment with a SproutLoud Local Marketing Expert.