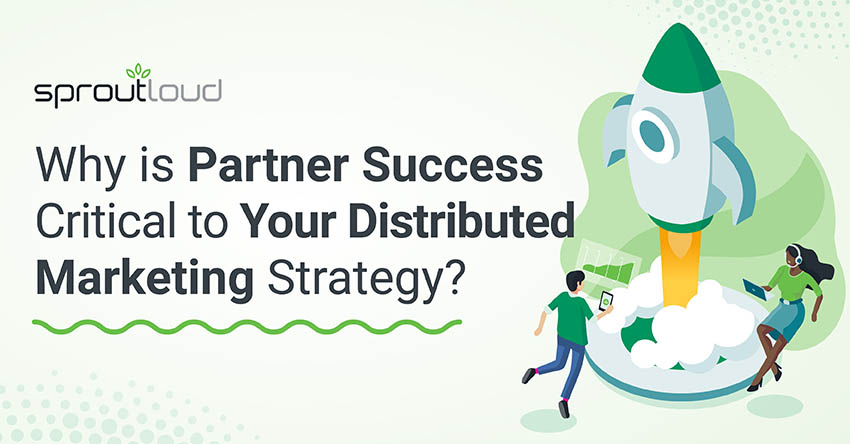 Why is Partner Success Critical to Your Distributed Marketing Strategy?
Companies that use a distributed marketing strategy through vast networks of channel partners know:  When your partners succeed, your brand succeeds.
Your Channel Partners Need Support to Succeed
Whether your distributed network is composed of dealers, distributors, agents, retailers, brokers, franchisees, corporate employees, field reps, biz dev reps, branches, or multi-location resellers — they rely on brand support, and they have questions about how to make the most of the distributed marketing software solutions the brand provides. That's why savvy brands choose distributed marketing solutions that not only offer advanced local marketing automation software, but also provide expert local marketing guidance that is customized to their partners' needs. Added bonus: access to a third-party Partner Success team also takes pressure off your marketing team, giving them time to focus on more strategic brand-to-local marketing goals.
Let's take a look at the kind of local marketing support that Partner Success teams can provide:
Assisting in partner onboarding and enrollment
Increasing engagement on the distributed marketing platform
Strengthening multi-location resellers' relationships with their brand
Guidance on the best tactics for location-based marketing
Helping partners establish and optimize their online presence in local markets
Providing local marketing performance reports
Showing partners how to apply best practices for digital marketing, social media marketing and local marketing automation
Expert Local Marketing Guidance
When channel partners use a distributed marketing platform for the first time, they need guidance to navigate all the options and tools the brand makes available to them — including ad building, digital asset management, digital marketing tactics, automated social media campaigns, Co-Op Marketing funds management options, and marketing analytics. And Partner Success team members are there to answer their questions, provide one-on-one consultation, and help them uncover what works best.
Increasing Leads, Traffic and Local Sales
The most effective kind of local marketing support does not end with increasing partner enrollment in brand-approved programs. Partner Success teams also help guide partners along the way to increasing leads, traffic and local sales. When a distributed marketing platform offers easy access to local marketing analytics dashboards, dedicated Partner Success representatives can show channel partners how to monitor and track local marketing performance data and compare metrics to their own prior performance and to industry benchmarks.
Brands tend to rely on distributed marketing software solutions that offer dedicated Partner Success experts, because that's what helps their partners get the most out of the platform. Partner Success team members take time to get to know the needs of the channel partners they serve, so they can steer them toward proven local marketing tactics designed to yield measurable results.