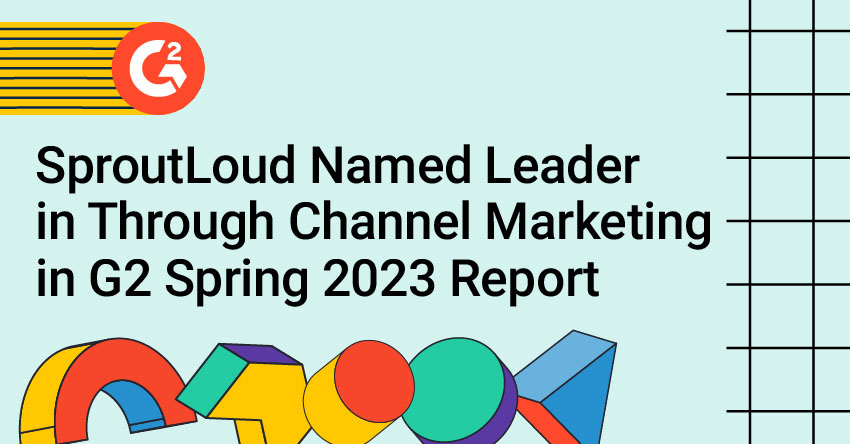 SproutLoud Named Leader in Through Channel Marketing in G2 Spring 2023 Report
SproutLoud, an industry leader in Through Channel Marketing Automation (TCMA), earned 82 recognition badges across six categories in the G2 Spring 2023 Report, notably ranking as:
Leader in Through Channel Marketing
Leader in Small Business in Through Channel Marketing
Leader in Marketing Resource Management
Momentum Leader in Marketing Analytics
High Performer in Small Business in Local Marketing
Easiest to Use in Landing Page Builders
High Performer in Local SEO
SproutLoud has a 4.9 out of 5 stars ranking on the G2 software review platform, based on verified customer reviews.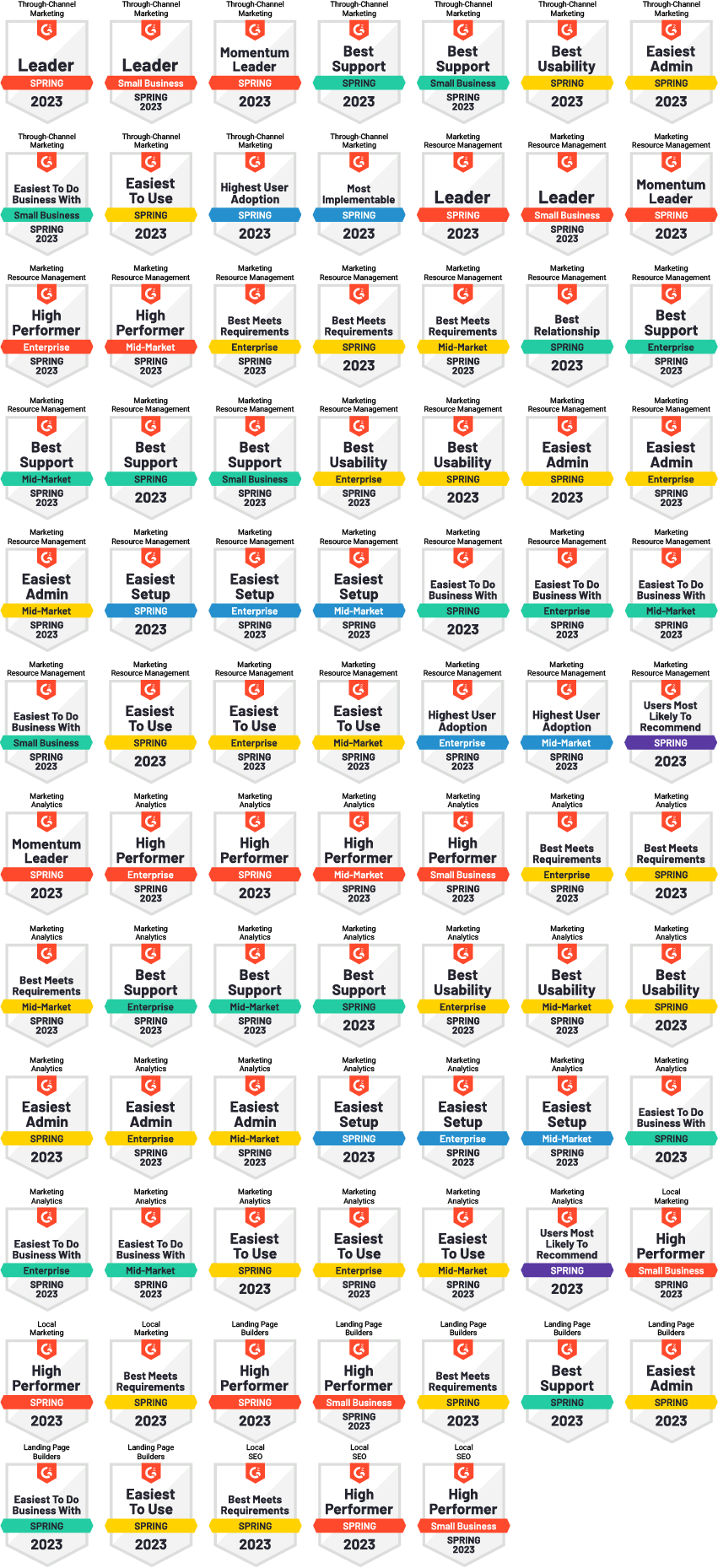 View SproutLoud verified user reviews on G2
Here's what clients are saying about SproutLoud
Kelly P., director of marketing for a mid-market business, said SproutLoud is an "excellent collaborative partner. SproutLoud has great customer support, and [they] are willing to work with our company to find a solution to our complex business model."
Kathy K., a marketing supervisor for a small business, said: "SproutLoud is a great partner for local brand marketing. SproutLoud is a one-stop shop for co-op funds management and local marketing execution. The support teams are great and have really streamlined the launch of traditional and digital marketing initiatives."
Melissa H., a small business travel advisor, said: "SproutLoud is a great resource for marketing materials all in one place. I am able to customize and order marketing materials to get them shipped directly to my doorstep. I also like their direct mail services, where I can customize, print and mail a direct mail campaign with a few clicks."
Julia B., a small business client said:  "I love the simplicity of submitting claims. The process is fast, easy, and efficient. SproutLoud is helping us to track and appropriate marketing funds."
David T., a luxury travel advisor, said: "Everything is high quality but most importantly [it is] so easy to create ads and flyers."
Jessica P., a small business client, described what she likes best about SproutLoud:  "A convenient way for me to use compliance-approved material to look professional in my communications. The ability to create sales and marketing materials on demand. Ease of use."
Becky B., a mid-market business client, said she likes SproutLoud "much better than the previous marketing system we were using. Our customers get what they need promptly."
Ready to See What SproutLoud Can Do for You?
Request a Demo
ABOUT SPROUTLOUD
SproutLoud is a leading SaaS-based Through Channel Marketing Automation platform, designed to increase brand sales through channel partners, distributors, and customer-facing employees in local markets. SproutLoud's intuitive distributed marketing platform makes it simple to launch brand-compliant, sophisticated, omni-channel marketing campaigns quickly and easily. SproutLoud gives brands unparalleled visibility on ROI for individual tactics, campaigns, promotions, partner engagement, and platform usage. With SproutLoud, brands have the advantage of responding rapidly to changing market conditions with data-driven decisions.
Media inquiries
Contact Elizabeth Vempala, SproutLoud Senior Content Marketing Manager,
at [email protected]
Sales inquiries
Contact [email protected] or call 954-476-6211 x3