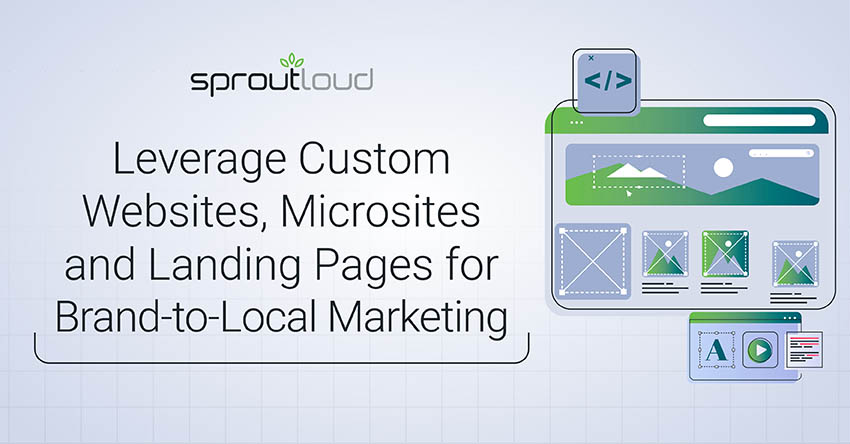 Leverage Custom Websites, Microsites and Landing Pages for Brand-to-Local Marketing
Major brands and their channel partners are working to meet the growing consumer demand for meaningful online customer experiences. And the power to quickly and scale brand-approved online customer experiences across vast networks of local resellers has never been more important.
When brands provide website properties — like Custom Websites, Microsites, or Landing Pages — to local resellers, it helps local businesses increase their online presence while maintaining brand compliance and standards. Through scalable web platforms designed for brands with channel partners, brands can control web design, styles, navigation and content for their partners while having the ability to simultaneously push content across the websites of their entire partner network. This provides a fast and efficient way to launch and edit sites for channel partners without requiring any website coding skills.
Depending on desired functionality and objectives, brands may choose to offer a number of different digital marketing solutions, including Custom Websites, Microsites, or Landing Pages to their local reseller partners.
Custom Websites
Custom Websites are fully customizable and ideal for partners that desire a fully functional website with their own search-engine-optimized domain and extra customization features. Custom Websites allow brands to:
manage a local, branded presence for each reseller in the network
control design, styles, navigation and layout
push new content across partners' websites simultaneously
integrate custom experiences into the website template like product or content feeds
update product information globally across the templates
provide flexibility for partners to add non-branded content
Microsites
Microsites are a smaller set of webpages that provide partners the ability to customize brand-templated content. Microsites are ideal for partners that already have a website but want an online property to point potential and existing customers to your brand's latest product and promotional information. Brands can allow partners to personalize their microsites with their own business information, content and images. They can also restrict the content of webpages to ensure brand compliance and push new and updated content like promotions, pricing, images, product information across live microsites.
Landing Pages
Landing pages are typically used for specific campaigns for email or search marketing, Facebook and Instagram ads or other paid media campaigns. With landing pages, you can create the design and messaging to match the content to an ad or email campaign for the best user experience. Typically, landing pages have a higher conversion rate than sending traffic to a website's homepage.
For seasonal promotions or holidays, scaling timely, relevant and brand-compliant messaging is essential for brands and their partners. Brands with scalable website solutions can quickly and easily disseminate updates for their partners with call outs or messaging in the header. Local businesses can also update their business information on their websites — including changes in service, store hours or events — in a fast and efficient way, so their customers can rely on getting accurate and up-to-date information.