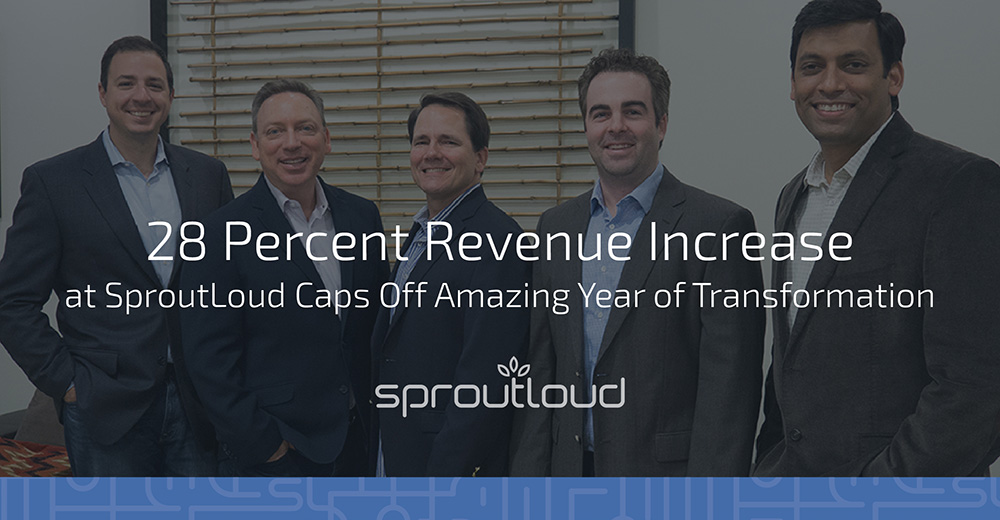 28 Percent Revenue Increase at SproutLoud Caps Off Amazing Year of Transformation
SproutLoud, a leading innovator in Channel Marketing Automation, announced today they have wrapped 2016 with a 28 percent revenue increase, a stunning way to cap a year of transformation throughout the company. CEO Jared Shusterman stated, "2016 was a year of evolution for us. We made notable additions to our leadership team, bringing in world-class talent from across the country. We implemented new employee programs that increased performance, created new pathways to advancement, and encouraged collaboration. We set aggressive financial goals, which I'm proud to say we've met."
The 28 percent revenue increase wasn't the only marker of SproutLoud's explosive success. Employee ranks at SproutLoud grew 35 percent and 4 times more digital marketing tactics were deployed by users of their marketing automation platform. SproutLoud's growth is even more notable when you consider the amount of consolidation the industry has undergone. They began the year with exceptional additions to the leadership team, including  CFO David Spinola, formerly a private-equity investor focused on high-growth businesses; Marketing VP Sean Wisdom, formerly Global Marketing Director for Dell Software; and VP of People and Culture Samantha Downie, formerly HR Director at Northwestern Mutual. The company's leaders developed a dynamic plan to breathe new energy and innovation into HR, sales, finance, marketing and client services. SproutLoud is poised for continued growth in 2017, with expansions planned in Fort Lauderdale and Medellin, Colombia.
"Hard work and dedication has paid off," said Shusterman. "We are delighted to end 2016 on a high note and excited for another incredibly successful year."
ABOUT SPROUTLOUD
SproutLoud, a recognized industry leader in Channel Marketing, gives Brands the intelligence to simplify campaign execution, amplify the power of their spend and accelerate local Channel Sales. The marketing technology company's innovative SaaS Platform:
Delivers expert production and cloud-based distribution of assets
Centralizes campaign planning and local marketing automation
Drives more participation from Channel Partners
Empowers Brands to invest only in what works, with real-time performance analytics
In the last 10 years, SproutLoud has grown into a major disruptive force in the Through-Channel Marketing Automation landscape. The company's comprehensive distributed marketing software, services and support give Brands every element they need to excel at marketing through Local Partners.
For more information about SproutLoud, contact: [email protected] | 954-476-6211 x 3