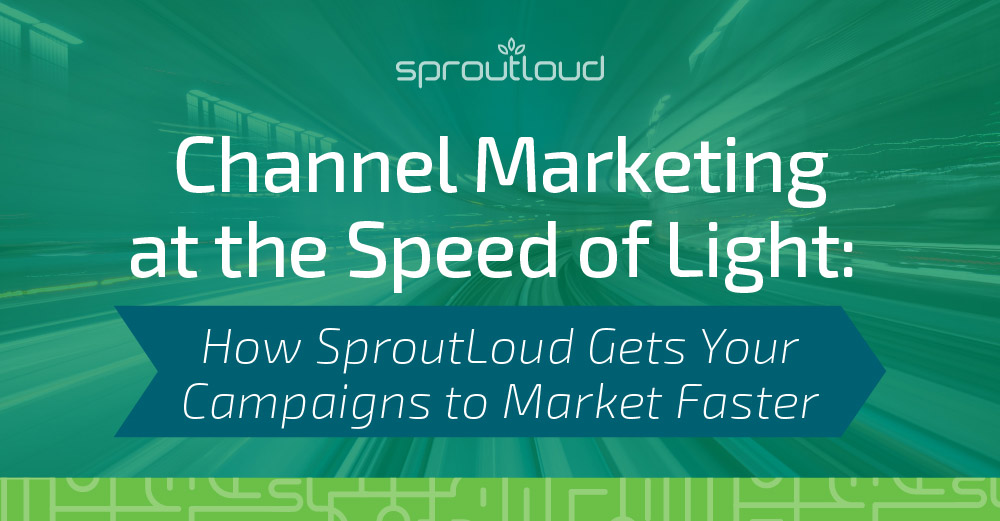 Channel Marketing at the Speed of Light: How to Get Your Campaigns to Market Faster
Speed-to-market is about getting timely, relevant, compelling, brand-compliant messages in front of potential customers frequently and consistently, so your brand is top of mind when they reach a buying decision. But many brands and their reseller partners aren't operating at optimum speed because issues with complexity, brand compliance, local customization, and vendor management are slowing them down. Let's examine these obstacles and consider the how the right Channel Marketing Automation solution can help your brand make the leap to light speed.
Complexity is the No. 1 Challenge
The growing complexity of multi-tactic local marketing campaigns means agencies and specialized marketing technology vendors are tasked with more of the work. Campaigns often include a broad mix of digital and traditional tactics, including: Paid Search, Dynamic Local Display ads, Reputation Management, Directory Listings Management, Email Marketing, Print ads, Direct Mail, TV, Radio, Newspaper ads, Social ads and Video. Most Brands rely on their Channel Partners to handle creation and execution of local marketing, while retaining control on approvals through an internal Brand marketing team:
74 percent of Brands rely on Partners for Brand compliance
72 percent of Brands use manual processes to customize local ads
76 percent of Brands have staff dedicated to managing approvals
Let's take a closer look at what this means for Brand compliance and local customization.
Compliance and Customization
Brands are looking for high-quality expertise to create local marketing that is both flawless and Brand compliant. That's why Brands develop complex and detailed Brand guidelines. When those Brand guidelines are shared across the Brand's Partner network, multiple Partners review, interpret and share the guidelines with their own local vendors and agencies. And errors occur: an outdated logo, the wrong color, a typo in the messaging. This means marketing goes from agencies and vendors to Partners to the Brand and back again, when they're not approved for execution. That's how delays happen. But all this is completely avoidable, with the right Channel Marketing Automation solution.
At SproutLoud, an integral part of our SaaS-based Channel Marketing Automation Platform is SproutLoud Studio, which takes the guesswork out of local customization. With Ad Builder and Digital Asset Management tools and brand-approved dynamic templates, SproutLoud simplifies the process. This means Brands no longer need to manage queues of customization requests, because the templates' parameters for customization are pre-set by the Brand. SproutLoud transforms Brand campaign assets into flexible formats, eliminates delays due to lack of Brand compliance and helps get your Brand's message to market faster.
The Solution to Vendor Management
Customizing local marketing is essential to keep ads relevant to local customers. That's why your Partners turn to vendors and agencies to localize Brand ads. At SproutLoud, our all our software products work seamlessly to help Brands and Partners plan, create and execute local marketing campaigns, then they're automatically routed for fulfillment with our integrated best-in-class Marketing Service Provider network. This gives Brands control of compliance and Partners the flexibility to customize and execute local marketing without spending excessive time as the middleman between agencies, vendors and the Brand. Here's how SproutLoud innovates the solution to vendor management that benefit both Brands and their Partners:
SproutLoud allows Brands to select campaign assets, marketing tactics and the Partners who will have access to them in an easy-to-use web portal.
SproutPay Instant Funding allows Brands to easily attach Partners' Co-Op Marketing funds and MDF accruals directly to assets and tactics as incentives for their Partners and to influence engagement in the most effective tactics.
SproutLoud simplifies local marketing customization and ensures Brand compliance with Digital Asset Management tools and dynamic templates.
SproutLoud integrates virtually every marketing tactic and routes them to best-in-class vendors in SproutLoud's Marketing Service Provider (MSP) network for last-mile execution. Our MSP network undergoes continual vetting, monitoring and evaluation, so Partners and Brands get flawless execution without any of the vendor management.
With SproutLoud, your Partners don't have to manage vendors, manage agencies, submit or re-submit ads for Brand approvals. This means your Brand's local marketing gets to market faster and your Partners can focus on what matters most: customers and sales.