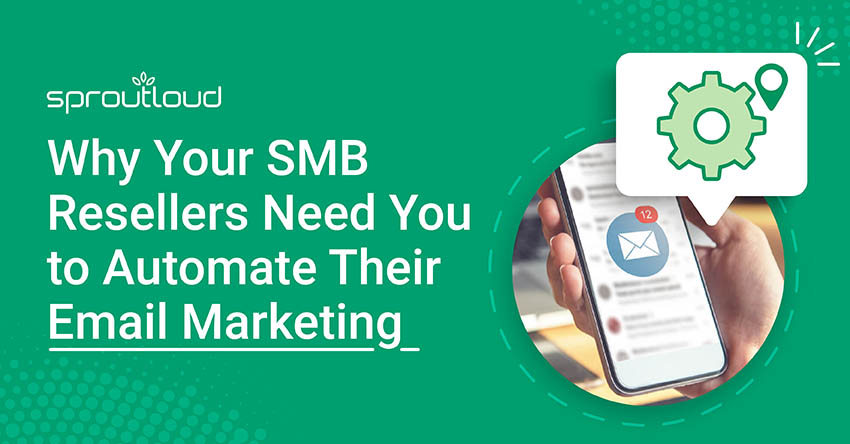 Why Your SMB Resellers Need You to Automate Their Email Marketing
Most category-leading brands already have well-established and robust email marketing strategies in place at the Enterprise level, as a key part of their digital strategy. However, one area that they may be missing out on is their ability to offer simple co-branded email marketing automation to their resellers, so they don't have to worry about promoting every brand they resell all the time. Most SMB reseller partners have some sort of email solution. But in most cases, unless they have a full-time marketing person or an ad agency to write, curate, manage and deploy their local email marketing, they typically don't spend the necessary time to do it right.  And even in those cases, brands tend to have no visibility on email marketing performance metrics and ROI.
When a brand provides email assets as files to be loaded into another email solution, you don't see much adoption of resellers actually using the assets provided. Plus, the brand then runs the risk of email templates being altered and not being brand compliant when sent. This often leads to channel partners using other creative assets and re-purposing offers and messages, resulting in communication gaps and local marketing initiatives occurring without the brand's knowledge. This leaves brands asking: What are my resellers sending? How are they representing the brand's products and services locally? Does their email marketing engage local customers or not?
Helping Your Channel Partners Optimize Email Marketing
Today, Enterprise companies clearly value the role of email marketing in their brand-to-local marketing strategies. Email marketing platforms are among the Top 2 martech solutions that brands say they can't live without, and among the Top 3 solutions that companies are investing in, according to the Marketing Trends 2022 report by Oracle.
Creating engaging email content is only a part of what needs to be done. The bigger challenge is getting your resellers to send the promotions and get their messaging into local markets on the same timelines your brand wants those offers getting into the market. If your brand doesn't use a distributed marketing platform to capture enrollments, load the email lists, and offer brand-compliant templates with customization options that reflect the reseller's messaging, then you're missing a big opportunity to add value and help your resellers drive sales. When your resellers use their own email templates with their own email marketing tool, your brand misses out on the performance data and has zero visibility on ROI. Understanding the relevant performance metrics on your resellers' local email marketing helps identify which areas your channel partners need to focus on in order to maximize their email marketing strategies. When your brand provides your channel partner network with a leading distributed marketing solution, your brand and your resellers have access to marketing analytics dashboards with key email marketing performance metrics, including Delivery Rate, Open Rate, Click-through Rate (CTR), Bounce Rate and Unsubscribe Rate.
Brand-to-Local Email Marketing Best Practices
When your resellers successfully implement brand-to-local email marketing strategies, your brand can get more accurate performance data to determine ROI. Let's take a look at some best practices for brands to help their channel partners save time and improve the impact of local email marketing.
Help your resellers segment their local email recipient list — according to demographics or interests — so they can send more relevant content, offers, and messaging to targeted consumers.
Create accessible and easy-to-use, brand-approved email marketing templates, messaging and assets to ensure your channel partners are consistently aligned to your brand's national campaigns while having the flexibility to customize messaging for local consumers.
Help your channel partners build relationships, foster brand loyalty, and keep current and potential customers engaged with timely and relevant email marketing content. This can all be automated with the proper list integrations.
Help your resellers focus on organically growing their local email lists. For example, they can offer local customers special promotions or discounts if they sign up to receive email content.
Make it easy for your channel partners to automate and optimize their local email marketing — with a leading distributed marketing platform that offers both the software solutions and the partner support to help them succeed. Giving them access to brand-approved customizable email templates and easy-to-implement solutions paves the way to increasing leads, traffic and sales. For your brand and your resellers, that's a win-win.