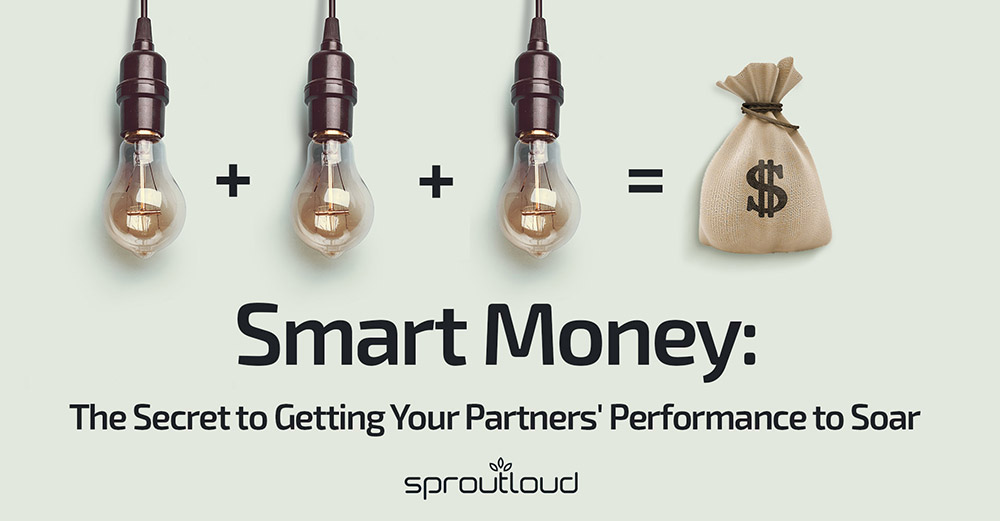 Smart Money: The Secret to Getting Your Partners' Performance to Soar
No matter how much technology your Channel Partners have at their fingertips, building true expertise in marketing requires three things:
Knowing your options — in terms of marketing assets, tactics and campaigns.
Understanding how to match the right tactic to the desired outcome.
Learning what drives success and how to apply those lessons learned to increase ROI.
But let's face it, most of your Channel Partners don't have a lot of time to dedicate to marketing. They're entrepreneurs and business owners — experts in what they do best: Selling. The driving force for your Channel Partners is their genuine passion for owning their own businesses. They're the kind of folks who want to control their own fate. They also know what it takes to cultivate connections and build relationships with their customers.
The passion and drive they have for closing the sale notwithstanding, your Channel Partners typically don't have the time to execute a modern marketing campaign on their own. Understanding the dynamics of today's marketing tactics, how they work and when to use them — that's something that takes even professional marketers years to master.  In fact, a recent Gleanster Research report identified the top three problems local business owners have with Co-Op and MDF programs:
Local business owners aren't comfortable with digital.
They have difficulty managing Brand compliance.
They don't find Co-Op and MDF programs to be valuable.
Even with the latest marketing technology, if your Channel Partners don't have time to implement it, what good will it do? At SproutLoud, providing Brands and Channel Partners the most innovative marketing automation solutions available is just our starting point. We back it up every step of the way with Expert Marketing Support. It's like having white-glove concierge service when you need it most:
Getting Started: On-boarding Your Partners
Whether your Channel Partners are MarTech-savvy or whether they've never used Channel Marketing Automation software, SproutLoud can assist with as much or as little as they need. With our Local Marketing Concierge service, we're ready to assist your Local Partners in setting up their accounts and getting started. We offer training that demonstrates how easy it is to navigate the SproutLoud SaaS platform and how to get the most out of the marketing automation tools and resources available to them.
Setting Your Partners Up for Ongoing Success
Even when your Channel Partners have learned how to use the SproutLoud Partner Portal to select, customize and execute Brand campaigns, some may want recommendations on which tactic to use, when to use it and how to achieve the desired outcome. What's the best tactic to implement to bridge the gap from product awareness to point-of-sale decision? How do you launch a great email campaign and coordinate that with search and social components? What about timely, relevant in-store collateral to drive that message home and close the sale? How should your Partners spend their Co-Op, MDF or SproutPay funds to get the most bang for their buck? Our SproutLoud Marketing Experts are steps ahead of the game, providing real-time guidance for your Channel Partners' most pressing questions. Making your Partners feel comfortable is crucial, because 72 percent of local businesses that participate in a Co-Op program will execute at least three campaigns a year, according to a recent report by Gleanster Research.
Last-mile Execution
Last-mile execution is really where the rubber meets the road. No matter what combination of digital, social and traditional tactics your Channel Partners choose, they can count on SproutLoud's white-glove concierge service. Some may find it difficult to place Radio, TV, Newspaper and Outdoor Ads. Our Local Media Buying experts are ready to help, whether your Partners need DIY guidance or prefer a more hands-on, do-it-for-me approach. Fully integrated local media buying is a built-in part of the SproutLoud platform.
With SproutLoud, Brands and their Local Partners have more choices than ever before to simplify campaign execution, amplify the power of their marketing spend, and accelerate local Channel Sales. Our Expert Marketing Support – every step of the way – ensures that the choices you make are better, faster and more effectively achieve your goals: more traffic, more leads, more sales.
Talk to a SproutLoud Marketing Expert today.
Call 954-476-6211 ext. 3