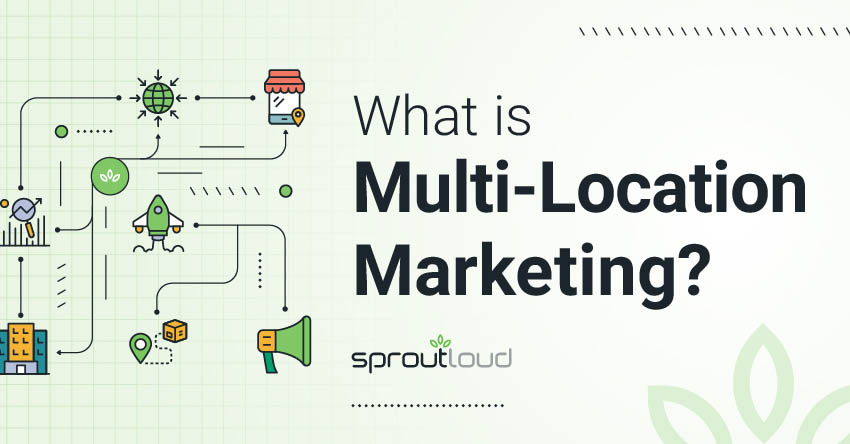 What is Multi-Location Marketing?
Multi-location marketing is a strategic marketing approach designed to help brands that sell products and services through networks of retailers and franchisees maximize their reach and engagement with local audiences, while maintaining consistency in brand identity. This approach acknowledges the diversity in local markets and tailors brand-to-local marketing to target audiences in each location.
The Foundations of Multi-Location Marketing
Localized Content: Central to multi-location marketing is the creation and distribution of localized content. This means using leading MarTech solutions to craft and manage social media, email marketing, direct mail, digital ads, promotions and ship-to-your-door services for physical marketing collateral for each retail location. When brands and their retail locations can access every solution they need in a centralized multi-location marketing platform, it ensures that brands maintain more control over brand identity and accurate messaging, while making it easier for retail locations and franchisees to opt into brand-approved marketing campaigns and programs.
Social Media Engagement: Social media is a powerful tool for multi-location marketing. Each location should have its own presence on social media platforms, allowing for targeted communication and engagement with local audiences. And social media management at the brand level is crucial to ensure your multi-location retailers maintain consistency in branding, messaging and your brand-to-local marketing strategy. Brands can make this easy for their retailers and franchisees by providing easy access to branded-approved social posts, assets and messaging through a leading multi-location marketing platform. Strategic alignment in brand-to-local marketing fosters greater brand awareness and brand loyalty among local customers.
Be Findable: To capture the attention of local customers, it's essential to ensure that customers can find your locations online.This means ensuring that information about your retail locations and franchisees is both accurate and consistent across online listings. It's about making it easy for potential customers to find you when they search online.
The Benefits of Multi-Location Marketing
Consistency with Flexibility: One of the key advantages of multi-location marketing is the ability to maintain a consistent brand identity across all locations while adapting to local nuances. This balance ensures that customers recognize and trust your brand while feeling that it understands and respects their unique needs.
Enhanced Customer Experience: By tailoring your marketing efforts to specific locations, you can provide a more personalized experience for your customers. This can include localized offers, events, and promotions that resonate with the community.
Improved ROI: Multi-location marketing isn't necessarily about spending more. It's about spending smarter. By directing your marketing resources where they matter most, you can achieve measurable results and a better return on investment. Targeted campaigns are more likely to convert, resulting in increased revenue.
Getting Started with Multi-Location Marketing
Content Localization: Craft content that speaks directly to the interests and concerns of each location. This can include localized blog posts, social media updates, and email campaigns.
Consistent Branding: While tailoring your marketing efforts, ensure that your brand's core values and identity remain consistent. This means making local marketing easier for your retail locations and franchisees in local markets by providing quick and easy access to brand-approved assets and messaging. In the end, what local customers see is consistency from the brand, regardless of the point of sale. And this can grow from brand awareness to trust and brand loyalty.
Marketing Analysis: Regularly monitoring and analyzing the performance of your multi-location marketing efforts helps brands and their retail locations refine brand-to-local strategies, so they can invest in marketing tactics and programs that deliver measurable results.
MarTech Solutions: Finding the right distributed marketing solutions that can address all your content, branding, marketing analytics, and data security needs will make the entire process of multi-location marketing, from start to finish, easier for your brand and your retailers and franchisees.
Multi-location marketing is about understanding the diversity of local markets, tailoring your marketing efforts accordingly, and maintaining a consistent brand identity. By doing so, businesses can enhance customer experience, improve ROI, and build stronger connections with their local audiences.