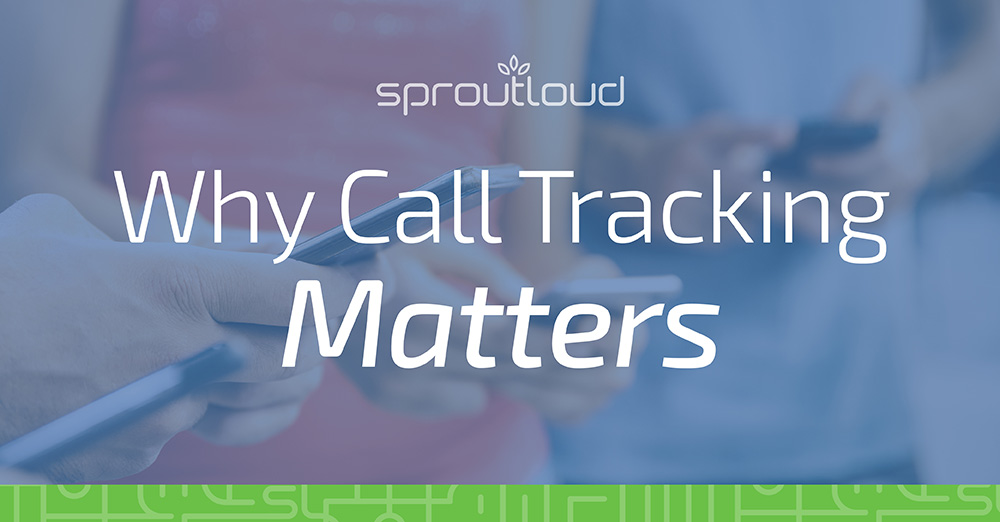 Why Call Tracking Matters
How do you know whether your Local Marketing campaigns are successful or not? Too often, that's a tough question for local businesses.
"We don't look at reports to measure success," said one local business owner recently surveyed by SproutLoud. "We just watch traffic and sales."
While monitoring traffic and tracking sales are undeniably important for the Small Businesses that compose your Brand's Partner network, those figures don't necessarily correlate to the success of a local marketing campaign. In other words, if you only look at traffic and sales, you'll never know whether your marketing dollars are being wasted or wisely spent.
Today, many Brands and their Local Partner networks pour money into Local Marketing without knowing which tactics will have an impact on sales. This is why it's essential to tie tactics and campaigns to measurable outcomes and analytics. And Call Tracking is an effective way to attain much-needed insight. It can be applied to both traditional marketing tactics — like Direct Mail, newspaper, TV, radio and outdoor ads — and digital marketing tactics like Social Media ads, microsite promotions and online Display ads.
But Call Tracking alone is not the answer. Even when Local Business Owners have access to performance metrics from Call Tracking, they say they don't have the time or resources to generate reports and analyze local marketing performance. Savvy Brands understand that their Partners need both the right tools and exceptional support to guide them along the way. For example, on SproutLoud's Channel Marketing Automation Platform, Local Partners who use Call Tracking can measure response rates, call-answer rates and call scoring from a single SaaS dashboard and access timely assistance from expert Local Marketing Coordinators. This allows Local Business Owners to have the same level of sophisticated insight that large Brands use to improve the return on their marketing investment.
With a comprehensive Channel Marketing Automation Platform that delivers a single-point solution, Brands can give their Partners access to:
Call-Tracking data and other performance metrics integrated directly into the platform, so Local Business Owners can get reporting intelligence through easy-to-navigate online dashboards
Simplified ad creation with Ad Builder technology and sophisticated Marketing Asset Management tools
Flexible funding options for Co-Op, MDF and instant funding
Automatic campaign execution that streamlines campaign management with Brand and Partner portals and point-and-click options
Pre-vetted marketing vendors integrated into the platform as a network of world-class Marketing Service Providers
And expert marketing support and service to ensure Brands and their Partners benefit from all the advantages a comprehensive Marketing Automation Platform offers
When performance metrics, like those available with Call Tracking, are accessible on the same comprehensive Channel Marketing Automation Platform used to create, fund, execute and launch local marketing campaigns, it ensures a level of seamless accuracy that piece-meal marketing technology solutions cannot achieve.