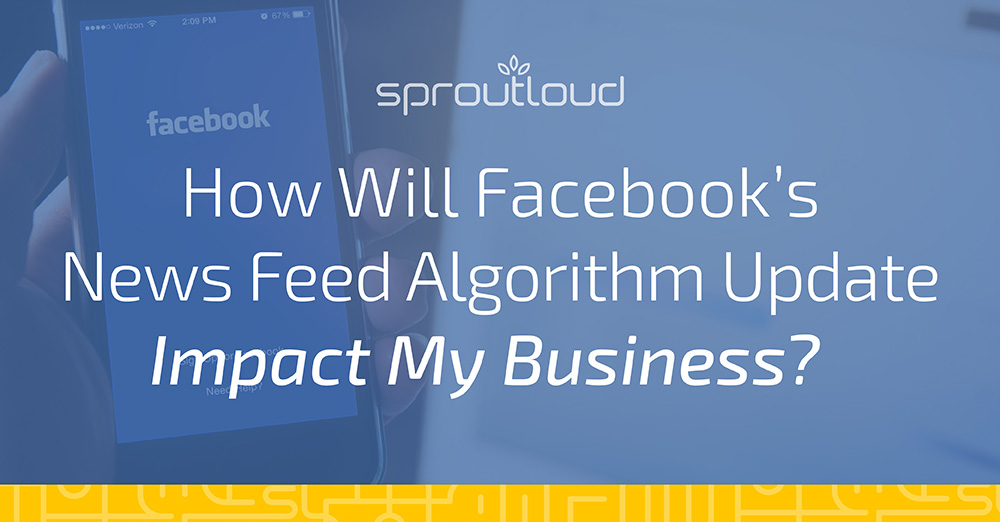 How Will Facebook's News Feed Algorithm Update Impact My Business?
Facebook recently updated its algorithm, prioritizing content from users' friends and family over organic content posted by businesses, Brands and media. This change will certainly have an impact on how major Brands and Small Businesses use the social network for Local Marketing purposes. Here's what marketers need to know:
In his January 11 post, Facebook founder Mark Zuckerberg stated, "We built Facebook to help people stay connected and bring us closer together with the people that matter to us. That's why we've always put friends and family at the core of the experience."
Facebook research shows that "when we use social media to connect with people we care about, it can be good for our well-being. We can feel more connected and less lonely, and that correlates with long term measures of happiness and health," Zuckerberg added.
In 2014, when Facebook announced a major algorithm update to its News Feed, a number of sources — like Street Fight and Ogilvy Social — noted that traffic from organic posts began to steadily decline following that change. It was recently identified that the average organic post was only likely to reach 2% of fans of Facebook business pages for most large Brands and less than 6.5% for smaller businesses.
Facebook's new algorithm update will further reduce the organic reach of posts, including posts from automated social media marketing programs.
My perspective on the algorithm is that Facebook is emphasizing paid campaigns, whether it be from Facebook ads or boosting Page Posts. I recommend pairing SproutLoud's social AMP program with Facebook ads to capture leads and conversions, as opposed to just fans and likes, to adjust to the recent algorithm changes.
Facebook is also shifting its focus to local with its new Local App, where Retailers will be covered if they already have a Facebook page, but we will have to wait to gauge the level of engagement this generates.  We're watching for further developments from Facebook's announcement last month that its testing a new section of the app dedicated to local news, events and announcements.
Our team at SproutLoud will share any new updates relevant to local marketing as we have them.