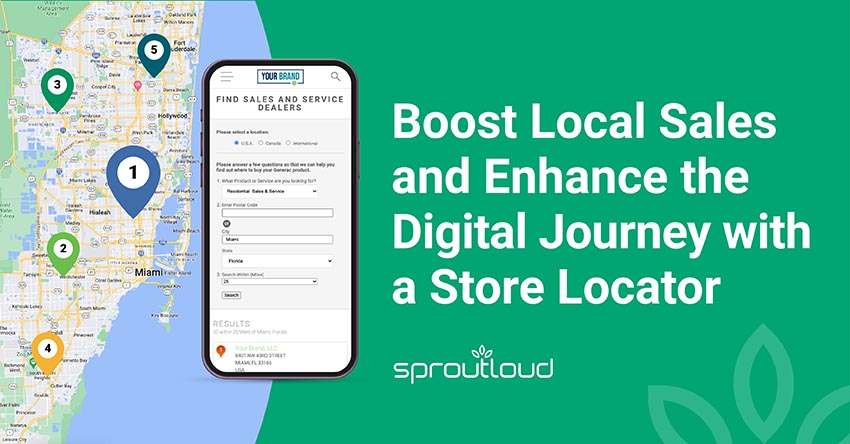 Boost Local Sales and Enhance the Digital Journey with a Store Locator
In today's competitive landscape, the success of enterprise brands relies on both a strong online presence and the ability to connect with customers at the local level. For brands that sell products and services through networks of local businesses — dealers, distributors, retailers, resellers, agents, brokers, multi-location stores, and channel partners — ensuring findability and maintaining control of the digital journey is paramount. That's where a store or dealer locator comes into play, offering a leading-edge solution to help customers find and buy your brand's products locally.
Make It Easy for Customers to Find You
One of the biggest challenges that companies face is the need to make their brand products easily accessible and stand out to local customers, amid a crowded field of competitors. A store locator addresses this challenge by simplifying the process of locating and purchasing products locally. This innovative tool not only enhances the digital journey but also ensures that brands never lose control over the customer's experience.
Customers rely on trusted brands for accurate information. A store locator should help maintain up-to-date business information, including store names, addresses, phone numbers, emails, websites, social media links, and store hours. This accuracy is crucial for boosting local sales, as customers need reliable information when making purchase decisions.
Don't Lose Control of the Digital Journey
Maintaining control of the digital journey is a top priority for enterprise brands. A store locator can be designed to address this concern effectively. It should integrate seamlessly with brand-controlled local landing pages, allowing channel partners to offer a branded experience while preserving brand visibility and control over website visitors.
This level of integration ensures that the needs of the brand, channel partners, and the digital/web team are met harmoniously. It empowers channel partners to create a digital presence that aligns with the brand's standards, ensuring consistency and professionalism throughout the customer journey.
Personalization Helps Boost Sales
To enhance the digital experience, the right store locator will allow brands to prioritize the visibility of their VIP or power resellers. By providing the right information at the right time to customers, brands can influence their purchase decisions positively. This level of personalization helps boost sales and strengthens the relationship between the brand and its channel partners.
Focus on Your Customers' Digital Experience
The right store locator for your brand should be designed with the user experience in mind. Does it offer an easy and elegant interface? Does it allow customers to search by zip code, city/state, or even automatically by their location? This simplicity ensures that finding local products and services becomes a hassle-free process for customers.
Customers today need a store locator with mobile-first localization capabilities that supports various languages and different address systems. Mobile browsing dominates today, and this functionality ensures that customers can access the information they need conveniently, enhancing their overall experience.
For brands concerned about maintaining a consistent online identity, a store locator should offer seamless integration with any website. It should be highly configurable and customizable, with the ability to match the look and feel of the brand's primary web property. This cohesion across digital touchpoints further strengthens the brand's image.
Brands need a store locator with the ability to sort and prioritize search results based on key performance metrics and custom attributes. This provides brands with the opportunity to create highly specialized searches. Whether customers are looking for specific products or services or prioritizing dealers based on performance, the right store locator can cater to these needs. It even offers the option for random ordering among dealers, ensuring fairness in online and in-store results.
For enterprise brands that sell through distributed channels, implementing the right store locator across networks of local resellers can be a game-changer. It streamlines the digital journey, enhances findability for local sales, and allows brands to maintain control over the customer experience. The right store locator can be an invaluable tool for driving local sales and strengthening brand-customer relationships.