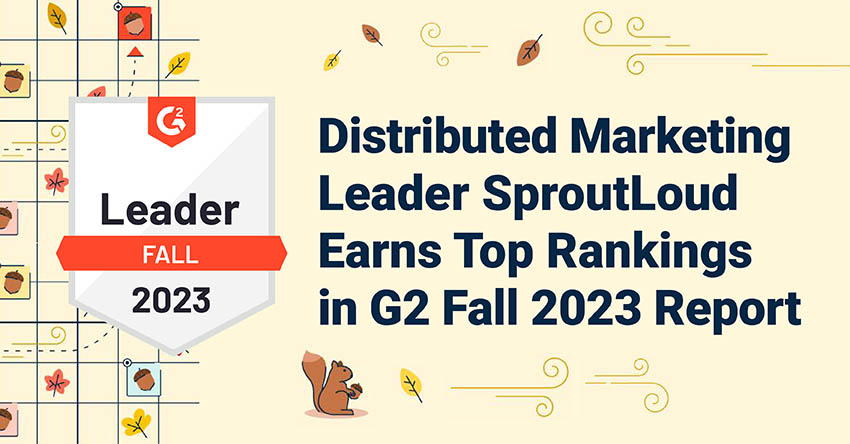 Distributed Marketing Leader SproutLoud Earns Top Rankings in G2 Fall 2023 Report 
SproutLoud, a leader in distributed marketing, earned top rankings in the G2 Fall 2023 Report, with 169 recognition badges across eight categories, including: 
SproutLoud earned a 4.9 out of 5 stars ranking on the G2 software review platform, based on verified customer reviews.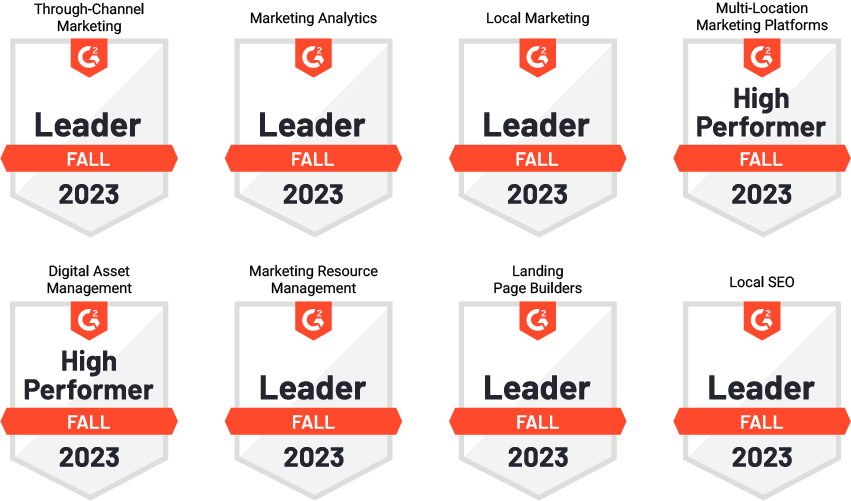 View SproutLoud verified reviews on G2
Here's what clients are saying about SproutLoud
"SproutLoud is a 10/10 for me!"
Debbie T. said: "I love the varied products, the ability to easily promote my business, but most especially the customer support is top notch!"
"SproutLoud gives me more time to work on making money and solving client issues."
James W. said: "SproutLoud has a very easy to use website and ordering process. Customer service was also prompt and efficient with an answer to my questions. Their final products are professional and amazing."
"I am a HUGE fan!"
Heather M. said: "The customer service I received from SproutLoud was TOP TIER! This was my first opportunity to work on Co-Op materials and reimbursement claims for my client, and the process was more seamless and user friendly than I could have ever imagined. … My clients have already received approval and payments on their reimbursement claims and they didn't have to lift a finger!"
"Great marketing company for a small business!"
Erin M. said:  "As a small business owner, I love that SproutLoud creates beautiful content and sends it out on my behalf. I don't have to recreate the wheel for marketing and I know that they are going to create a great looking, professional product which allows me to focus on my business rather than designing marketing pieces. Their customer service team is great as well. Really friendly and helped me quickly each time I've called in with a question on an order."
"Highly Recommend SproutLoud for an addition to your website"
Meghan D. said: "We were planning on building out a whole section of our website to talk about the Generac products and services we offer, then realized that they offer that feature and populate it to look similar to our website. It's been great! Super helpful! And the product assets are awesome!"
Ready to See What SproutLoud Can Do for You?
Request a Demo
ABOUT SPROUTLOUD
SproutLoud is a leading SaaS-based Through Channel Marketing Automation platform, designed to increase brand sales through channel partners, distributors, and customer-facing employees in local markets. SproutLoud's intuitive distributed marketing platform makes it simple to launch brand-compliant, sophisticated, omni-channel marketing campaigns quickly and easily. SproutLoud gives brands unparalleled visibility on ROI for individual tactics, campaigns, promotions, partner engagement, and platform usage. With SproutLoud, brands have the advantage of responding rapidly to changing market conditions with data-driven decisions.
Media inquiries
Contact Elizabeth Vempala, SproutLoud Senior Content Marketing Manager,
at [email protected]
Sales inquiries
Contact [email protected] or call 954-476-6211 x3