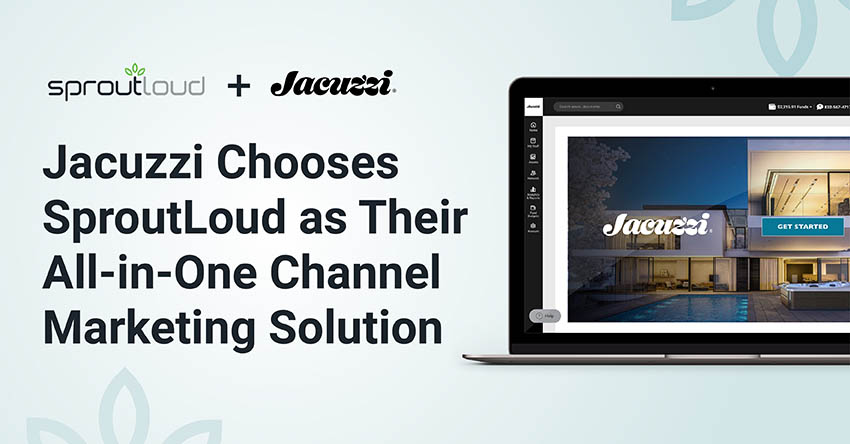 Jacuzzi Chooses SproutLoud as Their All-in-One Marketing Solution
When Jacuzzi® — the industry leader in premier hot tubs, swim spas, and bath and shower products — needed to revolutionize the way they do business with their extensive dealer network, they turned to SproutLoud as their all-in-one digital marketing and channel marketing solution.
Facing challenges with multiple, incompatible systems, no clear visibility on Co-Op Marketing program funds or rebate dollars, low dealer adoption of digital marketing tactics, and the lack of marketing analytics, Jacuzzi needed better MarTech solutions to make marketing easier for their dealers to promote, order, and sell more products. They also needed a way to track key performance metrics, measure success, and show ROI.
"SproutLoud is the out-of-the-box solution we were looking for — to give our dealers the digital marketing support they need," said Nick Ochtman, Director of Channel Marketing for North American Spa with Jacuzzi Group™. "Now we have better solutions to plan and execute marketing campaigns, manage Co-Op Marketing programs, streamline data-sharing, simplify approval processes, and determine ROI on our channel marketing spend. SproutLoud makes marketing and selling Jacuzzi products easier for our dealers."
With SproutLoud, Jacuzzi has one platform to meet all their brand-to-dealer marketing needs, including:
Dealer Marketing Portal – with easy access to digital marketing tactics, traditional marketing programs, customizations, as well as campaign management, execution and fulfillment in one centralized environment
Digital Marketing for Dealers – including hyperlocal targeting with microbudgets, designed to align national-to-local marketing strategies
eCommerce-like Ordering – which makes ordering sales and marketing materials and participating in marketing campaigns as easy as online shopping
Marketing Analytics – with performance reporting and analytics dashboard customized to track the most relevant metrics on dealer engagement, activity and sales results
Ad Builder with print-on-demand collateral – ensuring localized, brand-compliant messages via rules-based templates, production, fulfillment, and inventory management in a single workflow
Digital Asset Management – with retailer-facing DAM for easy access to download and share marketing assets, price sheets, spec sheets, warranty information and more
Open Platform Integrations – with the most flexible, developer-friendly, brand-to-local technology, focused on connectivity and secure data exchange
Funds Management – to simplify Co-Op Marketing funding, sales rebates, pre-approvals, claims, reimbursements, co-pay options, and spend tracking
SproutLoud enables category-leading brands, like Jacuzzi, to leverage marketing technology to scale across vast distributed marketing networks, giving dealers a fast and easy way to compete and win in local markets. Learn more at sproutloud.com.
ABOUT SPROUTLOUD
SproutLoud is a leading SaaS-based Through Channel Marketing Automation platform, designed to increase brand sales through channel partners, distributors, and customer-facing employees in local markets. SproutLoud's intuitive distributed marketing platform makes it simple to launch brand-compliant, sophisticated, omni-channel marketing campaigns quickly and easily. SproutLoud gives brands unparalleled visibility on ROI for individual tactics, campaigns, promotions, partner engagement, and platform usage. With SproutLoud, brands have the advantage of responding rapidly to changing market conditions with data-driven decisions.
Media inquiries
Contact Elizabeth Vempala, SproutLoud Senior Content Marketing Manager,
at [email protected]
Sales inquiries
Contact [email protected] or call 954-476-6211 x3