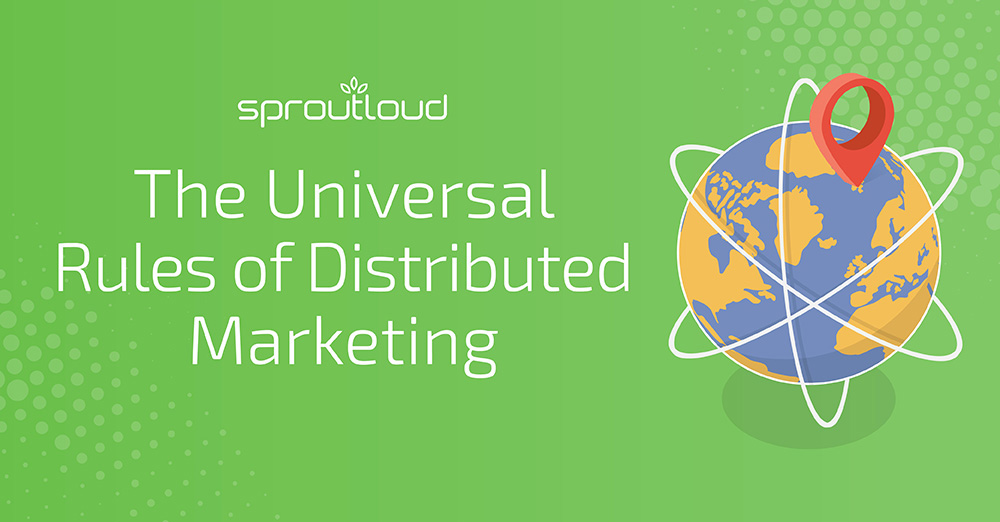 Universal Rules of Distributed Marketing
Distributed Marketing — the process of promoting your Brand through a distributed network of local retailers, distributors, resellers, agents or channel partners — is crucial because 75% of world trade flows indirectly, according to the World Trade Organization. As a result, many channel marketers are looking for a set of rules to follow to make their marketing programs run efficiently through their channel partners. Typically, marketing recommendations are prescribed in response to changes in the business environment, what industry you are in, or the types of customers you have.  This leads to the question, "Are there any universal rules for marketers?" According to Philip Kotler of the Kellogg School of Management, there are. Here are his top 3:
Know Your Audience
Understand your target customers, and solve their problems in a better way than your competitors.
Build Your Brand
Build your brand promise, and ensure that is delivered by everyone in your business network.
Innovate
Innovate continuously in local marketing and brand messaging through your distributed network.
So, how do these Marketing rules affect brand marketers on the "indirect" channel marketing side of the business?
As an organization, it's crucial to have a clear understanding of your audience. This includes doing research on your target customers, acquiring a working knowledge of the pain points they experience and how to solve them, and the unique challenges they face in their vertical. This knowledge needs to be ingrained in every interaction that your company has with prospects, clients, and partners — including your sales, marketing, finance and operations teams. Keeping this mindset at the center of how you operate will help you maintain a competitive edge. This philosophy also should be adopted by your channel network — your channel partners need to understand how your products solve the challenges of their local customers. With Brand-approved local marketing and a funding strategy that includes Co-Op Advertising Funds or MDF, Brands can empower their partners to compete and win against their top competitors in local markets.
Companies also need to ensure that everyone, from employees to each distribution channel, are on the same page. This is easier said than done as there are vastly different priorities throughout an organization. To accomplish this, companies need to have a well thought out plan in place. This is important for internal stakeholders as well as your channel partners. Making it easier for people to participate in local marketing will more effectively drive the whole organization toward the same goal. One way to help your channel partners succeed while simultaneously driving your bottom line up is to have a way for your partners to participate in your marketing programs and campaigns with minimal effort on their end. Essentially, if you provide them with an "easy button" that gets their marketing done quickly and easily, the higher likelihood that partners will want to participate and help your Brand reach its goals.
Considerable forethought, teamwork, and resources are required to develop solutions for the future. Making changes that only respond to current circumstances may provide a temporary fix, but that doesn't serve your long-term strategy. It is important to have an executive stakeholder who will look at the advancements that are being suggested and filter through what should be done to push the brand forward. That level of innovation should be continuous. Keep in mind that you must stay the course — roll out new ideas, monitor success, make changes, get feedback and pivot when you need to.
By understanding and adhering to these universal rules of distributed marketing, your company will maintain a stronger foothold in your local marketing strategy and core business values.